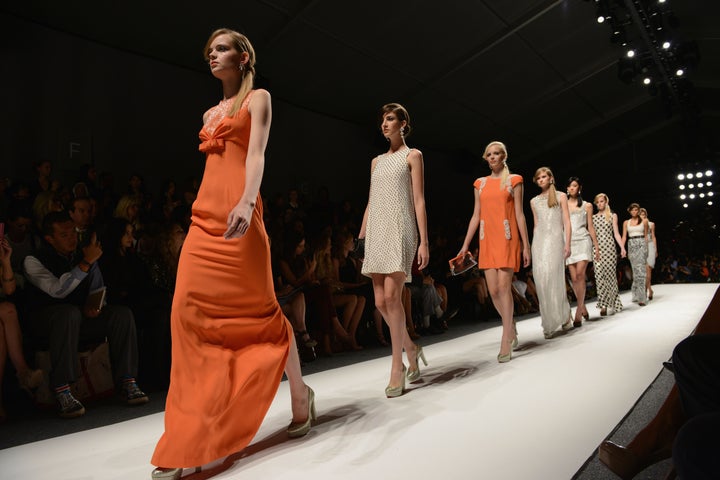 Chado Ralph Rucci's Wearable Works of Art
The name Chado Ralph Rucci is synonymous with unmatched elegance and remarkable charm. Rucci designs clothing as a painter creates a masterpiece, with painstaking attention to detail and craftsmanship. Masterpiece would be best to describe Rucci's covetable offering for Spring 2013.
The scene was set: Carmen Dell'Orefice sat gracefully (directly across from me, no less) in her front row seat wearing a gorgeous red coat by the designer and a pair of chic white kid gloves. The crowd was packed with dedicated Rucci fans, dressed to the nines in his creations. The runway and backdrop were a glistening metallic, which created a futuristic light at the end of the tunnel feel (although the photographers were not too keen on the reflection). And then one by one, Rucci sent down his wearable works of art. Present in the lineup were his signature skirtsuits, sophisticated separates, luxurious caftans and exquisite cocktail dresses. For Spring, the palette ranged from stark white, hot pink, chrome yellow and ink black. Rucci did not hold back in the color department, sending saturated hues in refreshing monochromatic looks. He stayed true to his color lineup and at some moments, incorporated several doses of punchy neons into one garment; as seen on the wool crepe suit with an intricately braided arm and the show stopping multi-colored taffeta gown. Silhouettes were uncomplicated and varied from loose -- a multi-layer chiffon wrap pant to structured -- a bright white neoprene dress. Rucci kept up the laser cut theme from last Spring in the form of an a-line LWD and a voluminous white jacket. Standouts included a black smoking pantsuit with patent panels and a long hand painted satin gown, which served as his finale look.
After 31 years in the business, this collection proved that Rucci has no plans of slowing down. If anything, it seemed that his mood had lightened for Spring. And from that came a new sporty look and fresh lineup of wardrobe options for his many devoted customers and admirers to enjoy.
Michael Kors' Classic With a Twist
For Spring 2013, Michael Kors took on two distinct concepts: classic Americana style and iconic 60s mod. Seamlessly juxtaposing the two made for an upbeat and surprisingly unexpected collection.
With New Order's Bizarre Love Triangle playing, the show began with classic pieces consisting of clever colorblocked trousers for men and women, button down shirts in vibrant primary hues and sleek outerwear. Kors' mod incorporated streamlined mini dresses and skirts, low slung belts and trench coats; which featured large metal belt buckles indicative of that time. 60s inspiration also shined from the oversized buttons and playful Lucite platforms. This offering couldn't have been farther from his African safari-inspired lineup from last Spring. This time, there was a crisp and refined finish to the clothes. Kors had a little something for everyone, starting with a plethora of color choices: bright whites, punched up solids and eye catching prints. Digital images of shimmery pools and cloud streaked skies were an eye catching addition. For those who wanted an extra bit of excitement, Kors offered a scalloped sequined cocktail frock and a skirtsuit with emerald fringe. Above all, there were great options for work and beyond, which should be popular with stores. The standouts? A navy plonge shift littered with gold grommets, a mens Chesterfield made completely out of terry cloth and who could forget Karlie Kloss slinking down the runway in a simple yet show stopping crepe harness gown? Covetable accessories like the structured satchel and oversized colored goggles were brilliant add-ons.
It was clear that Kors' had an agenda for Spring: back to basics with a nod to the 60s, and a fun twist by paring the two.
Calling all HuffPost superfans!
Sign up for membership to become a founding member and help shape HuffPost's next chapter