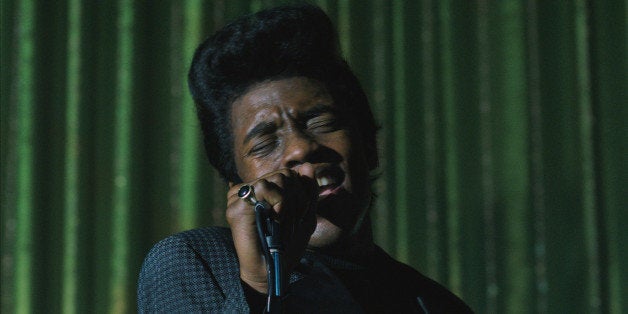 Filling the shoes of "The Godfather Of Soul" James Brown for a feature-length film is not an easy task, according to actor Chadwick Boseman. This summer, the "42" star will play the lead role in Brown's highly anticipated biopic "Get On Up," alongside an all-star cast that includes Dan Aykroyd, Jill Scott, Octavia Spencer and Viola Davis.
Helmed by "The Help" director Tate Taylor and produced by Rolling Stones frontman Mick Jagger, the film will chronicle Brown's early days living in poverty in Georgia, his rise to fame and his years as one of pop music's most influential icons.
During a recent interview with The Huffington Post, Boseman opened up on portraying the hardest-working man in show business, and let us know what it was like to work with Mick Jagger on set.
After portraying the role of Jackie Robinson in "42," was James Brown on your personal list of icons to play?
It was actually something that I thought might not be a good idea to take on another person we revere as an icon. I was against it at first. But at the same time, when it rains it pours, and sometimes you gotta ride the wave of what's happening. And I meditated on it when it came to me, and asked people what they thought about it. And I just came to that decision that it was the best thing for me to do.
I knew it would be a difficult thing for me to do, and it would be a challenge. But it wasn't something that I said like, "I hope this happens." It was something that came to me and I said, "Should I do it or not?" Even when I started with dance rehearsal and vocal rehearsal, I still wasn't sure, all the way up to when we started shooting. [Laughs] So it was just one of those things like, "I'm just gonna have faith that this is [the] right thing for me to do."
What was it in particular that led to your reservations about the role?
It was in doses. There were smaller challenges for this ... It would be something as simple as "Let me learn how to do the camel walk ... Let me learn how to do 'Mash Potatoes'" ... So it was just smaller things ... If you think about it from the perspective of "I'm James Brown every day," it's way too much. So as I got into it, I just took it apart and kept watching footage of him and read biographies. That information inspires you.
So as opposed to, at first saying "I just want to do this justice," there's always that pressure, yes. And there's you wanting to do right by the family. But at a certain point, he inspires you. Like you're inspired by what this man was able to achieve, and just thankful that you get the opportunity to walk in those shoes and be the person that people look at as him for the two-hour span of the movie. It's an inspiring thing ... He had an unbreakable, undefeated spirit. And so at a certain point, if that doesn't get into you then you're not playing him. If you try to play it safe, you're not playing him. Cause that's not how he is.
One of the common traits that you guys share is your South Carolina roots. What are some of your fondest memories of him, growing up in South Carolina?
My earliest memories of him was just hearing his music played around the house. But I don't know if I was necessarily cognizant of the fact that he was James Brown. But at a certain point, I started to hear people say that he was from South Carolina and I actually never believed it. [Laughs] And I was like, "Where from? Barnwell? Where is that?" It's such a small place. And then you would always hear people from Georgia saying that he was from Georgia. And really both things are true. He was born in South Carolina. He lived there for a few years. He was then moved by his father to stay with his aunt in Augusta, Georgia. But I remember that argument as a kid about where he was from.
What were some of the most interesting facts that you learned about him that you didn't know prior to filming?
He was very cognizant of himself as a persona. So there's the "man" and then there's the "persona" of James Brown. And he knew that when he walked around that people should have to pay to see him. He wanted to give you that million-dollar persona at all times. Which reminds me of what you see a lot of hip-hop stars doing, or someone like Floyd Mayweather. It's an interesting thing ... Another thing about him is, he has all his hairdos. He would do a whole show for over an hour. Never stopped moving. And before he comes outside, he gets his hair done all over again. Rollers in the hair, dryer, everything.
How would you describe your on-set experience with the film's producer, Mick Jagger?
Before and during, he's been involved throughout the filming. I sat around one evening just listening to James Brown music with Mick Jagger, and just talking about what's the best recordings to use in the movie. He was very involved in the movie. He was on set as much as he could be.
You mentioned that you took vocal lessons prior to and during filming. Can viewers expect hear you crooning classic James Brown hits in the film?
No. A definitive no. [Laughs] There are moments when I am singing where it's part of his catalog ... Except for "Please, Please, Please." There's different versions of "Please, Please, Please" in the movie. There's one version in the movie where it's actually all my voice. But most of the catalog stuff in the movie is his voice, because obviously, we want you to hear James Brown singing. But there's other moments, say if I'm coming up with a song or I'm singing to somebody else and it's not a recording, then it's probably my voice.
It's a mixture. And then sometimes you may hear a little bit of my voice in the recording for various reasons as well. The main reason the vocal lessons were there was to make that merger happen and also to make that merger more believable. And also the placement of his speaking voice. So it was for all those reasons.
"Get On Up" hits theaters nationwide on Aug. 1.
REAL LIFE. REAL NEWS. REAL VOICES.
Help us tell more of the stories that matter from voices that too often remain unheard.
BEFORE YOU GO
PHOTO GALLERY
Iconic Album Covers