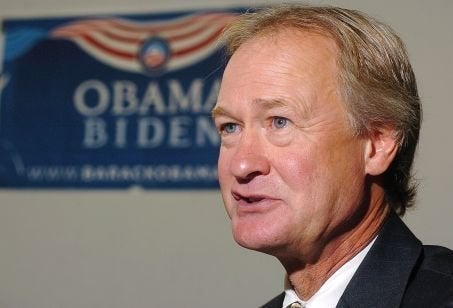 One of Barack Obama's high-profile Republican endorsers during the campaign said he was "stunned" that the president could muster only three Republicans votes for his stimulus package and put the blame squarely at the president's feet.
In an interview with the Huffington Post, former Sen. Lincoln Chafee, who endorsed Obama during the Democratic primary, acknowledged that the president's post-partisan appeal was suffering from a dearth of moderate Republicans in Congress. But he added that the "onus was on" Obama to get broad backing on his first major piece of legislation. And by this metric, he failed.
"The whole appeal of the Obama candidacy was post-partisan, and to get off to that start I thought was surprising," said the Rhode Island Republican. "Ultimately, the chief executive has so much power, and just as a spectator, I thought the onus was on him to just to make it happen. Get 80-or-so votes on your first big initiative, whatever it is."
"To get off to that start, really, I was stunned about that vote in the House. Oh, come on! You've got to get that first vote, whatever it takes," Chafee added. "It was kind of sloppily put together or something and it just gave to partisan oxygen."
Chafee's remarks get at an interesting subtext to the political developments of the president's first 50 days in office. While Obama has benefited greatly from the enhanced Democratic majorities in Congress -- passing, for instance, a $787 billion stimulus in a matter of weeks -- he lacks Republican support to bolster his post-partisan agenda. The White House and Democratic Party would, of course, prefer the sure thing -- legislation that is passed on party lines rather than stuck in limbo to accommodate crossover votes. And the Obama White House has always insisted that the process of erasing partisan lines in Washington will take time.
In that regard, Chafee's criticism underscores just how limited Obama's post-partisan appeal in Washington is currently. A moderate Republican who has voted against his party on major economic matters (see: Bush tax cuts), he would seem naturally sympathetic to the president he endorsed. And yet, he has gone further in blaming Obama than many Republicans in Congress, who have focused their critiques largely on Democratic congressional leadership.
Two other ex-Republican members, while not moderate on fiscal matters to the extent of Chafee, declared that had they still been in office, they would have opposed the stimulus. And both, too, criticized the president for not getting more GOP support.
"On the stimulus everybody voted against it for a number of reasons, some reluctantly and some gladly," said former Rep. Charlie Bass, a self-described moderate New Hampshire Republican who now heads the centrist Republican Main Street Partnership. "Early on, and I know this because I was in meetings with them, there were a number of Republicans who would have supported the stimulus. But they were abandoned when it became clear Democrats didn't need them. It was fair-weathered bipartisanship."
Added Jim Kolbe, a former Representative from Arizona and, likewise, member of the Republican Main Street Partnership: "[the stimulus] could have gotten more Republican votes if it had more emphasis on tax cuts, reducing the tax burdens on business, given greater incentives for investment and business, and reduced personal income taxes... I'm not sure you are ever going to get 80 votes given the amount of money that was in this package. But I think it is correct that [Obama] could have restructured this in a way that could have gotten a lot more votes from each side."
To be sure, Bass and Kolbe are not naturally members of Obama's political constituency. Both fiscal-conservatives and, in Bass' case, retaining the possibility of a future run at office, their natural inclination would be to oppose the recovery package. That said, Bass, Kolbe and Chafee don't face the same political pressures to toe the party line as elected members of the GOP. And in this context, their remarks illustrate just how difficult it is for Obama to win Republicans -- even the defeated and unelected -- over to his cause.
"When Obama talks about bipartisanship there are a number of reasons why it is hard to get bipartisan support," explained Stu Rothenberg, author of the Rothenber Political Report. "From an ideological point of view, it is true that a lot of the moderate Republicans have been weeded out," he said. "There is a tactical element as well. It is not that there were no moderate Republicans left in the House. It's just that they are persuaded by the view that the only way to rebuild the party would be to take a stand. Once you accept the hand of bipartisanship, by that logic, you've lost your clout."
Calling all HuffPost superfans!
Sign up for membership to become a founding member and help shape HuffPost's next chapter