WASHINGTON ― The Office of Government Ethics responded to a request by House Oversight Committee Chairman Jason Chaffetz (R-Utah) about White House adviser Kellyanne Conway's possible breach of federal ethics rules by informing him that his committee has more authority to investigate this matter than the agency.
The letter from OGE Director Walter Shaub to both Chaffetz and Rep. Elijah Cummings (Md.), the top Democrat on the oversight panel, came in response to a letter the two congressmen sent urging the agency to determine if disciplinary action was warranted for Conway after she told people to purchase Ivanka Trump's brand line while appearing on Fox News. Federal laws ban executive branch employees from endorsing particular commercial products or companies.
Shaub said that the agency would follow the available disciplinary process for Conway, but he added that the oversight committee headed by Chaffetz has far more powers to investigate this matter than OGE.
"Unlike the Committee, OGE cannot issue subpoenas, question witnesses, compel the production of documents or take action against individuals who refuse to cooperate," Shaub wrote to Chaffetz and Cummings.
Chaffetz told The Huffington Post on Tuesday that his takeaway from the letter was the recommendation that the White House take disciplinary action.
"We're going to see what the White House does at this point," Chaffetz said.
And if it does nothing, would the oversight committee investigate?
"Well, they should do something," he said. "I don't know what the proper remedy is. It is a first-time offense. I'm not trying to make any excuses for it, but I want the White House to let us know what they're doing."
Chaffetz has called Conway's endorsement of Ivanka's product line "wrong, wrong, wrong." The only action he has taken so far is the letter sent to OGE that Shaub is now responding to. There are no committee hearings scheduled to investigate Conway's possible ethical breach or whether the White House actually required employees to undergo ethics training.
OGE's role is mainly preventive, helping to ward off conflicts of interest and ethics violations before they happen. It is not an investigative or enforcement body. As Shaub notes in his letter, OGE does not have "any actual investigative authority or resources for hiring investigators."
Shaub further explains in his letter that the disciplinary process that Chaffetz suggested the agency undertake for Conway is really just a case of kicking the can down the road. It is entirely possible, Shaub writes, that the disciplinary process would not reach its conclusion until late April or early May. Even then, the ultimate disciplinary decision would be left in the hands of the president and not OGE. The oversight committee could, however, compel testimony and subpoena documents immediately.
The agency's disciplinary process began when OGE asked White House deputy counsel Stefan Passantino on Thursday to notify the agency if the White House took corrective action against Conway.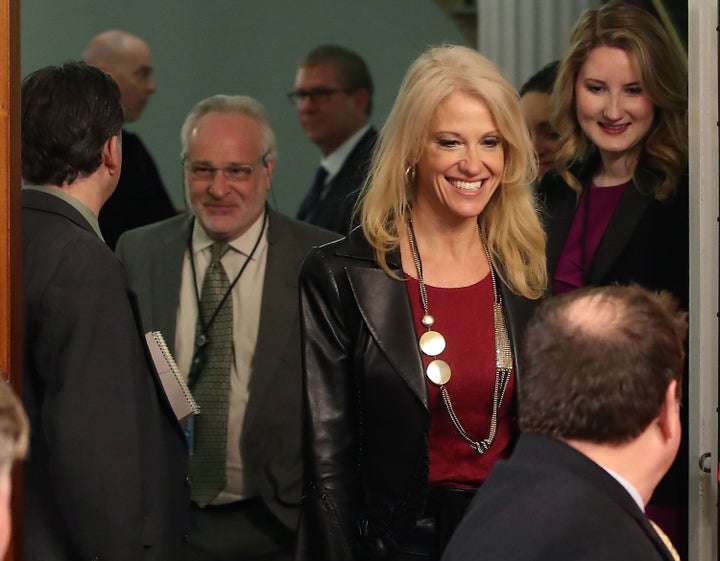 The same day that OGE asked to be notified if the White House disciplined Conway, press secretary Sean Spicer stated at the daily press briefing that Conway "has been counseled." According to a letter sent from Shaub to Passantino and White House counsel Don McGahn on Monday, the agency did not receive "notification of any disciplinary or other corrective action against Ms. Conway."
In the letter to Passantino and McGahn, the agency explained that it has the legal authority to suggest the White House take disciplinary action against an employee. Shaub went on to state in the letter, "There is strong reason to believe that Ms. Conway has violated the Standards of Conduct and that disciplinary action is warranted."
President Donald Trump attacked the luxury department store Nordstrom after the company announced that it would no longer carry Ivanka Trump's brand line due to poor sales. Spicer said that the president had every right to defend his daughter and claimed that the department store was inappropriately reacting to political pressure.
Conway subsequently went on Fox News, in an official capacity as a representative of the president of the United States and in front of the official seal of the White House, and told viewers, "Go buy Ivanka's stuff, is what I would tell you. I hate shopping, I'm going to go get some myself today."
She added, "This is just a wonderful line. I own some of it, I fully ― I'm going to give a free commercial here. Go buy it today, everybody, you can find it online."
Shaub wrote to Passantino and McGahn that this act is a "clear violation of the prohibition against" federal employees pitching products in their official capacity. The OGE director pointed out that the federal ethics manual includes an example of what not to do that is practically identical to what Conway did.
For this reason, OGE recommended the White House take disciplinary action. The problem, though, is that OGE cannot compel the White House to discipline Conway. Instead, this recommendation begins a lengthy process that would start with a White House response by Feb. 28 and end at the beginning of May.
Discipline for Conway will not be left to OGE, but to President Trump. CNN reported that Trump "completely" supports Conway after her endorsement of Ivanka's brand. Chaffetz's committee would be the only remaining arena to press for actual consequences.
"This was a textbook violation of federal ethics rules, and the President should follow the independent advice of the Office of Government Ethics to impose discipline on Ms. Conway," Cummings said in a statement to HuffPost.
This post has been updated with comment from Chaffetz and Cummings.
Popular in the Community