Republican House Oversight Committee chairman Jason Chaffetz (Utah) on Tuesday announced a probe into President Donald Trump's handling of sensitive information about North Korea's missile launch while he was seated at an outdoor patio table at Mar-A-Lago Saturday night, surrounded by dinner guests. 
A number of those guests took photos of Trump and Japanese Prime Minister Shinzo Abe reviewing documents and making phone calls at the dinner table before the two men issued formal responses to the North Korean test late Saturday night.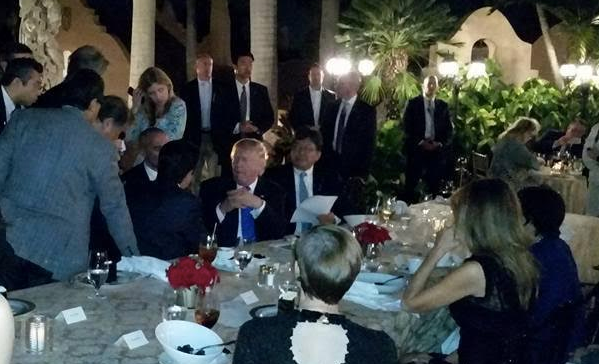 According to the Chaffetz letter, it appears White House staff provided the president with documents to review while he and Abe were sitting at a table with a dozen other guests. 
News reports have recounted on February 11, 2017, the President and the Prime Minister of Japan discussed North Korea's launch of an intermediate-range ballistic missile while at dinner at the Mar-a-Lago resort's public dining area. Accounts and photographs from other diners seem to indicate these communications occurred in the presence of other guests. Reportedly, documents were provided by what appeared to be White House staff for the President's review while the dinner proceeded. During this time, according to reports, the President made telephone calls to staff in Washington, D.C. These reports and social media accounts have suggested White House staff used their own cell phones to provide illumination for reviewing documents.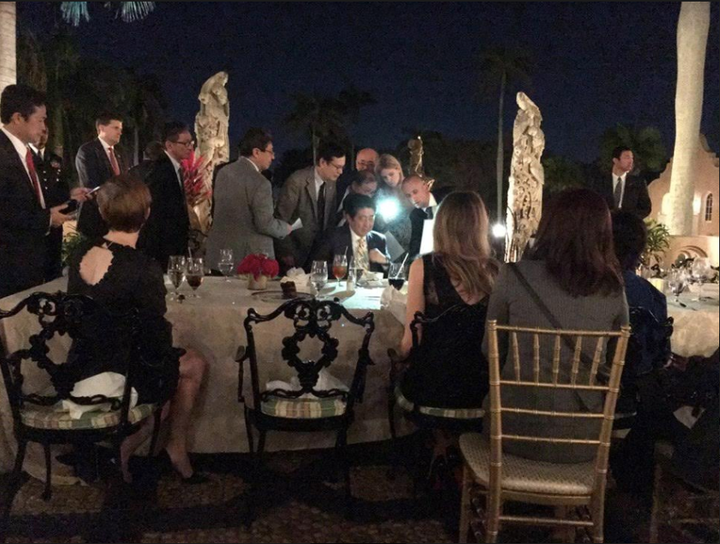 The letter also notes that "Separately, one Mar-a-Lago guest posted to his Facebook page a photograph with a man described to be the holder of the 'nuclear football.'"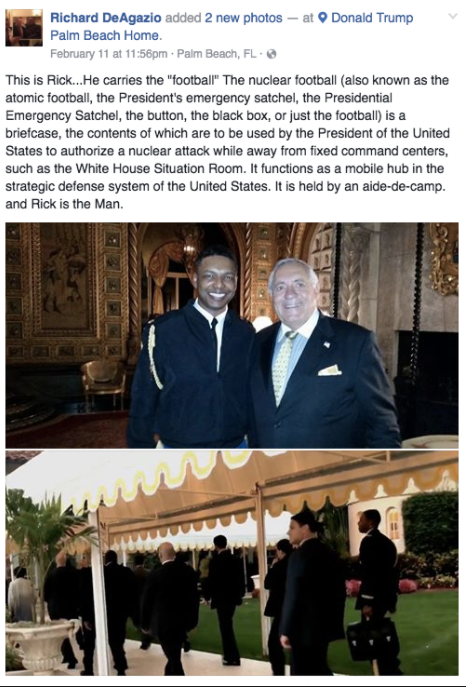 Following the release of the photos, White House press secretary Sean Spicer insisted that no classified information was presented to the president in the Mar-a-Lago dining room, and that Mar-a-Lago has its own Sensitive Compartmented Information Facility, or SCIF, where Trump was briefed.
Nevertheless, writes Chaffetz, "discussions with foreign leaders regarding international missile tests, and documents used to support those discussions, are presumptively sensitive." 
The letter goes on to request that the Trump administration provide "an explanation of whether proper security protocols were followed with regard to discussions at Mar-a-Lago," and "whether any classified information was discussed in common areas at Mar-a-Lago." The committee asked that the information be submitted within two weeks. 
The timing of the announcement may have been strategic, coming just hours after Chaffetz told reporters that his committee saw no need to investigate ties between Russia and Michael Flynn, the former White House National Security Adviser. Flynn resigned late Monday night after it was revealed that he lied to his colleagues about conversations he had with the Russian Ambassador last year.
REAL LIFE. REAL NEWS. REAL VOICES.
Help us tell more of the stories that matter from voices that too often remain unheard.