In the 1950s Picasso said, "When Matisse dies, Chagall will be the only painter left who understands what color really is." Famous for his colorful paintings of floating figures and flying animals, Russian-born artist Marc Chagall also worked in other mediums. It's these lesser-known aspects of the artist's practice that are explored in "Chagall: Beyond Color" at the Dallas Museum of Art from February 17 to May 26, 2013.
Costumes, ceramics, and sculptures are arranged chronologically -- from Chagall's formative years in Russia and Paris, wartime exile in the United States, and post-war return to France. Visitors may recognize in the white marbles, terra cottas, and silk ballet costumes familiar people and animals from his much loved paintings.
The eldest of nine children in a poor Hasidic family from Vitebsk, Chagall's early art training was in St. Petersburg with stage and costume designer Léon Bakst. A number of works relating to Chagall's theatrical commissions are on view, including sketches for the Jewish Art Theatre in Moscow, "The Firebird" and ceiling of the Paris Opera.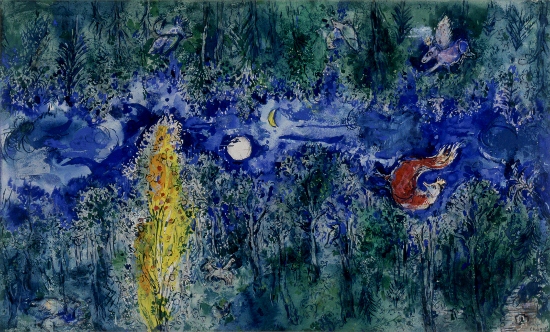 Marc Chagall, Model for the curtain "The Firebird", The Enchanted Forest, 1945, Private collection, © Archives Marc et Ida Chagall. © 2012 Artists Rights Society (ARS), New York/ADAGP, Paris
The show's centerpiece is a group of 15 costumes Chagall designed for "Aleko" -- a ballet based on Pushkin's "The Gypsies" with music by Tchaikovsky. Chagall created the costumes and sets during a two month stay in Mexico City where "Aleko" premiered in 1942, attended by artists Diego Rivera and Jose Orozco.
Critic Edwin Denby described the backdrops as "...a dramatized exhibition of giant paintings... It surpasses anything Chagall has done on the easel scale, and it is a breathtaking experience, of a kind one hardly expects in the theatre." At the DMA, these backdrops are projected onto a stage filled with costumed mannequins, while footage of the original performance plays nearby.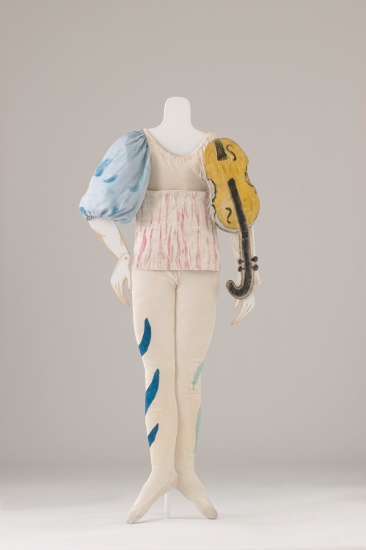 Marc Chagall, Costume for a Clown (Aleko Scene II), 1942, Private collection, Paris © Archives Marc et Ida Chagall. © 2012 Artists Rights Society (ARS), New York/ADAGP, Paris
When Chagall was in his 70s, he began experimenting with ceramics and sculpture in the south of France, where Picasso and Fernand Léger were also working. Initially, Chagall painted existing pottery but eventually designed his own. His distinctive style is evident in some 30 ceramics and 15 sculptures in marble and stone.
"We do not connect Chagall with ceramics, but he did beautiful, extravagant plates, jugs and vases," says Olivier Meslay, exhibition curator and the DMA's associate director of curatorial affairs. "There's an incredibly strong relationship between his sculpture and Romanesque church sculpture in the mixing of animals and people."
According to Meslay, Chagall's interest in ceramics may be tied to his connection to place after decades of moving from country to country. In a preface for a 1952 exhibition, Chagall wrote: "...Even the earth I stand on exudes light. She looks at me looks at me lovingly as if she wants to call me. I wanted to feel this earth just like the craftsman old..."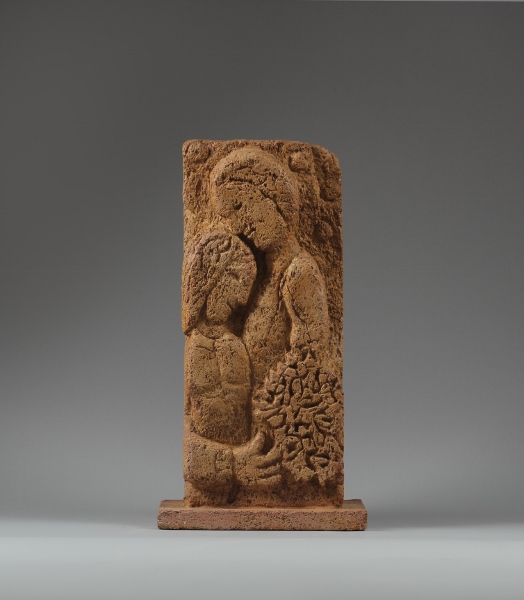 Marc Chagall, Lovers with a Bouquet, 1951-52, limestone , Private collection, © Archives Marc et Ida Chagall. © 2012 Artists Rights Society (ARS), New York/ADAGP, Paris
Chagall was still working when he died in the village of Saint Paul-de-Vence in 1985 at age 97 and some of his late collages made with painted paper, fabric, lace and pine needles are on display. "I would like the public to rediscover Chagall through another path -- volume," adds Meslay. "The power of Chagall's imagination is amazing."