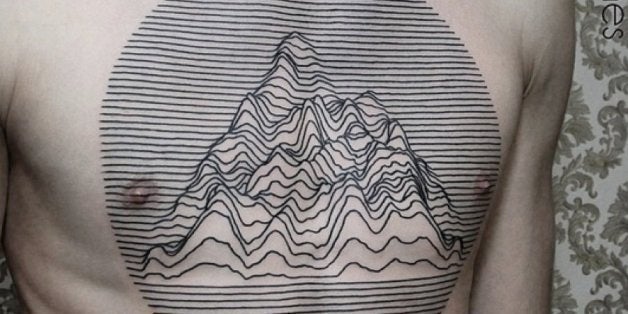 Sharp waves stretch back for as far as you can see, eating up the horizon in a vast display of stunning movement. Like the peaks and troughs of a chaotic line graph, the seas capture jumping fish as they weave in and out of the thrashes. Careful shading separates the animal bodies as they surface, drenched in the bleeding red pigment of a sunset-flooded landscape.
The description might sound like a recounting of an ancient Japanese print or a sprawling painted canvas, but the words are actually attached to artwork of a different sort. They tell the story of artist Chaim Machlev and his gorgeous tattoos.
Machlev's inked masterpieces would seem at home amidst the fractal imaginings of digital artists or the mind-bending creations of the op art world. Crafting arm's length swirls and chest-sized 3D globes, his tattoos throw traditional rosebuds and nautical anchors to the wind. Forget calligraphic text and tribal bands, Machlev pines for geometric wonders that destroy dimension and trick the eye.
Machlev's studio goes by the name "Dots to Lines," and though it's based in Berlin, Germany, his tattoos have been shown across the web, thanks in part to his stunning Instagram account. Check out a preview of the offerings below and head over to the DTL website for more.
Calling all HuffPost superfans!
Sign up for membership to become a founding member and help shape HuffPost's next chapter
BEFORE YOU GO
PHOTO GALLERY
Amanda Wachob's Tattoo Art