Fact: on June 14, 2011, I received an unsolicited email from an artist with whom I've been acquainted for years. It read,
"This is a chain letter, yes, but it is also an invitation to participate in the Chain Letter show at the Shoshana Wayne Gallery. See below for details and please forward this to 10 artists you admire."
It sounded fun and I liked the stated direction of artists you admire. OK, I'll bite. In the week following, I received approximately 25 additional invitations to the same exhibition. Now I really thought this might be fun.
It turned out that the artists at the helm of the Chain Letter concept were none other than Doug Harvey and Christian Cummings, both well-established artists with individual studio practices. After speaking with Doug and Christian I learned that they prefer to be seen as "instigators" of this project rather than curators or organizers. They consider their work to have ended with the ten emails they sent to artists they admire and that the rest of the exhibition is entirely artist-driven by those who responded.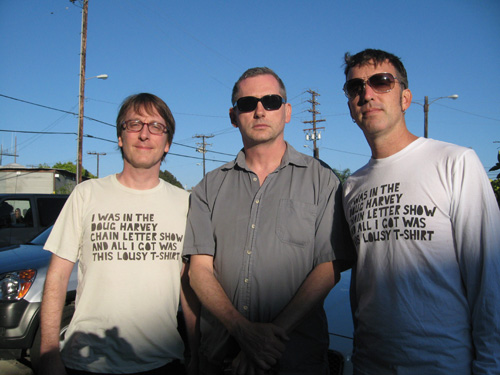 Doug Harvey (center) with friends. Image courtesy of Daniel Hawkins. ©2011 Daniel Hawkins
One of the deciding factors for my participation is that I've known Doug for years. His massive group exhibition in 2008 titled Some Paintings at Track 16 in Bergamot Station was so successful that the opening reception created a SigAlert on the Santa Monica Freeway west bound at the Cloverfield exit. Now that's impressive!
I have always liked the idea of artists participating in collective efforts, which we so seldom do. In 2001 at Crazy Space-- an experimental art space at the 18th Street Arts Center in Santa Monica -- I organized an exhibition titled A Matter of Structure. Eighteen artists came together for a day to construct a so-called Obelisk out of their own failed artworks and other aesthetic detritus. I loved participating and I loved the results. This experience came to mind when I considered submitting work to Chain Letter. I therefore chose a small painting -- not my newest creation -- left it wrapped in clear plastic and lashed it to a tripod with hanging wire. This gave me some sense of security that my piece might not be damaged. Part of the directive of Chain Letter was that no artwork could hang on a wall, only the floor of the gallery was available for this exhibition.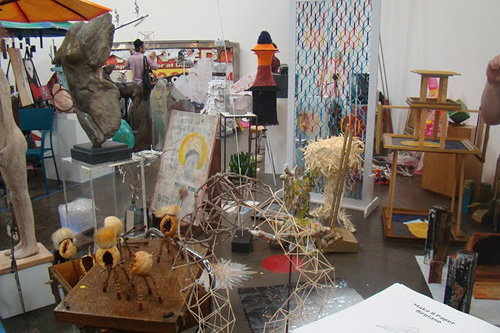 A view of Chain Letter at Shoshana Wayne Gallery. Image courtesy of Tanya Ragir. ©2011 Tanya Ragir
The resulting collective artwork inspired by Chain Letter was nothing short of a phenomenon. Though it sounds very straight-forward -- send out some emails to artists you admire, grab a piece of art or make one, head to Shoshana Wayne Gallery on a given day and time and drop it off -- but for me it was so much more.
I personally stood on line an hour and a half. Snaking all the way around Bergamot Station in a giant loop, the line started at Shoshana Wayne Gallery's check-in table, queued eastward in front of the B Building, around the back of the A Building and past the front gate. It was quite a sight. There were hundreds -- eventually sixteen hundred -- artists, most of whom I had never seen in my life. All had their art works in tow, some even rented U-Hauls or had work delivered by established (read: expensive) art handlers and even one came in a limo. I thought I'd seen it all.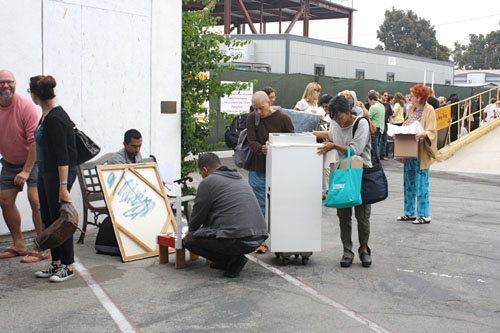 Artists delivering work at the Chain Letter exhibition. Image courtesy of Lavialle Campbell. ©2011 Lavialle Campbell
Much to my surprise, I personally saw no cutting in line and as we each installed our own work in the gallery, I witnessed only the most sincere respect for all art in terms of placement. Everyone was chatting and affable -- people were getting to know one another with a we're-all-in-this-together spirit. Wow, now these are all artists we're talking about.
Apart from the collective nature of the artwork, what impacted me most was the amount of time, energy and/or money the vast majority of artists put into the pieces they submitted. I interpreted this to indicate that many artists saw Chain Letter as perhaps the one opportunity to have their work seen in an "A" list gallery by someone of substance, meaning someone in the art world who has the power to do something about their work. It made me sad, even though I've watched this dynamic on a much smaller scale for the past 32 years. For me, however, it was an opportunity to be part of a bigger idea, for the curiosity of how this thing might turn out and for the experience.
All of this energy makes a great exhibition and true to the idea of the collective, nothing seems more important than anything else. It is the great equalizer and I mean that in the truest sense. Not only is Chain Letter a visual equalizer but it also levels ones standing within the exhibition, something, to which I imagine, the art world and artists are not generally accustomed. Congratulations to all of us.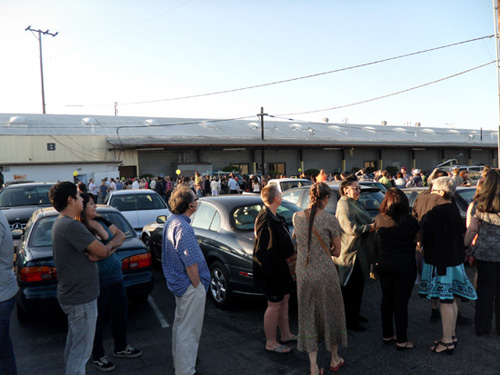 More lines at the opening reception of Chain Letter. Image courtesy of Carol Cheh. ©2011 Carol Cheh.
Chain Letter runs through August 23rd at Shoshana Wayne Gallery, Bergamot Station, 2525 Michigan Avenue #B1, Santa Monica, California 90404, Open Tue-Fri 10am-6pm; Sat 11am-5:30pm (310) 453-7535
Related
Popular in the Community