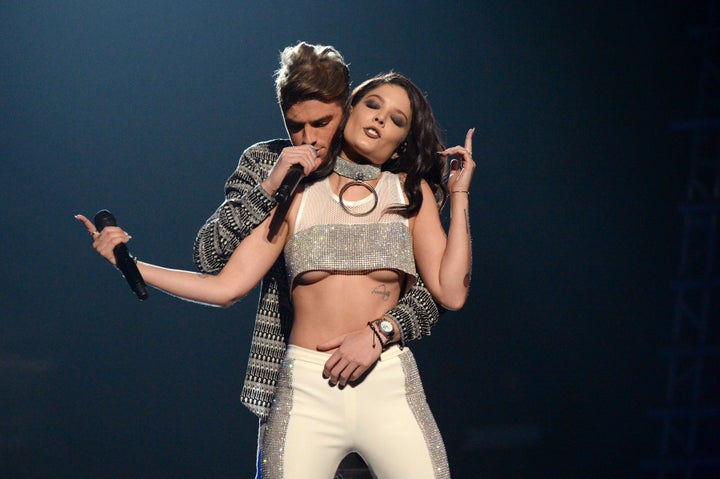 Remember that freshman frat-star in training who spilled a Natty Light on you without noticing, while simultaneously confessing his long-held dreams of DJ stardom? 
Well, he grew up, multiplied and started the EDM duo The Chainsmokers ― aka the reason why you can't stop singing that song about driving a Range Rover you can't afford. 
The Chainsmokers (human names Andrew Taggart and Alex Pall) have apparently decided to use their new platform to confirm everybody's assumptions and slam other artists ― especially female ones ― for their hard work. 
Unfazed by the criticism, Gaga channeled her inner Countess to craft this subtly shady tweet informing The Chainsmokers that they might like her new single, "A-YO," better. 
Someone using the joint Chainsmokers account responded to the tweet with "RESPECT," and that's where this exchange should have ended. 
But then, the singer Halsey, who collaborated with the duo on the hit song "Closer" (see: Range Rover reference above), shared the social media love with Gaga, which apparently was too much for one Chainsmoker to handle. 
According to BuzzFeed, this girl-power exchange didn't sit well with Taggart, who reportedly tweeted at Halsey, "f**k you bald bitch," mere months after the two got handsy with one another during their performance at the VMAs. 
Taggart immediately denied that he wrote such a tweet, calling it "fake" and telling his followers that it makes him "sad" that anyone would think he could say something like that, even though The Chainsmokers have routinely said gross things about women for much of their time in the spotlight. 
Example? "Even before success, pussy was number one," Pall told Billboard in an interview last month. "Like, 'Why am I trying to make all this money?' I wanted to hook up with hotter girls. I had to date a model."
Except now we know that his tweet probably wasn't fake, thanks to one fan who handily delivered the tweet receipts before the message was deleted from Taggart's account. 
Taggart later claimed that his account was "hacked" and that he would never write something like that to someone he considers a friend.
But that's when things went from "Can we recover from this?" to full-scale PR meltdown when a series of disgusting tweets were released from Taggart's account directed toward various queens in the music industry.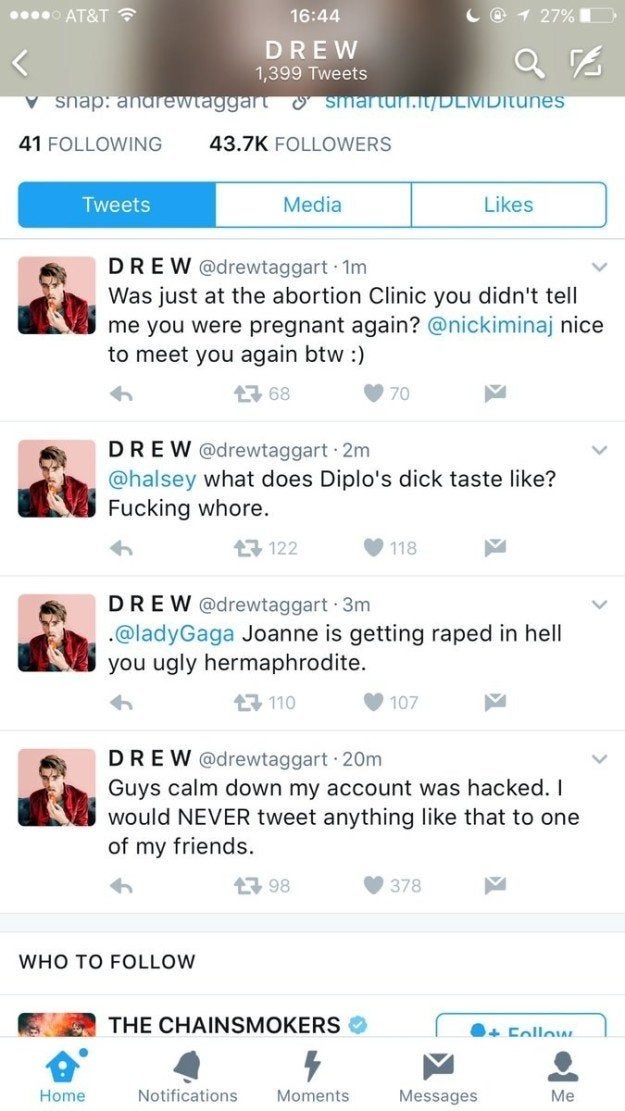 In an emailed statement to The Huffington Post, Taggart's representative said, "Drew's Twitter account was hacked but the band quickly worked directly with Twitter to re-secure his account."
With Twitter hacks and music industry misogyny running rampant, it's hard to discern who's really at fault here, but there is one thing we know for sure: EVERYBODY BUY "JOANNE" OCT. 21 ON ITUNES. 
REAL LIFE. REAL NEWS. REAL VOICES.
Help us tell more of the stories that matter from voices that too often remain unheard.
BEFORE YOU GO
PHOTO GALLERY
Celebrity News & Photos