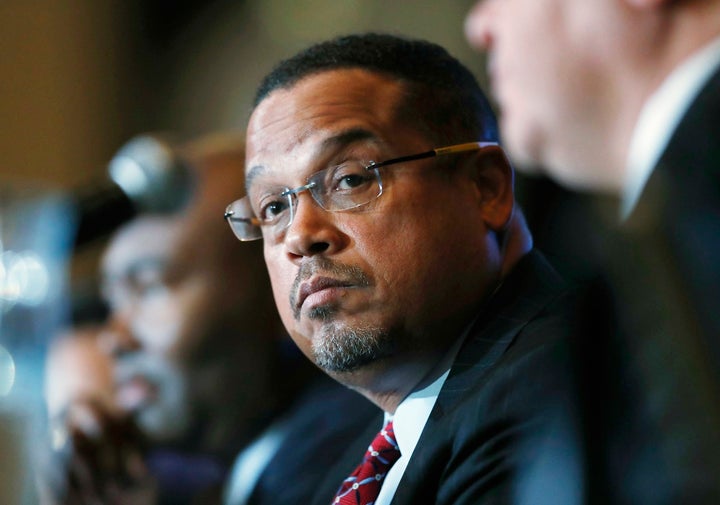 There's a packed field in the race to chair the Democratic National Committee, whose 447 members will elect their new leader on Saturday. Rep. Keith Ellison and former Secretary of Labor Tom Perez lead the nine candidates who remain in the contest — a relatively diverse bunch hailing from around the country and from various levels of government. A third hopeful, Mayor Pete Buttigieg of South Bend, Ind., has collected some noteworthy endorsements and become the race's potential dark horse.
The candidates' platforms, views and credentials are easily accessible. Less visible are their fundraising vehicles. Yes, as with any campaign, running for DNC chair costs money.
Keith Ellison, Minnesota congressman
On his campaign website, Ellison touts his status as a "proven fundraiser," and he has backed up that claim in pursuit of his goal. An Ellison spokesperson told OpenSecrets Blog that the campaign was raising money through three accounts: Ellison for Congress, Ellison's federal campaign committee; Everybody Counts Everybody Matters PAC, Ellison's federal leadership PAC; and Keith for DNC, a joint fundraising mechanism. The joint committee allows contributors to write a single check and have their gift split between the lawmaker's campaign committee and leadership PAC.
Standard FEC contribution limits apply here: Ellison's campaign committee can accept up to $2,700 per individual donor, and Everybody Counts Everybody Matters PAC can receive up to $5,000 per individual donor per year.
At the end of 2016, Ellison's campaign account had almost $490,000 in remaining cash on hand, and his leadership PAC had about $18,000, funds he is allowed to use for his bid to chair the party's main committee. An Ellison spokesman said the candidate had raised upwards of $1 million in addition to that for the DNC race.
According to the spokesperson, the money has been used for travel to meet with DNC members, for staff salaries and for digital advertising. The campaign has also connected with DNC voters mostly through one-on-on phone calls. Among Ellison's most prominent backers: Rep. John Lewis (D-Ga.), Sens. Bernie Sanders (D-Vt.) and Elizabeth Warren (D-Mass.) and Senate Minority Leader Chuck Schumer (D-N.Y.). The AFL-CIO, the nation's largest federation of unions, also endorsed Ellison — as did the United Steelworkers and the Communications Workers of America, each of which gave Ellison $10,000 in the 2016 election cycle through their PACs.
On Feb. 18, DNC chair candidate Ray Buckley (who is the New Hampshire Democratic party chair) dropped out of the race and endorsed Ellison.
Tom Perez, former secretary of labor
Ellison's most prominent competitor, Tom Perez, was secretary of labor under former President Barack Obama from 2013-2017. His campaign raises funds through Team Tom, a 527 organization. In fact, six of the nine current candidates use 527 groups for their campaigns; they don't have campaign committees because they have never run for federal office. 527s report contributions and expenditures to the IRS. One advantage? There are no limits on the sizes of the contributions they can receive.
Xochitl Hinojosa, a Perez spokesperson, said in an email that Team Tom has raised about $1 million, much like Ellison's campaign, and that the money has been used for staff, travel, literature, a website and digital ads. Perez raised the money with self-imposed restrictions in place: His campaign has not accepted contributions from federal lobbyists or corporations, and he has capped individual donations at $33,400.
The period from Dec. 12-31, which Team Tom's year-end report covers, didn't bring any donations of that size — but there were two gifts of $20,000 each from Stephen Cloobeck, founder and chairman of Diamond Resorts International and a prolific donor to the Democratic party, and Hasmit Popat, founder and CEO of Hascor International Group, a metals and minerals firm based in Perez' home state of Texas.
Ellison declared his candidacy a month before Perez did, which may have affected endorsements.
Pete Buttigieg, mayor of South Bend, Indiana
Many view the DNC chair race as a contest between Ellison and Perez, but Buttigieg has collected a fair share of impressive endorsements. Former Democratic Govs. Ed Rendell (Pa.), Martin O'Malley (Md.), Ted Strickland (Ohio) and Howard Dean (Vt.) have all backed the mayor. And given the 2016 presidential election, far more surprising things have happened.
Buttigieg, like Perez, has never run for federal office; so his campaign has raised funds through Pete for DNC, a 527.
His press contact did not respond to further questions about Buttigieg's fundraising and spending.
The other candidates and their fundraising organizations are as follows:
We weren't able to obtain fundraising information for candidate Robert Vinson Brannum.
The Republican National Committee recently selected a chair to replace Reince Priebus, now White House chief of staff, through a much simpler process. President Donald Trump recommended Ronna Romney McDaniel for the post in December 2016, and the 168-person RNC elected her last month.
Presidents traditionally appoint the leaders of their party committees; Obama, for instance, selected former DNC chair Debbie Wasserman Schultz in 2011. It's when a party does not control the White House that elections such as the DNC's occur — like in 2011, during Obama's presidency, when Priebus defeated incumbent chair Michael Steele and other candidates.
Michael K. Fauntroy, associate professor of political science at Howard University, explained that "electing a party chair is one of the spoils that goes with the position of president." He went on to say that although the DNC race has been a high-profile one, it has not necessarily been out-of-the-norm.
"The out of power party always has contentious races. The difference this time is there is much more attention paid to the race, and with that attention comes extra money," he said.
Regardless of who wins, attention and money have abounded — that much is undeniable.
Popular in the Community