A few years ago, Craft & Folk Art Museum had a provocative exhibition of posters and sculptures by Russian artists made during the tumultuous years of Glasnost and Perestroika in the late 80's and early 90's, when Mikhail Gorbachev attempted to save the Soviet Union from collapse.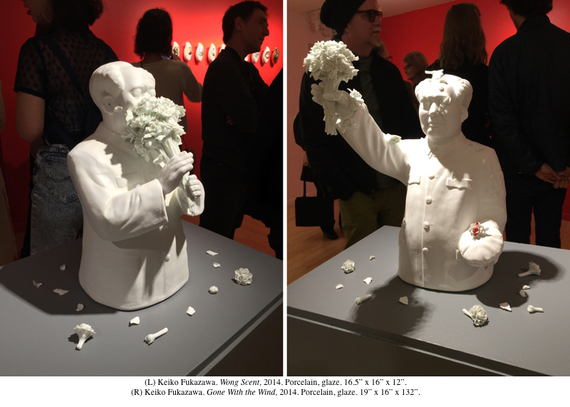 Another rather provocative exhibition opened at CAFAM a few days ago, an exhibition that makes gentle --and sometimes not-so-gentle --fun of Chairman Mao. His famous (or should we say infamous?) 1956 Hundred Flowers Campaign was initially presented as the "policy of letting a hundred flowers bloom..." But after a brief period of liberalization, Chairman Mao abruptly changed course and spearheaded a political crackdown.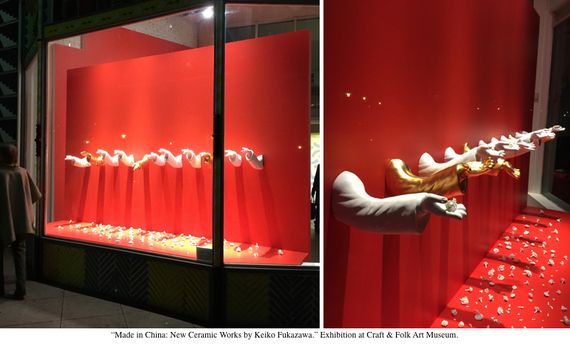 Los Angeles-based artist, Keiko Fukazawa, spent the last three years in China, where she was an artist in residence in Jingdezhen, known as the "porcelain capital" of the world. The press release for her exhibition, "Made in China: New Ceramic Works by Keiko Fukazawa," says "the city has been a global center of ceramic production and innovation for almost 2,000 years."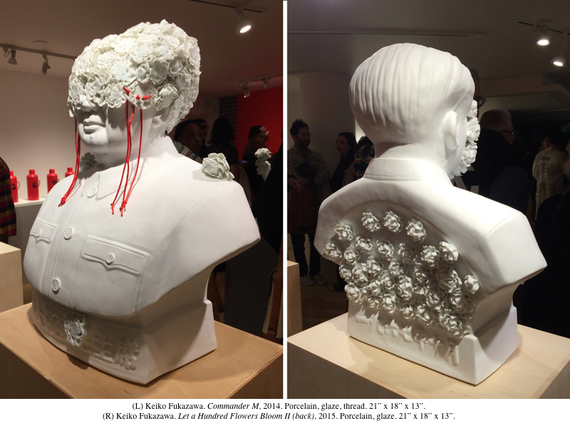 In a series of almost life-size porcelain busts of Chairman Mao, Fukazawa evokes mass produced images of the Chairman, but with a certain artistic and political twist: hundreds of delicate, small flowers are held in his hands, adorn his face, and even stick to his back. At the museum's front window, visitors are greeted with about a dozen of Chairman Mao's arms extending out from a red wall, and spreading --what else? --a hundred porcelain flowers.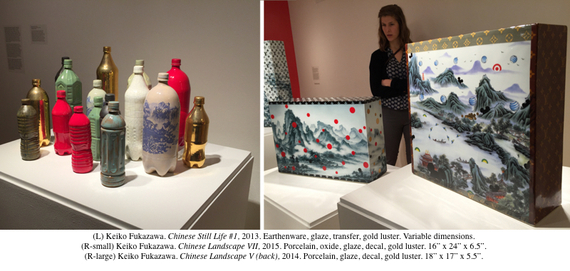 With equally exquisitely crafted large porcelain boxes, Fukazawa evokes the tradition of Chinese landscape painting, but purposely disrespects and invades it with corporate logos of the likes of Louis Vuitton and McDonalds, thus pointing to the issue of global capitalism, which left Mao's policy of the Hundred Flowers Campaign in the dust.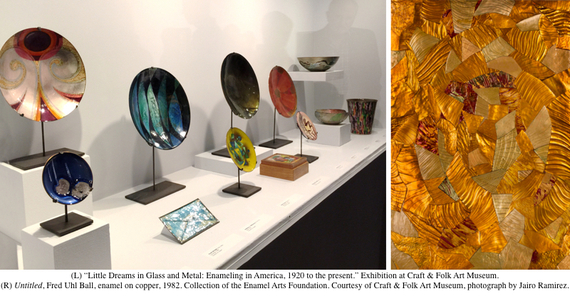 Now, if we allow ourselves to leave politics behind, let's climb to the top floor of the museum and concentrate there on the exhibition dedicated to the exquisite craft of enamel, which has flourished in America in the last hundred years. The exhibition, "Little Dreams in Glass and Metal: Enameling in America, 1920 to the present," consists of more than a hundred works, ranging from jewelry to abstract wall panels. This traveling exhibition was organized by the Los Angeles-based Enamel Arts Foundation, which sprung from the private collection of two well-known collector-curators, Bernard Jazzar and Harold Nelson.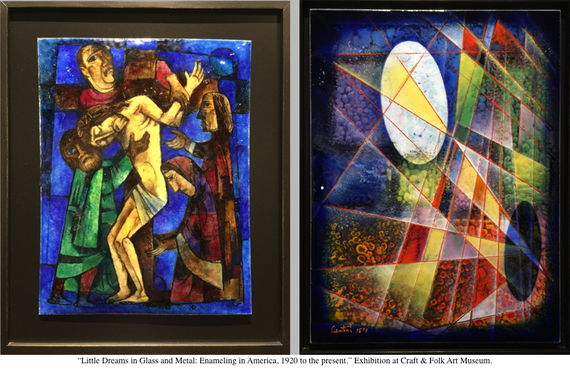 In her eloquent statement, Museum Director Suzanne Isken says it all, "Enamel carries the same alchemical properties as glass and ceramics, in that fire infuses the work with a surface mystery that is both magical and precious and always with a sense of drama..." So my friends, make your way to CAFAM. You don't want to miss these two excellent exhibitions.
To learn about Edward's Fine Art of Art Collecting Classes, please visit his website. You can also read The New York Times article about his classes here, or an Artillery Magazine article about Edward and his classes here.
Edward Goldman is an art critic and the host of Art Talk, a program on art and culture for NPR affiliate KCRW 89.9 FM. To listen to the complete show and hear Edward's charming Russian accent, click here.
Popular in the Community