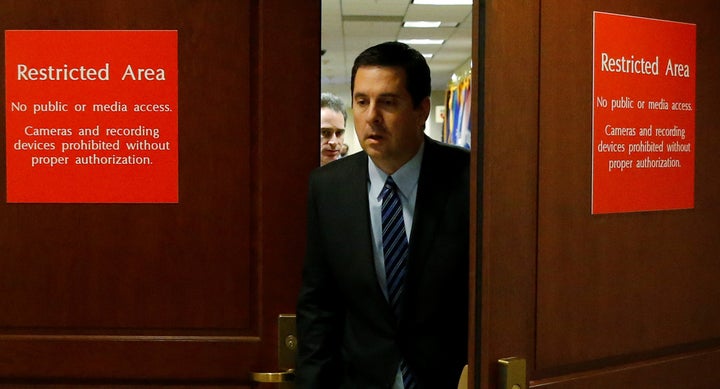 As a former member of the Donald Trump transition team's executive committee, Rep. Devin Nunes briefed Trump and his team on intelligence matters, as he had done during the campaign. He worked closely in that role with General Michael Flynn, who resigned in February because he lied about having conversations with the Russian ambassador. Yet, despite the appearance of a conflict of interest, Chairman Nunes has been serving as Republican Chairman of the House Intelligence Committee, which is investigating links between key Russians and the Trump campaign and transition.
Questions about Chairman Nunes' ability to lead an objective investigation have increased because of his strange behavior since F.B.I. Director James Comey and the director of the N.S.A., Admiral Michael Rogers, appeared before his committee last week. Comey's sworn testimony was disastrous for President Trump.
Comey was asked to respond to tweets Trump had sent to his followers accusing President Barack Obama of having him wiretapped. Comey responded, "I have no information that supports those tweets and we have looked carefully inside the FBI. The Department of Justice has asked me to share with you that the answer is the same for the Department of Justice and all its components. The department has no information that supports those tweets." Comey did confirm that the F.B.I. is investigating the Russian government's interference with the November election, and "that includes investigating the nature of any links between individuals associated with the Trump campaign and the Russian government and whether there was any coordination between the campaign and Russia's efforts."
Two days following Comey's testimony, Chairman Nunes announced that communications by members of President Trump's transition team were included in the "incidental collection" of foreign surveillance. At a Capitol Hill press conference he said he had learned this through a source, which he did not identify, and then headed to the White House to inform the president. Subsequently, Chairman Nunes' spokesperson revealed, "Chairman Nunes met with his source at the White House grounds in order to have proximity to a secure location where he could view the information provided by the source." The spokesperson added, "The chairman is extremely concerned about the improper masking of names of U.S. citizens."
Chairman Nunes has still not shared the information or the identity of its source with any other members of his committee. Nor has he sufficiently explained why he couldn't have used a secure area on Capitol Hill. But President Trump said last Wednesday he felt somewhat "vindicated" by the announcement. It all appeared to be a perfect Trump tactic; change the subject from his unhinged tweets, thanks to the cover provided him by his former transition team member, Chairman Nunes.
Chairman Nunes then cancelled all House Intelligence hearings scheduled for this week. He explained, "There are just questions that we have for Director Comey and Admiral Rogers probably that they just couldn't answer in a public setting but it's necessary to get both of them back down here before we can move on to other interviews." He said that the cancellation had nothing to do with the documents he had viewed in the secure location at the White House. But Chairman Nunes did announce that former Trump campaign chairman Paul Manafort had agreed to testify before the committee. Manafort has come under new scrutiny because of his alleged ties to the Russian backed former president of Ukraine.
Chairman Nunes is reported to believe that the documents he was shown suggest that the Obama administration may have been using its foreign intelligence powers to shadow the Trump campaign. He has said he is concerned that the identities of Trump officials were "unmasked" and widely transmitted to people who had no need to see them, and had "little or no foreign intelligence value."
In January the Director of National Intelligence released a report that found that Russian President Vladimir Putin had tried to influence the outcome of the November election. The report said, "Russia's goals were to undermine public faith in the US democratic process, denigrate Secretary Clinton, and harm her electability and potential presidency. We further assess Putin and the Russian Government developed a clear preference for President-elect Trump."
The Comey revelation last week that the F.B.I. is investigating whether there was any coordination between the Russians and members of the Trump campaign has shaken Washington. How did Trump advisor Roger Stone know in advance that Wikileaks would release damaging emails from Hillary Clinton Campaign Chairman John Podesta? The torrent of embarrassing emails was devastating for the Clinton campaign.
Chairman Nunes is clearly slow-walking his committee's investigation, he has cancelled important public hearings with key witnesses, and he has failed to share information with his committee members while keeping President Donald Trump fully informed. Many in Washington, especially Democrats, have called on Chairman Nunes to recuse himself from the investigation. Chairman Nunes refuses to do so, responding, "I'm not sure the Democrats do want me to quit because they know that I am quite effective at getting to the bottom." But from all appearances, so far his leadership has been quite ineffective.
Chairman Nunes, remember you are no longer serving Donald Trump, you are serving the American people. You must recuse yourself.
Popular in the Community