On Friday night, Chaka Khan asked the stylish crowd at the makeshift Moroccan-themed tent outside Ken Fulk's studio to join her in singing, "I'm Every Woman." But the iconic female anthem might have resonated more (albeit off-key) with the power gays than the actual women in attendance: haute couture collector Tatiana Sorokko, author Sloan Barnett, and Liza Minnelli's former stepmom Denise Hale. If these gals are every woman, then I'm a freakin' modern-day Truman Capote with a splash of Cameron Crowe and a swirl of Armistead Maupin.
Chaka Khan's intimate performance in San Francisco was to celebrate amfAR's 25th anniversary with a benefit dinner and dance party. And who can kick-off a dance party better then the Queen of Funk? The ten-time Grammy winner looked fresh-faced and glowing as temperatures rose inside the tent to mildly uncomfortable even for exotic cocktail attire. Yet, she belted out flawless renditions of "I Feel For You" and "Tell Me Something Good." Chaka Khan still has this vibe about her: less like a diva, and more like your funky mother-in-law, knocking out her timeless hits as if swatting down flies.
During her set, I placed my reporter's notebook down on the table next to me, so I could dance more freely. That's when I caught sight of Alan Cumming nearby. Minutes later I saw him flipping through the pages and giggling to his comrades. Were my questions that amusing? I mean, how creative can you get when interviewing someone like Alan Cumming? After the performance, I retrieved the notebook and walked out. I had learned everything I needed to know about Alan.
Outside I was getting ready to talk to Andy Cohen, who was there hosting the event, only to realize that my interview questions on my notebook were missing. Turns out, I had underestimated Mr. Cumming. He was not only giddy like an overgrown teenager, he was also a clever klepto.
Luckily there is a reason why Andy Cohen does live TV, and it was effortless to kick off an unscripted conversation with him. When I asked him about his upcoming memoir, the one he got a $1 million advance to write, he said that it was coming in early 2012. As for the process, he relied on a journal he wrote from 1987 to 1999. "I read them all again in August, and it was one of the most cringe-worthy experiences of my life," he said (apparently he hasn't watched an episode of Real Housewives of New Jersey, or D.C., or Miami).
Back inside, the socialites and their plus ones danced to DJ Grind and DJ Kiss, both spinning mainly Top 40. Speaking of tops, the party was catered by Taste with Top Chef winner Yigit Pura making carrot soup in the kitchen. And just when I thought the event couldn't have been anymore Bravo-fied, San Francisco sexpert Emily Morse met briefly with Cohen about her upcoming reality show on his network, which begins taping this week.
But amfAR is not just the charitable cause excuse to throw fabulous parties to use as backdrop to reality TV fodder. Over the last 25 years, the organization has raised $350 million dollars to fund biomedical research for HIV.
"San Francisco is an important city for us," said amfAR CEO Kevin Frost. "Not only is it one of the epicenters of the HIV epidemic along with New York, but we like to get back funding from places where we have invested research." The organization has invested in research taking place at The Gladstone Institutes. Another important city for amfAR? According to Frost, Dubai. Can you imagine the benefit parties there?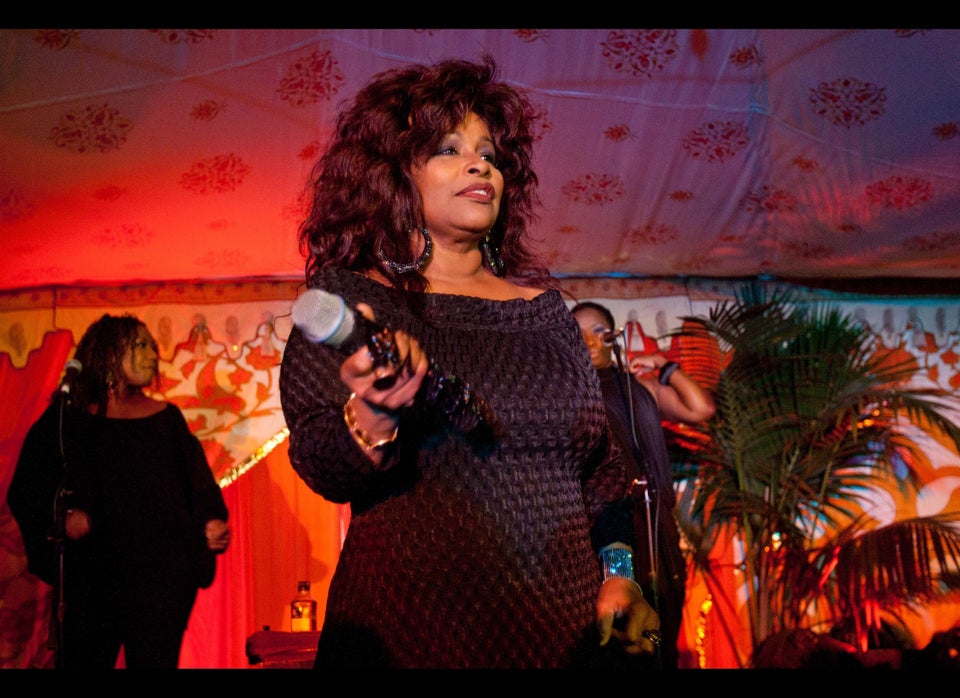 amfAR's 25th Anniversary Party at Ken Fulk's Studio in San Francisco
Popular in the Community