Three days ago, Timothée Chalamet, who stars in the critically-acclaimed film "Call Me by Your Name," posted on his official Instagram account that he was giving his salary from starring in the yet-to-be-released Woody Allen film, "A Rainy Day in New York," to three nonprofit organizations. Other actors who have starred in Allen's films have said recently that they are doing the same, but what was unusual about Chalamet's statement was that unlike his colleagues, he did not criticize Allen or offer words of support to Allen's estranged daughter Dylan Farrow, who has accused her father of sexual abuse (Allen has denied the allegations).
In the post, Chalamet said he was not able to comment on his decision to star in the film, or on Allen, because of "contractual obligations."
HuffPost obtained a copy of Chalamet's contract from a source with access to it, and a review of the document reveals that Chalamet is under no contractual obligation to remain silent about his thoughts with respect to Allen, nor does it prevent him from offering support to Dylan Farrow, which raises the question of why he chose to make such a statement and why he is hesitant to comment on Allen.
Chalmet's donation and Instagram post comes right before voting closes for the Screen Actors Guild Awards and ahead of nominations for the Academy Awards that will be announced on Tuesday. The SAG Awards are airing live Sunday, and voting for them closes Friday at 12 p.m. PST. Given that Chalamet posted his donation announcement on Tuesday, that gave him enough time to gain the attention of his fellow actors before they vote for the awards.
Two prominent actors who have won SAG awards in the past but aren't in contention for this year's awards, who spoke to HuffPost on the condition of anonymity, have accused Chalamet of attempting to play both sides of the game. They say it is an effort to appease SAG voters and members of the Academy who will be voting for Best Actor should Chalamet receive a nomination. By donating the money he is appeasing members who believe that Allen abused Farrow, but by not criticizing him explicitly he is avoiding the ire of members who don't believe the accusations against Allen, including actor Alec Baldwin, who recently referred to actors who have denounced Allen as "unfair and sad."
In an email to HuffPost, Chalamet's representatives claimed that a clause in the standard SAG agreement (which is shown below) that was attached to Chalamet's contract prevents him from speaking publicly. But that clause, according to two attorneys who reviewed it at HuffPost's request, does nothing to prevent Chalamet from speaking publicly about accusations against Allen and from Chalamet offering a word of support to Farrow.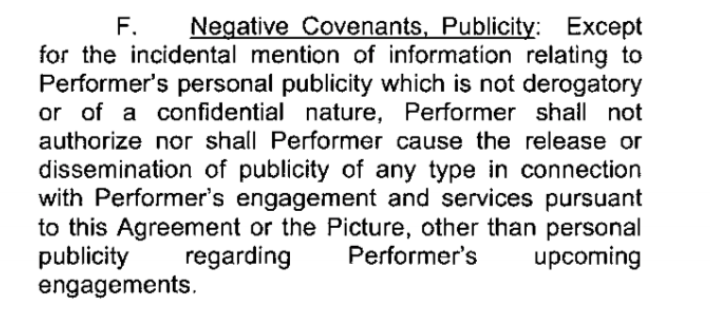 Further contradicting the assessment of Chalamet's representatives is the fact that one of Chalamet's co-stars in Allen's latest film did speak out in support of Dylan Farrow.
"After reading and re-reading Dylan Farrow's statements of a few days ago and going back and reading the older ones ― I see, not only how complicated this matter is, but that my actions have made another woman feel silenced and dismissed. That is not something that sits easily with me in the current or indeed any moment, and I am profoundly sorry. I regret this decision and wouldn't make the same one today."
Support HuffPost
The Stakes Have Never Been Higher
Related
Popular in the Community