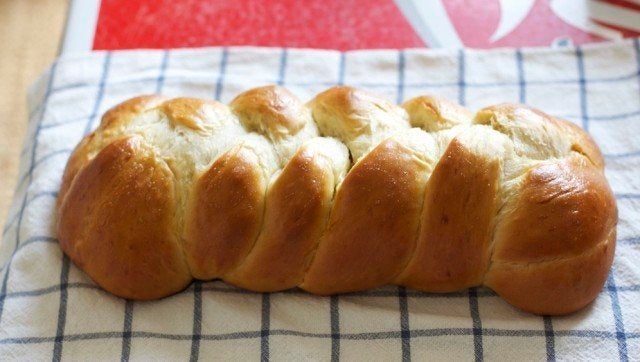 "Last night, I made my first challah," I wrote nearly five years ago. It was a half truth. I, like all other kids who went to Jewish pre-school, had made another challah before, but it wasn't a choice, and it was never really meant to be eaten. That pre-school challah was a show challah, hard as a rock, baked for display to my proud parents, who probably didn't realize that although I wouldn't make a lot of challahs in the next twenty-odd years, talking about making challah would become pretty important to me.
The challah I made five years ago, by contrast, was baked by choice, meant to be eaten and I had a lot more feelings about it than I did about the very first one. The five-years-ago challah, which I dubbed the first all-by-myself challah, produced the first food blog I ever wrote. The blog itself I titled "Chronicles of a Stomach Grumble," and the entry in question, "My First Challah and Other Unforeseen Challenges of Adulthood," because I was verbose, impressed with my own turns of phrase and had a lot to learn about SEO. I've learned a lot about SEO in the last five years, but the other two things haven't changed that much.
To briefly set the scene for my first endeavor into both unsupervised bread baking and unsupervised self-publishing, I had just moved to Cape Cod for the summer with my then boyfriend. We worked in a sandwich shop and pretended to be without responsibility. I had lost my father the winter before, and was confused about where my home was in general, but never more than when I unwittingly spent my first Rosh Hashanah without any immediate family. This coincided with the realization that there are just not a lot of Jews on Cape Cod to bake round challahs for you in September, so sometimes you have to roll up your sleeves and knead the things yourself. So I did. And I was really scared. Although I was becoming a more confident cook, I had never (and maybe will never) consider myself a baker.
To my surprise and delight, the thing turned out like this: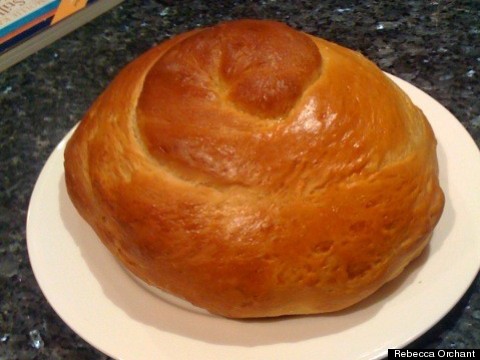 It felt like I'd accomplished a somewhat unbelievable feat. It rose correctly, it burnished on the outside like it was meant to, it tasted right. Most importantly, it reminded me in that way that certain foods often do, that you can take your home with you if you try hard enough. In the five years to follow, I made a lot of big life decisions and wrote a lot more food blogs. But I didn't really bake anymore challahs. It was time to investigate challah, five years later.
My life is incredibly different today than it was then. The boyfriend I moved to Cape Cod with in that weird rollercoaster year of 2008 is my husband now. We live in Brooklyn and I write about food for a living. It still feels really fun to say all that out loud. Cooking isn't just something I do for fun now, I do it because I need to feed myself and I like to be in charge of the things I do that with. Also, sometimes I do it for the experiment, to see how things go, so I can tell you guys about it. Like before, only bigger and crazier. Also, I'd resolved that this was the year I stopped avoiding bread baking.
I felt less nervous about this challah, more willing to take risks, although I didn't really take all that many. This time, the challah took me a lot less time to get going because I was more organized. I measured out all the flour I'd need before I started, I had the appropriate kitchen tools, a big enough bowl, a clean, floured counter-top. I may not have baked a lot of bread in the last five years, but I sure know a lot more about how you should do it.
I used the same recipe both times, a Mollie Katzen recipe from Still Life With Menu, for Racheli's Deluxe Challah (this recipe looks almost exactly the same, although it's from a different book). I kneaded this dough for longer, with more confidence that kneading is really good for dough, and good for arms that maybe haven't been to the gym in months. Since the recipe makes two loaves, I made one in the round Rosh Hashanah style, and braided one like you see every other time of year. I brushed the egg wash on the round challah, then added a tiny bit of orange flower water to the egg wash of the braided challah, just to see if it would perfume it.
They rose, they baked, they sliced nicely and toasted perfectly. I went to bed that night, full of challah and soup and a moderate-weeknight amount of whiskey, and I dreamed of baking more bread the next day. I didn't, but I'm guessing I won't wait five more years.