PENSACOLA, Florida -- Last week I was fortunate enough to attend Challenged Athletes Foundation's Paratriathlon Camp presented by Peter Harsch Prosthetics. I have written before about limb loss in general and my personal experience after losing a leg to cancer, but in my two-and-a-half years as an above-knee amputee I have done nothing more worth writing about.
The first thing to report about Paratriathlon is this: Athletes with disabilities are athletes pure and simple. In fact, when we're talking about people who swim a half-mile, ride 12.4 miles and run 3.1 miles all before breakfast, there's really nothing 'disabled' about them at all. I felt pretty fit when I left for camp. I hadn't been there an hour when I realized I have a long way to go.
The second, perhaps most important thing to report is this: However you may feel about challenged athletes, the real heroes are the coaches, mentors, volunteers and other supporters whose instruction challenges and encourages those of us for whom things are still possible, even if they're hard. In four days' time, I was the recipient of more genuine, selfless human kindness than many people receive in a lifetime. I'm blessed by the many heroes who touch my life every day, including my family and friends, and those like coaches Mark Sortino and John Murray of Multisport Performance Institute, and running coach Scott Winnier -- men whose lasting impact in my life happened over the span of just a few days.
I was one of 13 athletes at the camp. There were men and women ranging from folks in their early 20s to codgers like me. We included people with upper and lower limb amputations and congenital limb deficiencies, wheelchair athletes, some with lower limb paralysis, others with double leg amputations, people with traumatic spinal cord and brain injuries and others with various combinations of all the above.
My roommate, retired Army Major Anthony Smith, Sr., lost his right arm and hip along with the sight in his right eye when he was struck by a rocket-propelled grenade in Iraq. He was presumed dead and partially zipped into a body bag when a medic detected shallow breathing. He lingered in a coma with little hope of resuscitation for 62 days.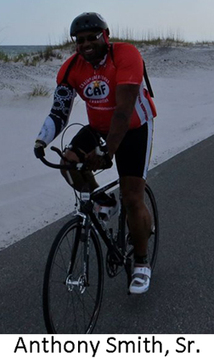 Anthony's is one of 13 compelling stories from Pensacola and his triumph over adversity is typical of all the athletes in attendance. As a partially blind amputee with one working hip, he earned a first-degree black belt in Taekwondo and has opened two martial arts studios. He is an avid, medal-winning triathlete and long-distance cyclist. When not busy providing for his family or attending to a dizzying array of athletic pursuits, Anthony counsels other disabled veterans and advocates for their benefits with the VA. He also mentors young challenged athletes and puts in dozens of public appearances a year. He tells me he's about to formally retire from his side job as a cage fighter. You can live a long time and not meet a man like Anthony Smith.
Now as for me, I'll be honest; I'm about two-thirds of a triathlete. I can run all right, I bike fair-to-middling, but to say I swim is to use the word generously. I swim like I fight; clumsily, desperately and only to save my life. I knew this fact about myself when I set out for a narrow strip of sand with an open ocean on one side and a bay on the other. I was fully prepared to drown, and in lieu of the shame I fully expected to come with my thrashing and flailing, I almost preferred the prospect.
As you can surmise, I did not drown. I survived, although I did so in the ugliest, most panicked fashion conceivable for an adult. In fact, I actually completed three days of water instruction, including one in a lap pool and two in the open water, the last of which was a 300-yard stage of a three-stage event that all 13 athletes finished. I was near the back of the pack and I only made it with the persistent encouragement of a patient volunteer in a kayak whose urgent counsel kept me going. But by golly I did it. Then I biked. Then I ran. I slept for most of a day afterward. I earned it.
My own story is far less inspirational than the stories of all the friends I met at camp, including athletes, mentors, coaches and volunteers. What we all share in common is the belief that difference of ability does not equal lack of ability. There is nothing I can think of that I could not accomplish with the team at Pensacola behind me. And when it's all said and done, the lesson I will take away from my triathlon experience is that even those things I cannot do alone are doable with enough support.
If you'd like to learn more about adaptive sports and how you can help people of differing abilities achieve their goals, please visit Challenged Athletes Foundation. Your support makes their work possible. To learn more about paratriathlon, visit the International Triathlon Union. To learn more about the upcoming Paralympic debut of paratriathlon at the 2016 Rio de Janeiro Games, visit Team USA's Paratriathlon page. To learn about public policy affecting persons living with limb loss, visit the Amputee Coalition.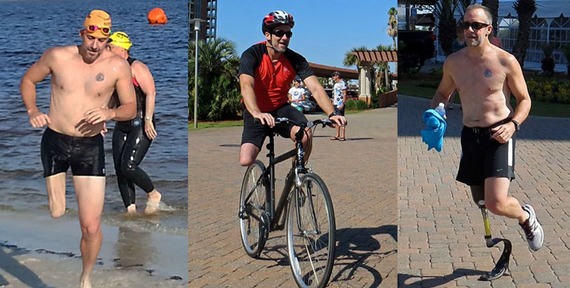 REAL LIFE. REAL NEWS. REAL VOICES.
Help us tell more of the stories that matter from voices that too often remain unheard.