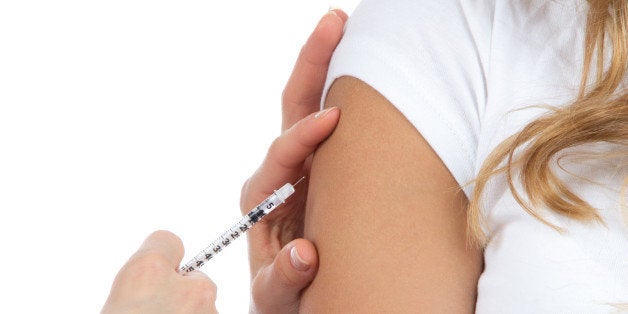 As the world nears eradicating polio, Nigeria stands as one of the few countries that remain polio endemic. The first three-quarters of 2012 saw three times more cases as opposed to the same period last year. While efforts focus on ridding the country of polio, a series of obstacles still stand in the way.
A ban on immunizations by Muslim leaders shoulders some of the blame, but changing attitudes mean that more children are receiving immunizations in the north. NPR reports:

Ibrahim insists that his son was immunized for polio at least once, but the child should have received multiple vaccinations for full protection.

In the past few years, religious leaders in this region have gone from opposing vaccination to requiring it. "We have to force you to do it, whether you like it or you don't like it," says Wada Mohamed Aliyu, the polio point man for the emir of Kano state, the region's top-ranking Muslim.

Aliyu says parents who refuse to vaccinate their children will not be tolerated: "Why? Who are? We don't care if it's something that will affect you and your family alone. But [if] you don't comply with us, you allow your child to go -- he's going to spread it to 200 other innocent children around the vicinity."

This newfound zeal from Muslim leaders has helped overcome resistance to the vaccine, but there's still a major problem of kids falling through the cracks during immunization drives.

The local ministry of health is attempting to address this by restructuring the campaigns. Instead of having outside vaccination teams that travel from place to place, so-called volunteers are responsible for making sure every child under the age of five in their particular neighborhood, village or slum gets the vaccine. The volunteers receive a small stipend each month.
The problem in northern Nigeria is exacerbated by the instability caused by Boko Haram. Attacks on schools and churches make it harder to reach the people who need immunizations. Additionally, sanitation presents another challenge.

Abdul Magaji, a sanitation worker in Kano, has been taking samples at the sewage stream for more than a year. So far, officials have only detected live polio virus once in the sewage, but Magaji's supervisor says the plan is for more sampling sites across the city in order to detect polio in an area before it strikes.

That seems to be the main strategy for fighting polio in northern Nigeria -- do more of everything: more surveillance, more staff and more vaccinations; and launch an all-out offensive until the virus has nowhere left to hide.
A report from the International Vaccine Access Center (IVAC) at Johns Hopkins University in March presented suggestions on how to improve vaccine coverage in Nigeria. It would require changing how money is disbursed by the government, improving the transportation of the vaccines and providing the incentives for people to participate in vaccination drives. "You can bet people from villages that are not reached by vaccines are traveling to do commerce and other things. If you incentive parents, you will find them innovating their own transportation schemes," said Dr Orin Levine, one of the study authors, to me at the time of the release.
Nigerian Minister of State for Health, Dr. Muhammad Pate, was optimistic about reaching people at the time of the study's release. Ensuring that Nigeria has robust immunization systems will support overall health systems, he argued. "It will have impact on other important services such as maternal health, prevention of parent to child transmission of HIV, treatment of other ailments like anti-malarials, zinc/ORS for diarrhea, antibiotics for pneumonia etc," said Dr. Pate.
Calling all HuffPost superfans!
Sign up for membership to become a founding member and help shape HuffPost's next chapter