Challenging Impossibility, a short documentary about meditation master turned weightlifter Sri Chinmoy, has been shown in some 70 festival in more than 40 nations, and won seven best documentary prizes at various festivals. It has now been tipped for an Oscar nomination.
All well and good, but what does the oft-used phrase "tipped for an Oscar nomination" actually mean? Have a few powerful movie critics been talking it up? Have "for your consideration" ads been booked in Variety and The Hollywood Reporter? Has Harvey Weinstein lent his support?
In this case, while its not a certainty, industry outsiders have given it a fair chance. Challenging Impossibility has been well-received since it premiered at last year's Tribeca Film Festival in New York. An Oscar is not out of the question.
There's only one problem: It hasn't been released yet.
It's one of the few prerequisites for a nomination: You need a release in New York or Los Angeles (and festivals don't count). But unless your name is Michael Moore or Morgan Spurlock, it's hard to get a documentary in the cinemas. If your doco is a short, it's an even tougher sell.
Challenging Impossibility is a labor of love from director Natabara Rollosson and Sanjay Rawal -- a tribute to their meditation teacher, the late Sri Chinmoy, and his weightlifting, which he began at age 53. He made astonishing progress, starting with lighter weights (obviously) and moving on to people, elephants and aeroplanes (perhaps less obviously). As he lifted many and varied objects, mostly on uniquely designed weightlifting devices, experts in attendance ensured that each lift was indeed authentic. The secret of these feats, claimed Sri Chinmoy, was meditation. "Determination and impossibility are never to be found together," he said.
"This film shows that we all have unlimited capacity within us, and its a message that carries a lot of hope and inspiration for people of all ages," says Rollosson (formerly Mark Rollosson; he was given his spiritual name by Sri Chinmoy).
"Since we don't have a distributor, and very few short docs do, we had to rent a theater ourselves," says Rawal (formerly... Sanjay Rawal; though he hails from California, he is of Indian descent). With the help of friends -- they didn't need to take the online crowd-funding route -- they were able to raise the necessary $9,000 for a short run at the Sunshine Cinema in New York's East Village.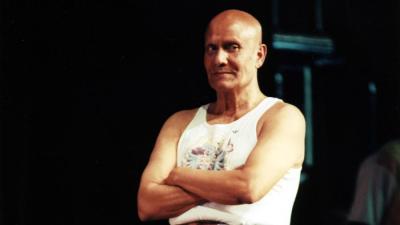 That ticks one box. But even in a relatively low-key category, a film still needs some promotion to win a nomination. With feature films, this can cost millions. Rollosson and Rawal don't have millions -- but then, they don't have a feature film.
"From what we've learned from filmmakers who have been nominated in the category of short documentaries, the Academy is swayed very little, if at all, by promotion at the early stages," adds Rawal:
Whether a short documentary appears on a shortlist of potential nominations depends solely on the merits of a film's story, artistic vision and execution. In that sense, despite having little or no funds to promote the film for awards season, we have the opportunity to stand shoulder to shoulder with films that do.
Down the line, promotion will be necessary, but they have already had some experience. During Tribeca, Rawal booked a shopfront in downtown Manhattan for an exhibition dedicated to Sri Chinmoy's weightlifting. The exhibition launch had star power, including pop star Roberta Flack, and a reception after the first screening included such luminaries as Olympic legend Carl Lewis and Canadian weightlifting champion Hugo Girard, who had been a guest speaker at the exhibition the previous night.
Girard's association makes sense, but what drew the likes of Lewis and Flack to the exhibition? Well, that's a cool part of the story. Sri Chinmoy used his weightlifting prowess to honor "men and women of inspiration" with the Lifting Up the World program, in which he would, quite literally, lift them overhead on a special platform. It was certainly more interesting than giving them a medal (though they got one of those as well). Most of the honorees were relatively obscure, but a few were famous: from Sting to Philip Glass, Susan Sarandon to Donna Karan, Nelson Mandela to Richard Gere to Ricky Martin. Self-effacing surfing champion Kelly Slater was once lifted alongside flamboyant Oscar-winner F. Murray Abraham (not because they had any strong connection, but because they were both available at the time). The directors agree that the celebrity connections will help promote the film, though they are also relying on the film's growing reputation.
The version premiering in New York is basically a directors' cut, notably different from the film that impressed audiences at Tribeca. "Once you have seen your film numerous times at film festivals and notice patterns of feedback," says Rollosson, "of course you get ideas for how to improve."
"After letting the film 'breathe' for a year, we went back to the editing room and incorporated the suggestions," adds Rawal. "I loved the film before, but I feel that is has been vastly improved, despite the fact that the older version won a number of Best Documentary awards at film festivals."
Among the additions, the new version explores in more detail the multifaceted life of its hero:
Sri Chinmoy worked for decades to bring peace and harmony into people's hearts and though weightlifting was one aspect of his life, it was hardly the only one. We felt that we needed to develop him more as a character and include his other aspects, like composing, writing and painting. The new version of the film gives a better perspective as well on why he decided to try to lift thousands of pounds at once, and how we as viewers can develop access to that place within of unbounded potential.
"We came across some CNN archive footage that gave an over-arching description of Sri Chinmoy's various activities, which was missing in the original version," adds Rollosson. "We also came across rare footage of an interview of Sri Chinmoy describing his theme of 'self-transcendence,' which is at the core of the film."
It is still too early to rate this film's chances at the Oscars -- but suffice it to say, a nomination is not impossible.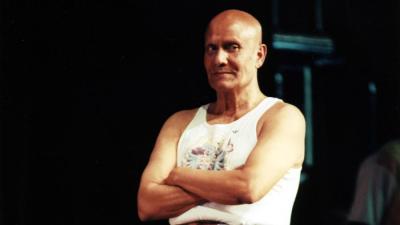 Popular in the Community