States with the highest academic achievement are mostly located north of the Mason-Dixon line, according to a new report from business leaders.
The map below shows how states fared when graded on their levels of academic achievement. In order to determine these grades, the foundation looked at the number of students whose scores were proficient or advanced on the latest National Assessment for Educational Progress, a test on various subjects "administered uniformly" to students around the country. Researchers also looked at states' progress on the NAEP since 2005. The states with the top 10 combined scores were given A's, while the next 10 states were given B's, and so on.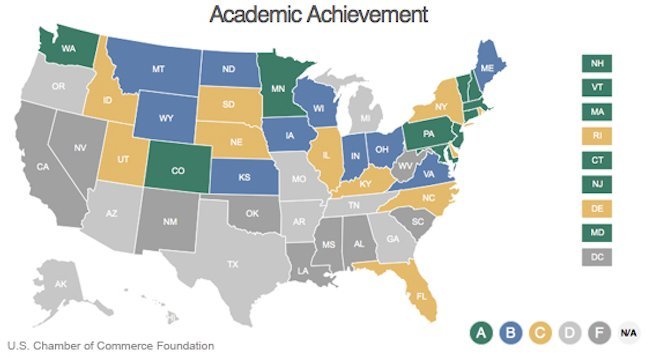 Researchers also looked at the states that best serve low-income and minority students. In order to grade states on this measure, the foundation disaggregated the NAEP scores of African-American, Latino and low-income students and analyzed how many of these students were scoring proficient or above. The foundation also looked at whether or not scores of students in these demographics had improved since the 2005 version of the exam.
Notably, Vermont did not have enough African-American or Latino students to meet sampling requirements, and thus did not receive a grade in the report.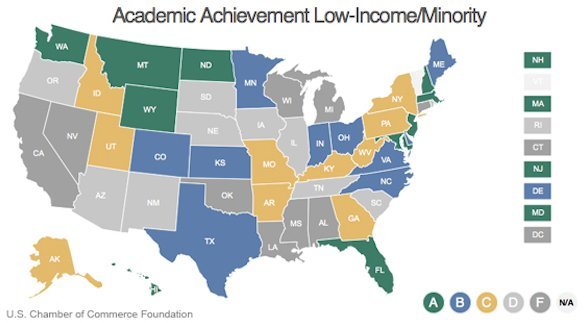 According to the report, every state has made progress since 2005, although some states have made larger gains than others. For example, bottom performers, like South Carolina, South Dakota and Michigan, saw improvements of less than 2 total percentage points. Other states, like Hawaii and Maryland, saw gains of more than 10 points.
"We are getting better, but every state has a long way to go," says the report.
Before You Go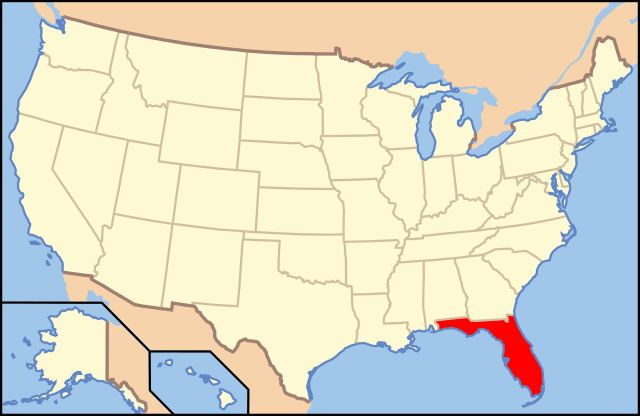 States With Best Educational Outcomes For Girls
Popular in the Community