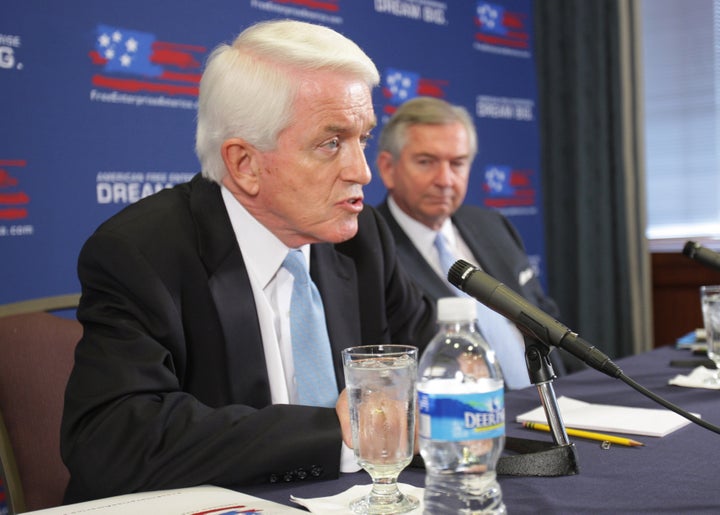 The U.S. Chamber of Commerce's $75 million campaign effort for the 2010 elections is being threatened by allegations that the business lobby receives funds from foreign entities to use on electioneering.
On Tuesday, the liberal blog Think Progress published a report detailing how international sources are contributing to the Chamber's massive and largely secretive pool of campaign funds. The business group insisted that they have processes in place to ensure that foreign money isn't being used on domestic elections (which would be against the law). They also argued that the report was a partisan hit job.
As questions of legality surfaced, a far more compelling political narrative was taking place. Democrats, whose opponents are being aided by the Chamber, have begun the process of turning that support (often perceived in positive terms by local voters) into something potentially more toxic. Senator Al Franken (D-Minn.), for one, demanded that the FEC investigate the sources of the Chamber's cash. Rep. Tom Perriello -- in a tight re-election battle in Virginia's fifth district -- advanced the ball by charging the Chamber with using foreign government donations to, essentially, buy his seat. And Senator Michael Bennet (D-Colo.) embroiled in his own tight re-election contest, called on his opponent Ken Buck to reject the Chamber's support, both political and financial.
"Why won't Ken Buck stand up against the practices of these shady special interests orchestrating attacks on his behalf and denounce the practice of accepting overseas expenditures to fund smear campaigns?" said Bennet for Colorado spokesman Trevor Kincaid. "Ken Buck should reject the Chamber's support and call on them to immediately stop running ads on his behalf with tainted foreign money."
A more comprehensive effort, meanwhile, is being orchestrated behind the scenes with Democratic operatives quickly resurrecting old statements from the Chamber expressing support for outsourcing. The effort is part of a broader attempt to make the loss of jobs overseas a potent political issue as the election closes. And to the extent that Republican candidates have received the Chamber's financial support, the argument will be made that those candidates may be influenced by the very same international entities benefiting from outsourcing and donating to the Chamber.
Just two weeks ago, the Chamber helped defeat legislation in the Senate that would have provided a payroll tax holiday to U.S. multinational companies that shift jobs based overseas to domestic locations. They claimed they were protecting the bastion of free trade. But as a Democratic source points out, the business lobby has not disguised its defense of outsourcing in the past.
In 2004 the group put out a report titled "Jobs, Trade, Sourcing, and the Future of the American Workforce," that found "little hard data to support fears about outsourcing and claims of an impending exodus of U.S. jobs overseas."
"The bottom line," CEO Tom Donohue said, "outsourcing has made the manufacturing process more efficient and productive, which has helped consumers and our overall economy. Outsourcing allows manufacturers to buy components from a vast array of suppliers, lowering costs for the manufacturer who is able to pass on the savings to consumers."
An even more straightforward endorsement came from Donohue during an appearance on CNN in February 2004:
"[T]here are legitimate values in outsourcing -- not only jobs, but work -- to gain technical experience and benefits we don't have here, to lower the price of products, which means more and more of them are brought into the United States, used, for example, I.T., much broader use than it was 10 years ago, [to] create more and more jobs."
An official from the Chamber did not immediately respond to a request for a fuller explanation for the business lobby's current view of outsourcing. But the Democratic strategist who pointed to the CNN interview summed up the party's line of attack going forward.
"So, while the chamber is funding ads w/ foreign money trying to knock off Democrats, their president is openly championing the outsourcing of American jobs? New fodder for the Democrats' strategy of hammering the Republicans on outsourcing jobs..."
Calling all HuffPost superfans!
Sign up for membership to become a founding member and help shape HuffPost's next chapter