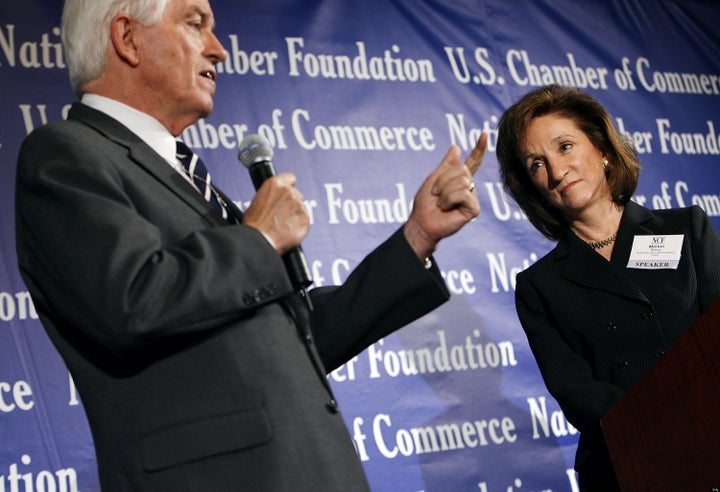 WASHINGTON -- Nearly 10 months after the U.S. Chamber of Commerce, the nation's preeminent business lobby, said it would not spend money to push for repeal of last year's sweeping health care law, Chamber President Tom Donohue said Tuesday that President Barack Obama's signature legislation should be overturned.
Delivering the annual State of American Business address less than a month before Obama himself is slated to speak at the Chamber's D.C. headquarters, Donohue gave little indication that his lobby would be content to see the health care legislation stand.
"The new health care law, think about this for a minute, creates, creates 159 new agencies, commissions, panels, and other bodies. It grants extraordinary powers to the Department of Health and Human Services to redefine health care as we know it," the Chamber president said.
Donohue cited the hundreds of HHS waivers granted to U.S. businesses, which allow them to defer adhering to the law's stricter coverage requirements, as an admission that "the law is not totally workable."
"And with key provisions under challenge in the courts by states and others, it's time to go back to the drawing board," he added. "Last year, while strongly advocating health care reform, the Chamber was a leader in the fight against this particular bill -- and thus we support legislation in the House to repeal it. We see the upcoming House vote as an opportunity for everyone to take a fresh look at health care reform, and to replace unworkable approaches with more effective measures that will lower costs, expand access, and improve quality."
The comments echo earlier philosophical and political complains that the Chamber has had with the health care reform law. The business lobby spent $86 million in total trying to defeat the legislation. But when it passed back in March, Donohue had hinted that he wouldn't continue spending to oppose it, telling the Wall Street Journal: "If people want to try and repeal, let them. We're not going to spend any capital on that."
At the time, the Chamber's focus was on the regulatory agencies to whom the bill defers many key final decisions. But it seemed likely at that point that health care reform's popularity would rise over time, and that hasn't happened. And as House Republicans who were initially hesitant to push for full repeal now rally around just such a provision, it's hardly surprising that the Chamber is close behind.

Calling all HuffPost superfans!
Sign up for membership to become a founding member and help shape HuffPost's next chapter