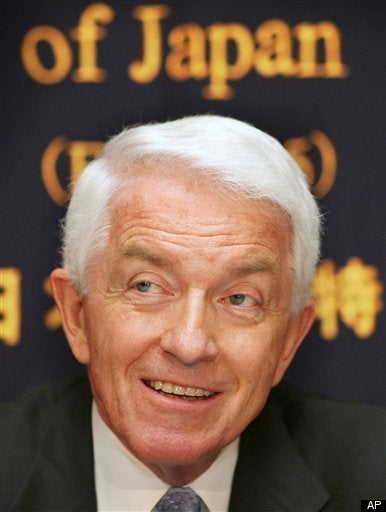 The U.S. Chamber of Commerce launched on Wednesday a major new effort to promote business entitled the "Campaign for Free Enterprise." The campaign, which includes a glitzy new website and publicity push, has the stated goal of spurring job creation and illustrating the dangers of government interference in the private marketplace.
Hoping to highlight companies who validate the promise of free enterprise, the Chamber's CEO Tom Donohue turned to chief executives and business owners who all serve on the Chamber's board of directors to help with the campaign.
Many of the individuals featured on Wednesday are long-standing donors to Republican candidates and groups that have fought efforts to enhance regulation. And, in one case, the business leader appearing alongside Donohue to decry the interference of government in the market place received business through the benefit of government contracts.
Tom Bell has served as the vice chairman of the Chamber of Commerce's board of directors since June 2009. Prior to joining the board, Bell served atop the real estate investment trust, Cousins Properties Incorporated -- a post he stepped down from this summer. That business entity, which has a reported $159 million in annual revenue, has, at least twice, received money directly from the government. In 2008, Cousins was given a $143,767 contract to lease space to the Department of Veterans Affairs, according to government records. In 2005, it received another $37,950, again from the Department of Veterans Affairs, to lease space in Charlotte, NC for a Community-Based Outpatient Clinic.
Bell has also been a major player in Republican politics. During the 2008 cycle, he gave more than $40,000 to Republican candidates and campaign committees, including $4,600 to Sen. John McCain's presidential campaign. Before being a big-time donor, however, he was a major operative, serving as a strategist for Bob Dole's presidential campaign in the 1980 and on Nixon's Young Voters effort in 1972.
Appearing with Bell at the Chamber event is Robert Milligan, chairman of M.I. Industries in Nebraska and another member of the Chamber of Commerce's board of directors. Milligan, too, donated to Republican candidates and causes in the last election, giving $2,000 to the RNC and $2,300 to McCain. He has since been an outspoken critic of the Obama administration for, among other things, letting "unions dictate U.S. trade policy."
Joining them at the chamber event is Ray Pinard, president and chief executive of 48HourPrint.com, and another member of the Chamber's board of directors. According to campaign finance records, Pinard gave more than $8,000 to Republican candidates and committees in 2008. His horse in the election was former Massachusetts Gov. Mitt Romney - a critic of the Obama administration's economic policies. Pinard served as co-chair of Romney's New Hampshire business coalition and was co-finance chair of Romney's Commonwealth PAC starting in 2006.
The final featured attendee at the Chamber campaign launch was Patricia Owen, the owner of Faces DaySpa in South Carolina, who, like all the others serves on the Chamber of Commerce's board of directors.
Popular in the Community