Warning: anyone who lived through a beer bong experience in college is going to have flashbacks with this demonstration of how the Chambong works: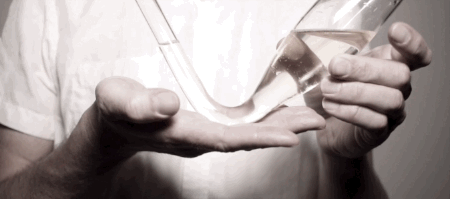 If that GIF doesn't say it all, this is what you need to know. The Chambong is glassware that lets you easily down a glass of champagne on your way to a guaranteed hangover, just like a beer bong did with cheap lager in your 20s. This new glassware, designed by a team of three drinking enthusiasts, is basically every middle-aged frat boy's dream come true. While champagne is usually meant for sipping, this glassware lets you throw convention and civility aside and take down four ounces of bubbly in a matter of seconds. Still confused? Luckily, it comes with illustrated instructions.

If you love the idea, you can pre-order a Chambong now for the early bird price of $25. Did we mention that it's dishwasher safe? If you think that's a whole lot of money to put down on one novelty glass, you just might be right. But keep in mind that there was some artistry that went into the creation of this glassware.
Look at how the glass prototype was hand-blown by one of the three founders below.