"Welcome to the champagne life," Ne-Yo croons on his 2010 album "Libra Scale." "Where trouble is a bubble in the champagne glass, dreams and reality are one and the same, and we gon' do it like this."
In fact, such is the case with Julia Wachtel's conveniently titled "Champagne Life," which displays an inverted and repeated image of Kim K and Kanye West, curiously standing next to a painted Mini Mouse sculpture. "The work seems to poke fun at the empty nature of our celebrity culture," Nigel Hurst, CEO of the Saatchi Gallery in London, explained to The Huffington Post.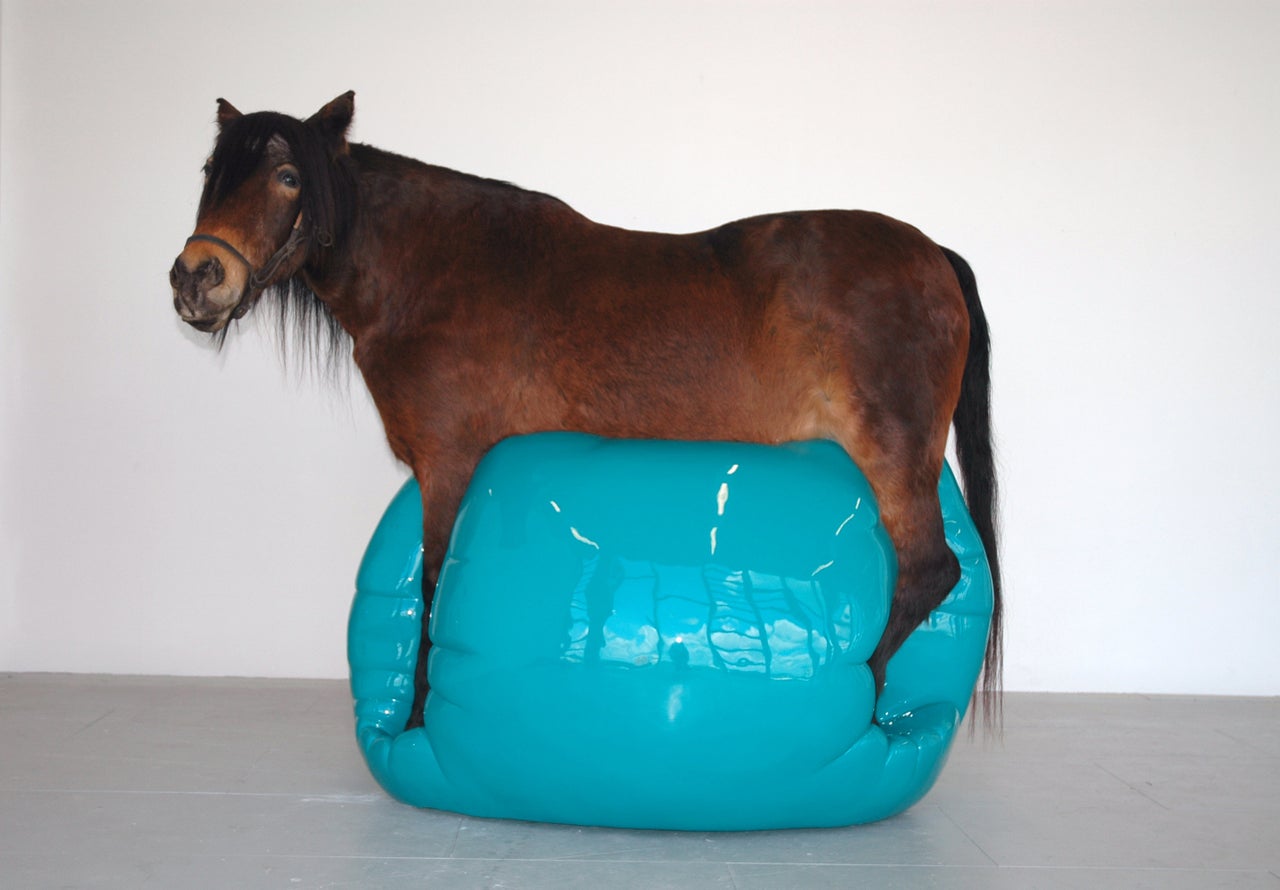 Saatchi is currently showcasing an entire exhibition inspired not only by Ne-Yo, but by Wachtel and other artists' appetite for mass media and the mainstream imagery that characterizes our age. While pop culture past was defined by the occasional bloody allegory and architectural wonder, today's Internet-savvy world is accustomed to seeing, well, everything. The artists on view at Saatchi push this reality to new heights, exploring the most banal of imagery to the most bizarre, and the absurd moments in between.
"All these contemporary artists make visually arresting work that provokes dialogue and asks questions that respond to the times in which we live," Hurst added.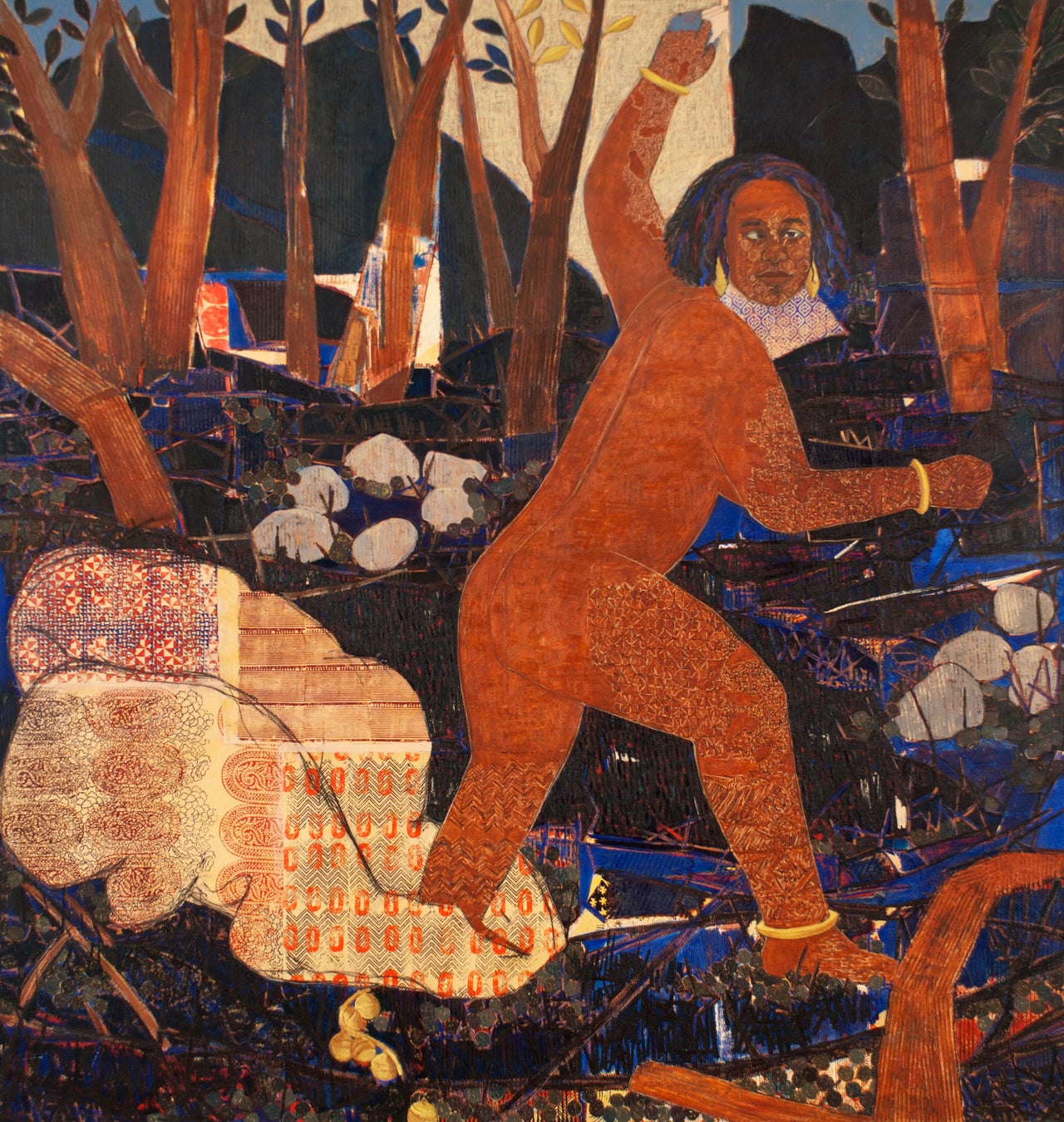 The show, "Champagne Life," specifically highlights 14 women artists from around the world in an attempt, Hurst says, to "celebrate the strength and diversity of art made by women today." In a period when women are still severely underrepresented in galleries, museums and auction houses, Saatchi's show hopes to underscore gender disparity by propping up "emerging" artists who may otherwise go unnoticed.
The women on view vary in age from 25 to 59 and hail from cities like Baltimore, Brussels, Vrbas, London, Riyadh and Seoul. Soheila Sokhanvari works with taxidermy, while Mequitta Ahuja favors watercolor and pencils. Sigrid Holmwood depicts traditional scenes, like the butchering of a pig, while Julia Dault creates eerily futuristic, contorted sculptures. No one theme connects the artists, save for a desire to transform contemporary ideas and issues into art.
"The Saatchi Gallery has been supporting emerging women artists since its inception, helping artists including Cecily Brown, Tracey Emin, Paula Rego, Jenny Saville, Cindy Sherman, Rebecca Warren and Rachel Whiteread, to name a few, go on to achieve international recognition," Hurst noted. "However we've not presented an exhibition of new art made entirely by women to date and we wanted to do something we've never done before for our 30th anniversary."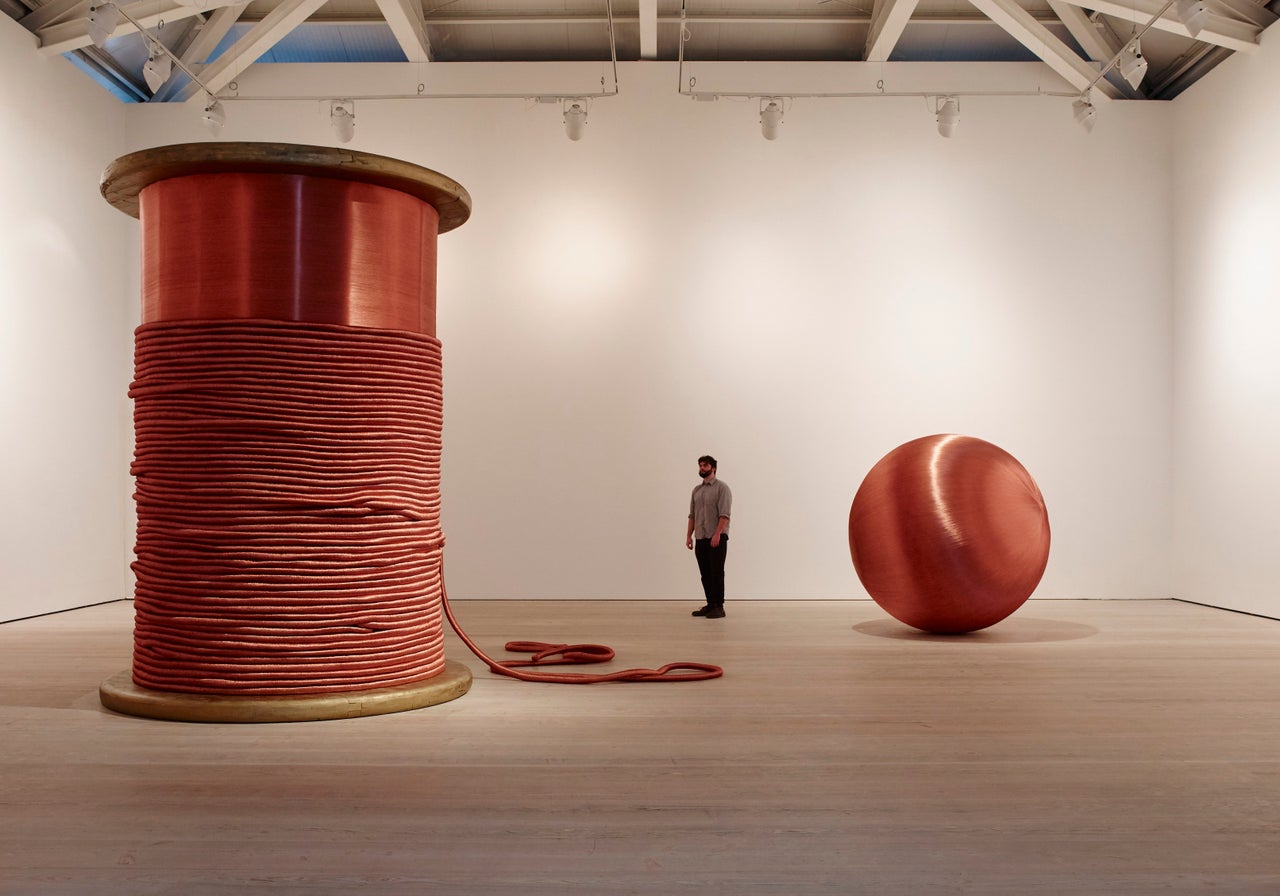 Hurst has defended Saatchi's decision to spotlight the 14 artists, along with a handful of other hopeful observers. He contends that the title of the show is light-hearted and ironic -- "and hopefully doesn't sound too worthy," he added. "But still [it] throws into contrast the reality of finding the time and motivation for the long, hard, lonely hours these artists work in their studios with the perceived glamour of the art world."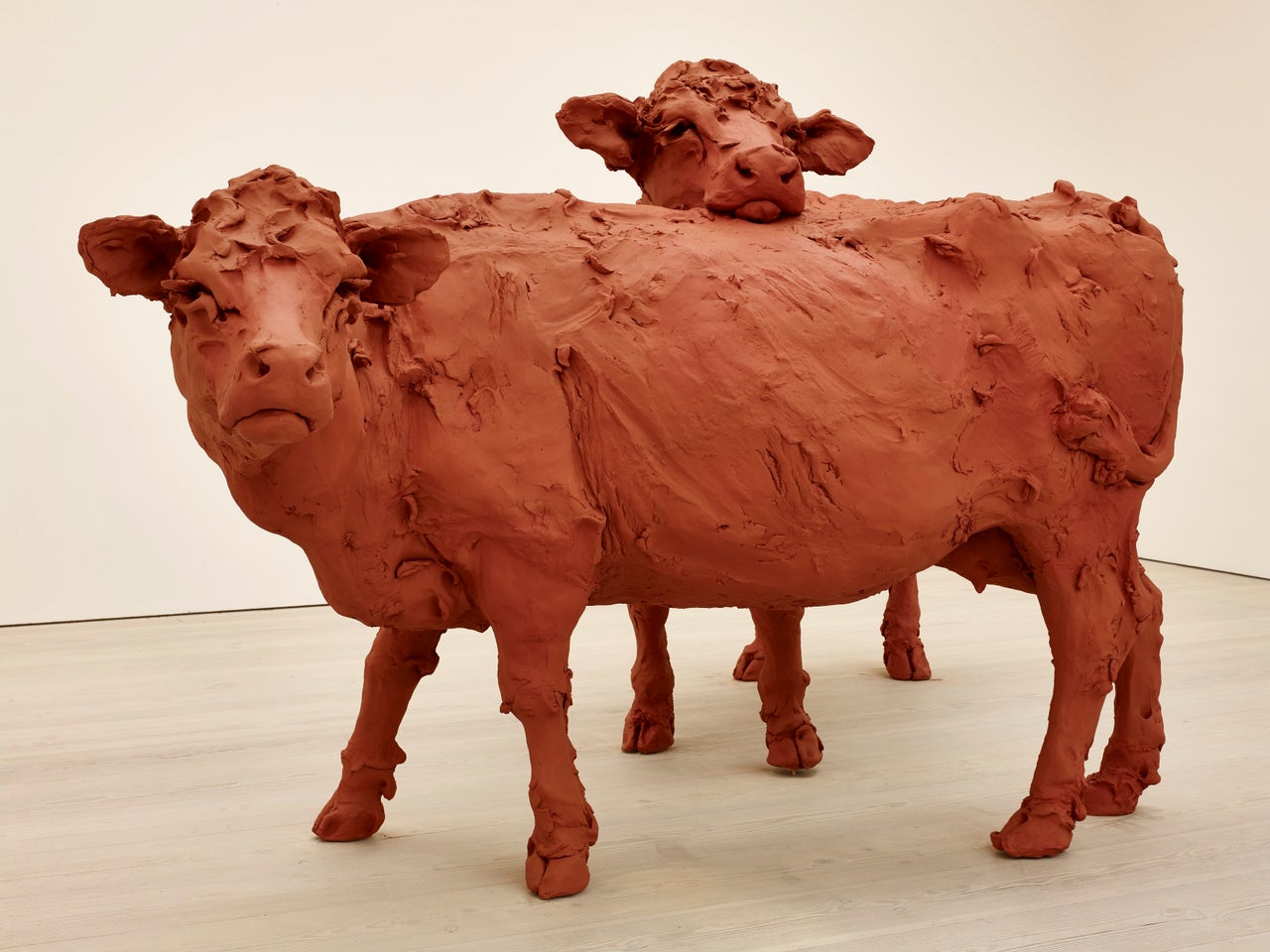 If Saatchi's show is capable of at least reminding collectors, curators, artists and the general public that women account for more than half of the people attending art college, yet they are disproportionately represented in the industry's landmark exhibitions and sales -- for example, in 2015 only three women artists were featured in the top 50 contemporary auction lots sold worldwide -- perhaps the "gimmick" was worth it. Maybe the warranted criticisms only broaden the conversation, and that's not such a bad thing.
"The art world isn't alone in having a glass ceiling and treating people who juggle family and professional commitments less seriously," Hurst concluded. "Although the situation is getting much better in terms of art by women being represented in commercial and independent galleries, there need to be far more museum-scale exhibitions of contemporary art made by women in order to encourage collectors with all pocket sizes to buy their work."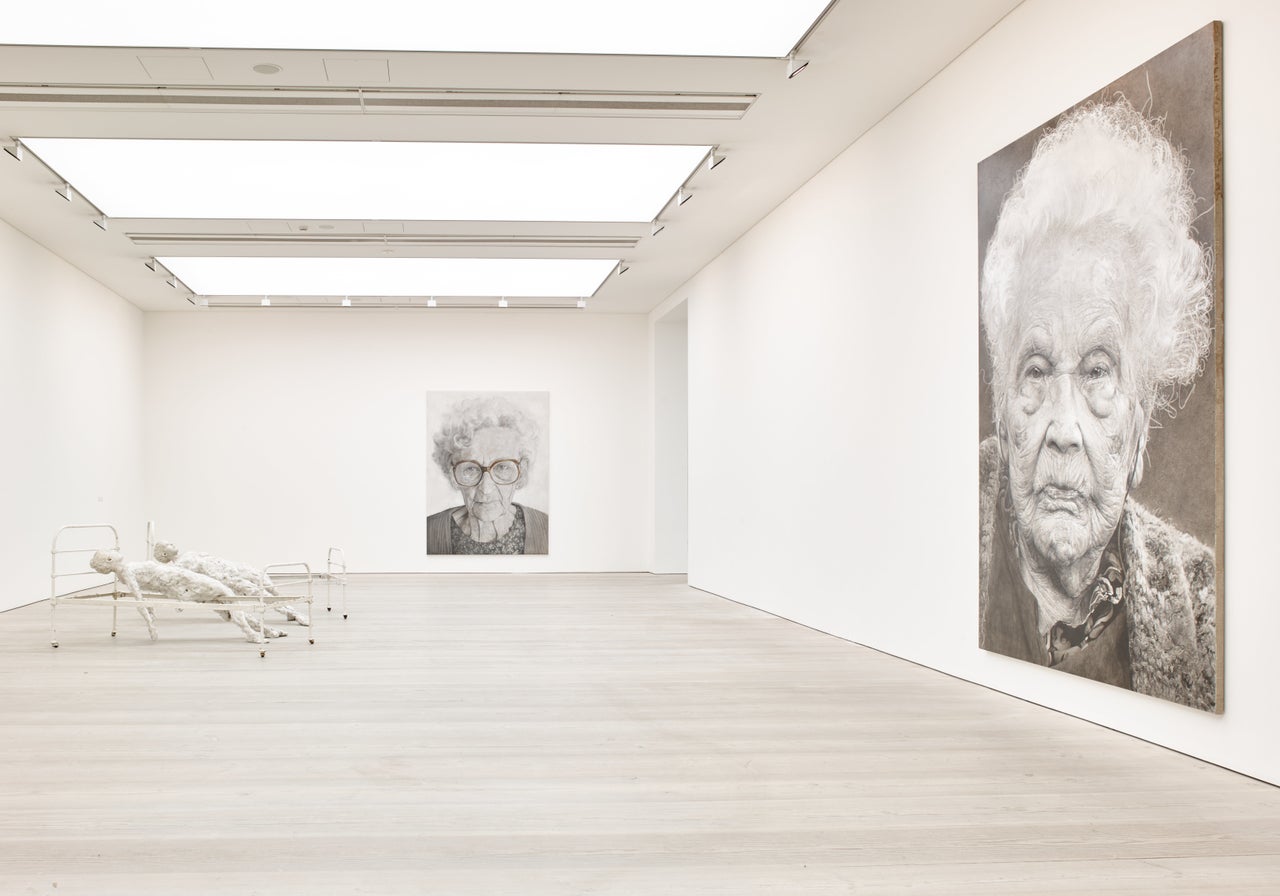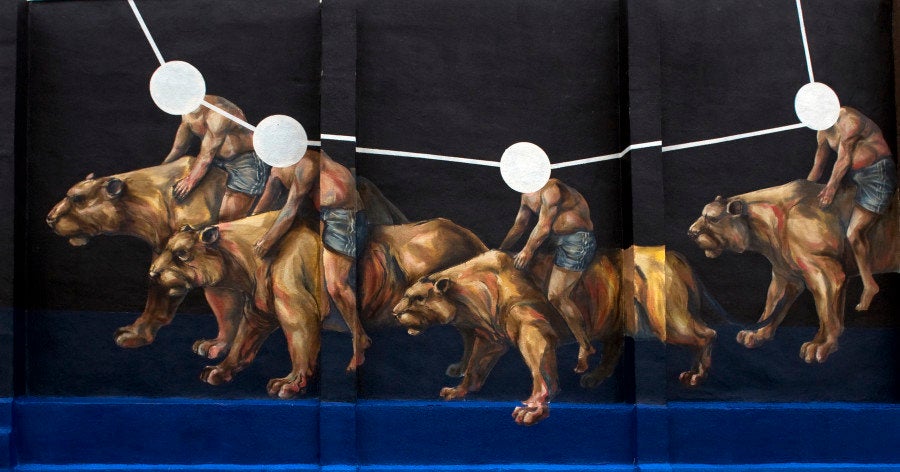 25 Street Artists' Works From Around The World