Business cannot reach its full potential if we do not advocate to unleash the power of women and strive as male leaders to open doors for women to enter into positions of power. This is why I said yes when UN Women approached me to be a HeForShe IMPACT 10x10x10 Champion. Shackling women's potential by allowing their talents to be unrecognized, stunted, thwarted and even beat out of them is not a way to grow a society that can thrive.
We have many of the answers as to how we can make a dent in women's equality. Now is the time for all men to act in a coordinated fashion and champion women's equality together. The challenges facing women are staggering. On average, women are paid 26 percent less than men for the same work. Women's productivity is effected by many disparities including the fact that 35 percent of women have experienced gender based violence, often from an intimate partner; and only 47 percent of women have accounts with a formal financial institution.
When companies invest in leadership training, financial literacy and men sponsoring women, there is a marked increase in productivity. It also shows up in the economy -- if gender parity was achieved in the U.S. the GDP would increase by five percent, or in Japan nine percent and in emerging economies the gains are in the double digits.
We can read the studies about what policies and investments it will take to further close the gender parity gap, but the question is what action we will take as leaders to turbo charge women's economic empowerment. Demonstrating our leadership is something that cannot wait; it is unfathomable that we will have to wait eight decades before we achieve gender parity at the workplace. I am not willing to waste that potential.
We must ask ourselves, what support are women receiving when they find employment or start their own venture? What are businesses doing to encourage society to adapt to their growth and material needs? Where are the male champions that will work hand-in-hand with women to meet these challenges? I believe the HeForShe movement is one of the keys to getting us to equality faster. And this is why I am honored to be an IMAPCT 10x10x10 Champion.
I join 10 other business leaders, 10 government heads and 10 university presidents to engage in a grand experiment of collaborative and transparent policy exchange to determine how we can best empower women. As an IMPACT Champion, Tupperware Brands has agreed to conduct an internal gender audit on our policies. We have committed to ensuring more women are sponsored by male leaders to reach their full potential. We are committed to reaching 50/50 equality in management. Our entire business model is based on empowering our majority female Sales Force, who are confident, courageous and independent entrepreneurs across the globe.
We get it. In order to empower our women, we need to empower their spouses, partners, children and communities with the tools and mindset to embrace women as equal, valued and contributing members to their society. Ultimately, our goal is to use the power of this platform to demonstrate how a company with a majority female Sales Force can help the HeForShe movement reach its 1 billion goal by September 2015.
That is why I am calling on all CEOs to take a hard look at how they are contributing to women's economic empowerment -- because ultimately, women are our business.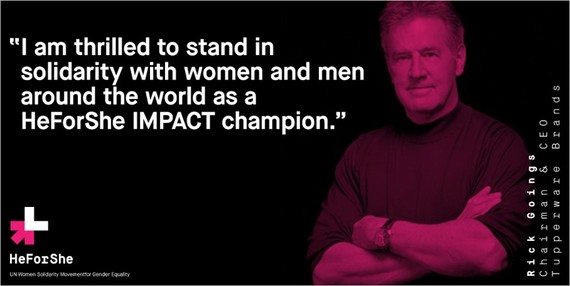 Calling all HuffPost superfans!
Sign up for membership to become a founding member and help shape HuffPost's next chapter