Meet our Champions from Girl Power Initiative in Nigeria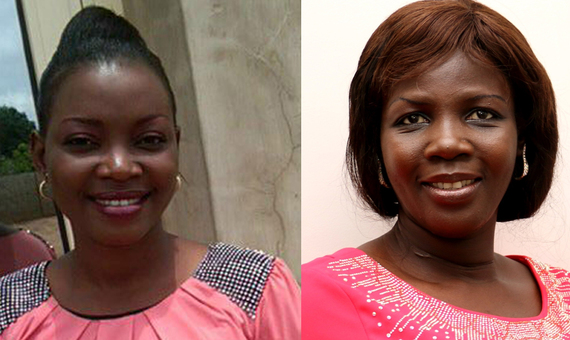 Ifeyinwa Okonkwo, Program Officer and
Ehita Aikpitanyi, Program Coordinator
Champions for Change (C4C) is pleased to continue our 'Meet the Champions' Series. This bi-monthly blog series highlights the work of 24 Nigerian leaders currently participating as C4C champions. C4C's Champions in Nigeria are working together to save the lives of mothers, children and young women through innovative advocacy and leadership development. Nigeria is Africa's largest economy, and yet tens of thousands of women and children die there each year due to lack of maternity care, preventable disease and poor health infrastructure, among other causes. This series brings a diversity of perspectives from around Nigeria to the table to discuss this critical moment in Nigeria's history and how Nigerians can work together to build a healthy future for all.
Having just wrapped up our third and final Champions Series workshop, we continue with an interactive discussion with Ehita Aikpitanyi and Ifeyinwa Charity Okonkwo of Girl Power Initiative, a non-governmental youth development organization with the mission to empower in-and-out of school girls between the ages of 10-18 to enjoy their sexual and reproductive health rights and achieve their full potential. The organization has a head office in Delta State and implements program activities in Delta, Cross Rivers, and Edo States.
Meet the Champions -- Part 8
Champions for Change: Tell us a little bit about yourself (Your family background, where you went to school/university, and your role at your organization)
Ehita: I completed my University Education at Ambrose Alli University, earning a Bachelor of Arts degree in Philosophy. I am a feminist and a human right activist currently working with Girls Power Initiative.
Ifeyinwa: I'm from Nkanu West LGA in Enugu State. I am the 6th born of 8 children. I was born in Nsukka where I did my primary, secondary education. I hold a Bachelor's Degree in Accounting and a Master's in Management from the University of Nigeria Enugu campus.
Champions for Change: What led to your involvement in RMNCH work? What is the one issue you are most passionate about in the field of RMNCH?
Ehita: In my work with young girls with GPI, I have come across children who have gotten married and had other children they are not able to fend for. Many of these children live on the streets. A case to note is that of a girl who was raped by her stepfather, just one case out of many. Children are subjected to all manner of abuse especially by adult caregivers in their lives. The passion to prevent these abuses is what propelled me to become an RMNCH champion.
Ifeyinwa: The organization I work for and my position as the Program Officer led to my involvement in RMNCH. The field attracted my whole attention and I am especially passionate about children and adolescents.
Champions for Change: Why did you opt to be part of the PHI/C4C program?
Ehita: I am in the C4C program to make a difference in the lives of women & children and to join hands with other champions in order to reduce maternal mortality in Nigeria, and also to ensure that women enjoy their reproductive health and those children are taken off the streets and protected from all forms of abuse. Every child should enjoy their basic human rights free of exploitation, intimidation or neglect. My passion is to ensure that children enjoy equal rights, especially the right to nutrition.
Champions for Change: What success are you most proud of in your professional career?
Ehita: I am proud of the fact that we are able to break most myths around adolescent reproductive health and rights.
Ifeyinwa: GPI was one of the three Nigerian youth-serving organizations profiled in the film "Generation 2000: Changing Girls' Realities" by Jane Fonda, in collaboration with the international Women's Health Coalition (IWHC). The film later created policy impact at the Beijing+ 5 review process at the United Nations in June 2000.
Champions for Change: What is the most innovative aspect of the work of your organization?
Ehita: One of our unique strategies is participatory learning that enables girls to be creative and assists them in making healthy and informed decisions about their reproductive health and rights. These decisions prevent early child birth and the detrimental effects that resulted from early marriage.
Champions for Change: Why is advocacy for RMNCH important in communities/states and Nigeria?
Ehita: Positive policies and laws are key to enhancing the reproductive health of women and newborn children. Through advocacy, champions can push for the creation of such laws or implementation of existing ones.

Ifeyinwa: It is of great importance to advocate for RMNCH in local communities and Nigeria as a whole due to the many deaths recorded during childbirth or as a result of disease before age 5.
In a publication by Dr. Hadiza Galadanci, an obstetrician and gynecologist from Aminu Kano teaching hospital, emphasized the need to go back to the drawing board and implement all the policies, laws and strategies that have been developed to reduce maternal deaths. Additionally there are states where such policies, laws and strategies are not in existence and the only hope is to advocate for improved RMNCH services in order to have healthy families in Nigeria.
Champions for Change: What is your vision for the future of the Nigerian Health System?
Ehita: My vision for Nigeria's health system is one where health is accessible and affordable by all citizens, especially women.
Ife: I wish to see a system where all Nigerians have access to health information and improved medical care. This will result in reduced deaths during child bearing, fewer labor complications, and fewer infant and child deaths.
Please complete this statement: I am a Champion for Change because...
Ehita: ...no woman should die from child birth.
Ife: ...I educate adolescent girls to take actions to overcome health risks that arise from gender violence and discrimination.

What is the most fun thing you've done in the last year?
Ife: I attended my family's reunion, where we went swimming in our village river.

Ehita: The most interesting thing I did in the past year was take my children to the zoo.
What is your favorite song?
Ehita: My favorite song is The Angel of my Life by Ik Dairo.
Ife: My favorite song is Greatest Love of All by Whitney Houston.
###

Stay tuned for Meet the Champions Series Part 9!
Support HuffPost
The Stakes Have Never Been Higher
Related
Popular in the Community