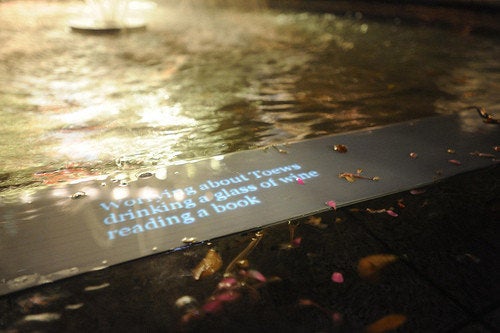 On September 21st, a very big screen in a very public place will come alive with some very tiny poems. And Katie Parlante and Mimi Yin, respectively a Mozilla programmer and a New York University fellow, will have given a big shot of publicity to a very little-known form of art: Twitter-generated poetry.
According to Yin, the tweets are "pulled algorithmically" and "participants are unaware that they are participating" in the project. Yin says that this was for a reason: "it was important to us that they feel crafted, but without giving off a sense of 'trying too hard' to create something profound." The tweets are all in English, and are pulled via specific search terms, but may be pulled from anywhere in the public feed.
The poetry itself is a mixed bag, ranging from entirely nonsensical to strangely profound. "On my way home/hoping for strippers and crack/just saw a grown man licking ice cream off a cone" reads one. Another, more poignant; "I want to be someone else/without moving/unless you want to hold hands."
Unpolished, perhaps, and a little bit random -- but on September 21st, that won't stop these "twaiku" from shining over the Highline, Manhattan's famous, still-trendy elevated-train-turned-walking-park. And, since the poems are generated in realtime, Highline visitors could have the very cool experience of tweeting from a small phone and seeing their words appear on the big screen.
This isn't the first time the students' algorithmic poetry has been seen in New York either. Art In Odd Places projected Parlante and Yin's poetry on the rim of a Union Square fountain in 2009; in 2010, "Multiverse on 37th", another poetry installation by the duo, debuted at chashama, a nonprofit art space in midtown Manhattan. But neither installation was as large or well-publicized as the Highline installation, which plans to run on Fridays and Saturdays from September 21st to October 13th. Though the project was originally called "Multiverse," the 2012 exhibit been re-dubbed "Chance Encounters On The Highline" and, unlike in previous exhibitions, the flow of Twitter-generated poetry will be occasionally interrupted by short films.
When asked why she and Parlante decided to forge poetry from tweets, Yin, via email, had an answer ready: "We were interested in ways to programmatically generate something that felt human and man-made, and fell on the idea of using a Mad-Libs-like approach for building short three-line poems. Twitter was an obvious source of material because it contains such a wide range of human expression."
But the project was not without challenges, Yin said.
"We've been looking at the output of Multiverse for years now, but it's still surprising to see how personal it gets," Yin told The Huffington Post. "But of course there's a lot of sillyness going on as well, and we spent a lot of time tuning the formula so that the poems more or less have the right balance of mundane, inane and confessional."
CORRECTION: An earlier version of this article incorrectly stated that Yin was still a student at NYU, whereas she is actually a fellow. Parlante was incorrectly said to be a student at NYU as well. She is actually a programmer at Mozilla.
REAL LIFE. REAL NEWS. REAL VOICES.
Help us tell more of the stories that matter from voices that too often remain unheard.
BEFORE YOU GO
PHOTO GALLERY
'Multiverse' and 'Chance Encounters'