CHICAGO ― Chance the Rapper will donate $1 million to Chicago Public Schools to help fund after-school and art enrichment programs, the Grammy-winning Chicago native announced Monday.
Chancelor Bennett, better known as Chance the Rapper, met with Illinois Gov. Bruce Rauner (R) to discuss funding for the nation's third largest district. CPS is facing a $215 million budget shortfall after Rauner vetoed a state aid measure.
"Gov. Rauner can use his executive power to give Chicago children the resources they need to fulfill their God-given right to learn," Bennett said during a press conference at Westcott Elementary School on the city's South Side.
Bennett said the governor gave him "a lot of vague answers" in their Friday meeting and said a weekend follow-up talk was "unsuccessful."
The budget shortfall means spending freezes, budget cuts and teacher furlough days; the district has also floated the idea of ending the school year nearly three weeks early.
"Our kids should not be held hostage because of political positions," Bennett added, noting that shortening the school year will leave thousands of Chicago school kids without adult care and enrichment programs ― and potentially vulnerable to violence in the street.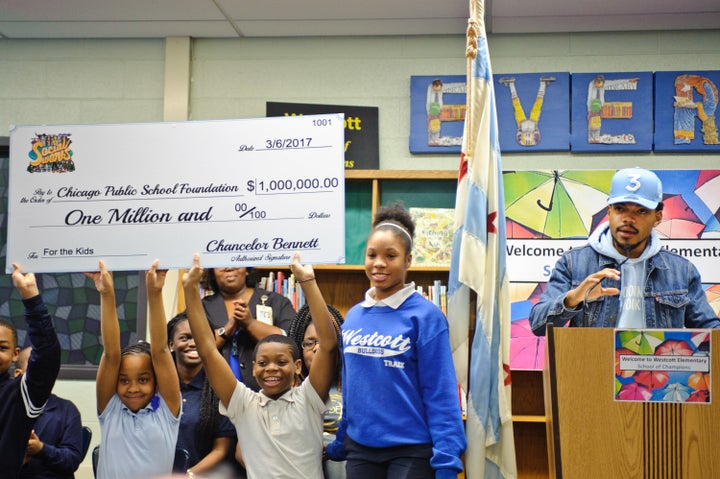 Bennett said his donation was a call to action for corporations and other private citizens.
"I'm challenging major companies across the U.S. to donate and take action," he said. "CPS students have spoke, recently at one of our open mics, and would like corporations to invest in them the way we've invested in their businesses."
"As a private citizen, a parent, and a product of CPS, I'm asking you to fight with me," he said.
In addition to the $1 million donation, Bennett's youth-focused nonprofit, Social Works, will donate $10,000 to the CPS school of its choice for every $100,000 raised in outside funds.
To the surprise of Westcott Elementary's principal, Monique Dockery, her school was the first recipient and Bennett handed her a large check at Monday's press conference.
"I guess this is 10,000 reasons why I should answer my phone from an unknown number," Dockery said. The funds, she said, will save the after-school math and reading programs.
Before You Go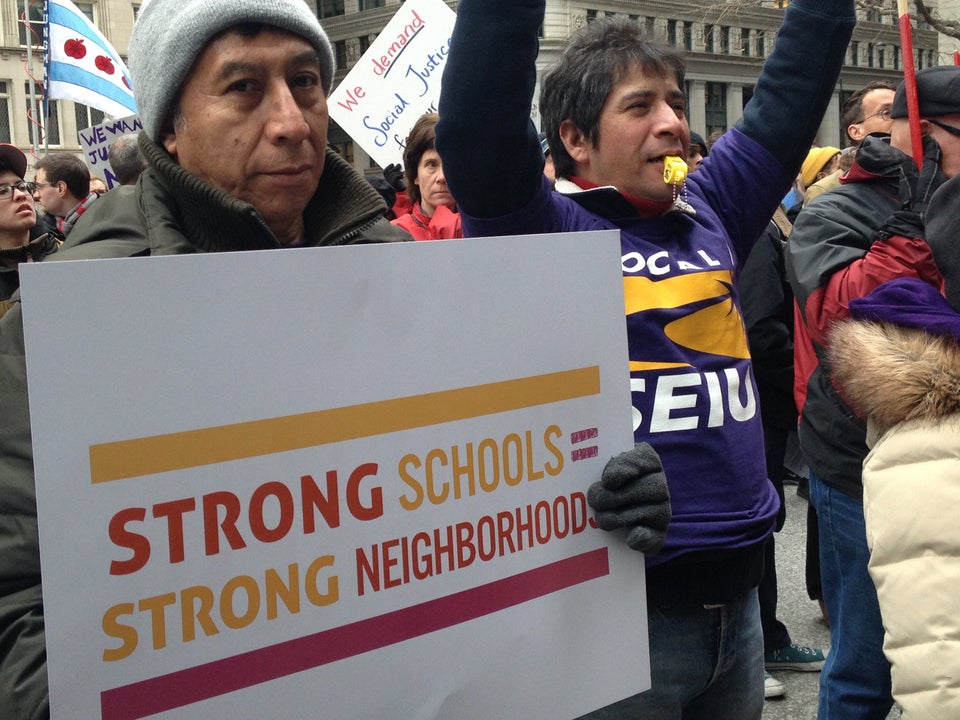 Protest Of Chicago Public School Closings