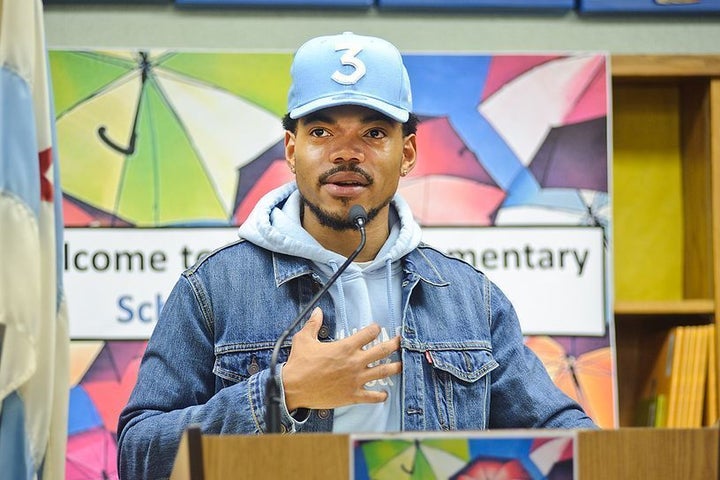 Yesterday, Grammy Award-winning artist Chance The Rapper held a press conference at Wescott Elementary in Chicago, specifically so he could talk about the city's public schools and his plan to help them. This conference came about as a result of what Chance described as an unsuccessful meeting with Illinois governor Bruce Rauner, where Rauner wasn't especially receptive to Chance's pleas for more funding for education in Chicago. And so, this "entitled celebrity out of touch with reality" took matters into his own hands, donating $10,000 to 10 different schools, including Westcott, for arts and enrichment programming, whilst encouraging other celebrities and corporations to pitch in.
Now, while the donation itself is hugely generous, it also comes at an extremely important time for education funding both in Chicago and throughout the United States. Here is why.
The issue of public school funding in Chicago has been a known but largely underreported issue, brought to light briefly last year when Governor Rauner vetoed legislation that would've sent the district $215 million that CPS were counting on to close out the school year. Afterwards, but prior to the vocal outrage from Chance, Governor Rauner did zilch to address the situation, and public attention to the problem diminished. But here we have a public figure holding the governor and his fellow government officials accountable, and suddenly the problems facing Chicago's schools are front and center again.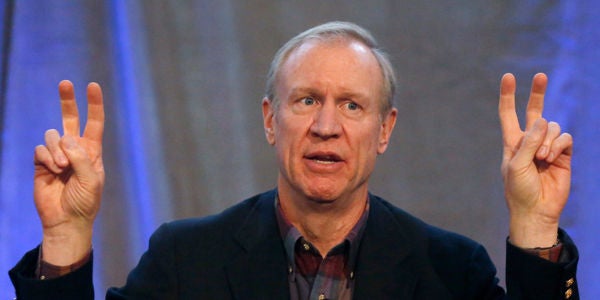 Now go ahead and google "Chance The Rapper", google "Governor Rauner," hell google "Chicago Public Schools" and look at what comes up. Is it a coincidence that Governor Rauner released his two proposed ideas to raise the $215million needed to help the cash-strapped Chicago Public Schools, 2 hours before Chance held his own press conference on the matter? As flawed as Rauner's proposals are, more people will now have incentive to inform themselves as to what Illinois' governor is planning, and in doing so can identify ways to make their voice heard and join Chance's cause.
Chance represents the millions of concerned Chicago residents who have been vocalizing their outrage for years, but do not have a microphone or platform to speak from, and have had to sit by and watch their schools deteriorate due to financial mismanagement by government officials. He is not willing to see the school year reduced by 3 weeks, or see taxpayers compelled to pay more than already asked of them to account for the teacher pension shortfalls that should be addressed by the state. He is not willing to see Wescott Elementary, the school that Chance donated his first $10,000 to, have its budget frozen.
This school of roughly 400 students is set to lose around $80,000 of its funding this year, thanks to a $46 million budget freeze that hit hundreds of buildings, but landed hard on schools with mostly poor and minority students. These cuts mean schools such as Wescott will have to drop a variety of after school programs, math & reading tutoring and professional development, leaving these kids without adult-supervised after school activities which could potentially put them in danger.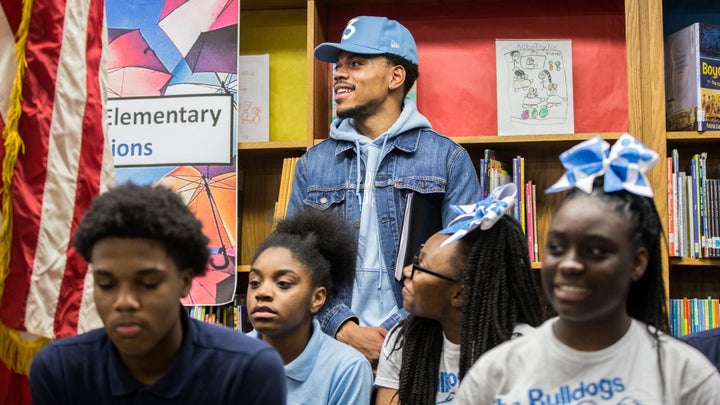 But there is another thing I took from Chance's public display. It represents an important reminder that while the world is caught up in Trump's latest fact-free accusations, there is real legislation being drafted to eradicate public education and use taxpayer money to fund private education. In the past few weeks, while we have been feasting on whatever Trump fiction is fed to us, bills such as HR 610 which would use our tax dollars to fund private schools and religious schools, and HR 899 to terminate the Department of Education, have been introduced.
So not only is Chance the Rapper's generosity important from a financial standpoint, it is crucial in reigniting the conversation surrounding public education that has gone stagnant just because it does not involve Russia. Ignoring public education in favor of the latest Russia news plays right into the hands of Republicans who don't care about schools, well except for the private schools that they want to give your tax dollars to. Yeah you know, those wealthy kids from well to-do families, are now going to get even more money while the kids in public school aren't going to have standardized textbooks, after school programs, and as Chance highlights, are at risk of losing vital days in the school year itself. These Republicans in the House of Representatives are happy to let Trump and his itchy Twitter trigger fingers run rampant and divert our attention while they calmly inflict drastic cuts on the most vulnerable populations.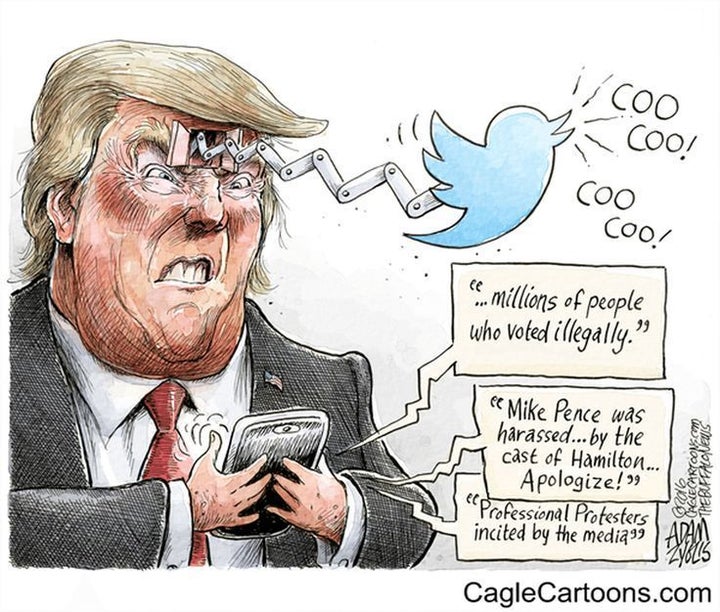 That is why celebrity gestures like Chance The Rapper's are so important. Because he has the power to spark outrage and refocus attention on the conversation surrounding public education that at times becomes buried unless brought to light by a Betsy DeVos mishap or a celebrity speaker. So credit to you, Chance. Not like I needed more of a reason to be a fan, but you the man.
Popular in the Community