USA Today reports that federal prosecutors and lawyers for Ingmar Guandique, the man convicted of murdering Chandra Levy, have met twice since December in court hearings that have been closed to the media and the public.
Details of these meetings have yet to be released, but the information could call into question the testimony of one of the prosecution's witnesses, according to USA Today.
Condit was cleared of involvement in Levy's death. The affair and speculation that he had a hand in her disappearance, however, led to his ouster from Congress in a primary election in 2002.
Earlier this month, the Washington Post reported that defense attorneys for Guandique were seeking a new trial for their client on the grounds that prosecutors withheld key information about a witness, according to officials familiar with the case.
Since the December meetings, however, Guandique's lawyers have put the appeal on hold.
"He's a convicted rapist and an illegal alien," Robert Levy said. "He's not legal at all, he's not working or anything. He's just a criminal so he shouldn't go free. But if he's innocent of murder then he shouldn't be in jail for it."
The Star-Telegram reports that media organizations -- including McClatchy, The Washington Post, the Associated Press and Gannett -- filed papers formally challenging a judge's orders to keep the meetings secret.
"In light of the total secrecy, news organizations ... that have attempted to report on these developments have been left to speculate about what is happening," attorney Patrick J. Carome wrote in a brief for the media companies.
Related
Before You Go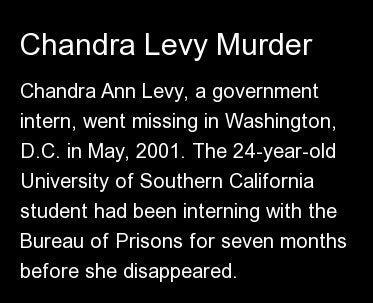 Chandra Levy Murder
Popular in the Community