This is one product we don't foresee Chanel making a big return on.
The luxury fashion house offers a range of sporting items in its spring/summer 2017 pre-collection, including a tennis racket, a paddleboard and, for some reason, a boomerang made of wood and black resin.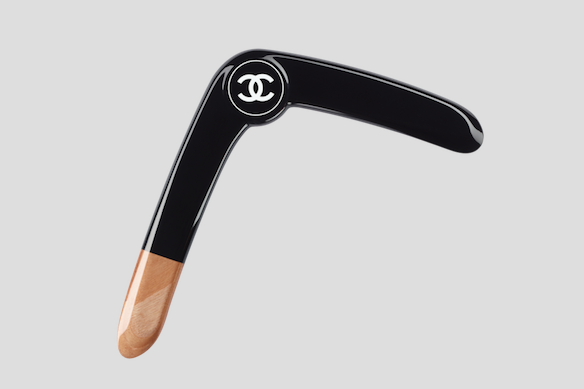 Boomerangs, once used by indigenous Australians as weapons and hunting tools, are deeply rooted in Australian culture and heritage. So, you can imagine how many people might react to a $1,930 version embossed with Chanel's logo.
The National Museum of Australia credits souvenir boomerangs with helping to solidify the tool's status as a national symbol. However, appropriation by way of slapping on a Chanel logo and charging an obscene amount of money is just wrong.
In a statement to HuffPost, Chanel said the brand apologizes for offending anyone and did not mean to be disrespectful.
Chanel is extremely committed to respecting all cultures, and deeply regrets that some may have felt offended.

The inspiration was taken from leisure activities from other parts of the world, and it was not our intention to disrespect the Aboriginal and Torres Strait Islander community and the significance of the boomerang as a cultural object.

As such, this object was included in a sportswear range.

Sportswear has always been part of CHANEL's identity. Gabrielle Chanel had, before anyone else, an intuition for the sporting influence on fashion, and designed elegant and comfortable sportswear. Karl Lagerfeld has continued in the spirit of Gabrielle Chanel by regularly including sportswear and accessories in his collections.

The spring-summer 17 collection boomerang is part of this long-standing approach. In this collection, Chanel also offers tennis rackets, a stand up paddle, beach rackets and balls.
But Twitter wasted no time calling the brand to task.
In other words: Get it together, Chanel.