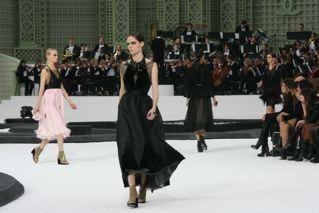 In Los Angeles, where I live, the movie stars are the celebrities. Here in Paris, the celebrities are the fashion designers -- and they're treated like royalty -- oohed and ahhhed at on the street.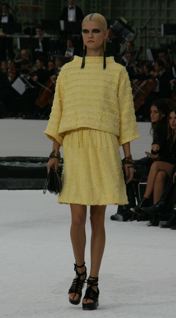 That said, the biggest A-Lister is Karl Lagerfield and today his show for Chanel was indisputably the hottest ticket in town. All during Fashion Week people here put relationships on the line to try to get tickets. Some don't actually find out if they have a ticket and are actually going until the morning of! Needless to say, I was thrilled when a friend of mine invited me to go. Luckily, our tickets were delivered in advance.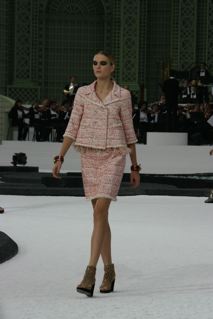 Did the Chanel show for the Spring/Summer 2011 Collection live up to all the mega hype? Yes, and it wasn't just for a novice like me. Many people who'd been to Chanel for years noted it was the best, most elaborate show in Chanel history. Quite frankly, it was a spectacle more than an event. A full orchestra played in the background, while 85 models strutted across the stunning location, The Grand Palais. The models walked around the gigantic, incredibly well-lit, cavernous structure, decorated with 10 foot high fountains and huge black metallic cut-outs -- constructed to resemble low, French garden hedges. The ground -- what the models actually walked on top of -- was covered with a fine, white gravel -- that actually left a powdery residue on your shoes. I didn't dust my shoes off as the dust was seen as a sign of prestige that said I was at the Chanel show!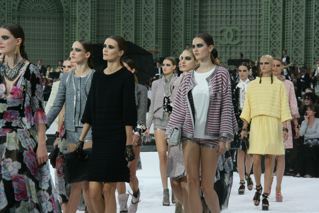 The clothes were breathtaking - with lots of color, adornment, eyelet inlays, fringe and tons of feathers. The jewelry focused on mixed metallics, chains, lucite-type cuffs adorned with rhinestones and pearl type rounds of all sizes and colors. There is nothing delicate or dainty about Chanel jewelry. It is meant to say "Look at me -- I have arrived!"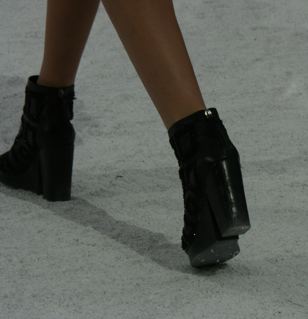 Nearly all the models wore platform shoes, made by Chanel, that were rather clunky looking. The had a 1970's feel to them. The upper part of the shoe varied -- but the bottom part was always the same dark colored platform with a rather square, solid heel. That platform shoe sole -- it appeared black -- appeared also in the form of a wedge. The shoe was the polar opposite of say a classic, ladylike Jimmy Choo or a Manolo. No pointy toe. No thin heel.
A few interesting tidbits:
All the models wore contacts to make their eyes a rather iridescent green. As if it's not hard enough to walk daintily in tiny, sheer frocks! Pale makeup, dark dark eyes with dramatic kohl shading on the entire lid.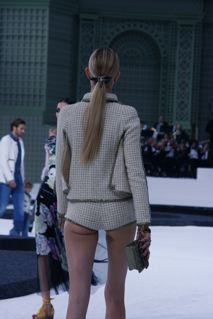 A few of the models sported jackets with teeny, tiny shorts and their bums (also tiny!) hanging out.
There were no models who were women of color. Apparently, the designers want all the models to look similar so that all eyes are focused on the clothes.
The front row is where top editors, famous and important people, and royalty sit. At the very center of the show in the front row (pictured below): Vogue Editor Ana Wintour seated next to Susan Tolson, wife of Charlie Rivkin, U.S. Ambassador to France.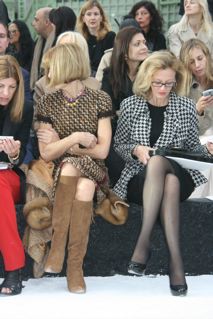 Unlike many of the other shows during Fashion Week, at the Chanel show, a vast majority of the attendants wear an item by the designer. But you don't have to be decked out head to toe. For example, Vogue's Wintour, pictured above, wore a dress by Chanel, but a maxi length, fur trimmed coat by another designer.
The show lasted about 20 minutes and it was quite dramatic when the white haired Karl Lagerfield came out at the end with all the models. Everything about this fashion guru is so dramatic -- down to his collar-- which must be five inches tall and so starched it almost looks like a neck brace.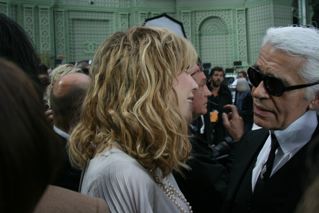 After the show was over, he greeted the VIP's like rocker Courtney Love pictured above. Then he sat and spoke with the press for nearly an hour. He was constantly mobbed -- people were literally tripping to get to him -- and he had no fewer than 8 bodyguards. He apparently is easy to spot here in Paris as he travels in a gold Hummer.

The outfit range at Chanel was full spectrum -- from jeans and motorcycle boots to floor length evening attire. One man was even dressed as what looked like one of the Village People from way back when! I'll have more on that -- plus some of the celebs who were there and their favorite outfits -- in the next blog. For more photos, check out SheSez.