This April, I found myself celebrating a range of Hindu festivals and finding the social justice voice everywhere, UtsavSeva, faith in action... through Festivals of Service.
It started with Ugadhi celebrating the New Year, the end of an era, at the Telugu Association. More than 126 young people danced and sang joyously to express the sentiments of the festival. And then we discussed how they could be engaged in seva. The different ways in which they could take up service projects that could have small or big impact. They were learning how they could find a common ground with people of all faiths.
A few days later, I found myself at SAALT's Change Makers award ceremony. They not only were finding common ground, but the inspired leaders "In their pursuit of Justice" are reaching new heights. And progressive Hindu Americans like Sadhana, are beginning to reconcile the values of their faith with opposing values of injustice they see in their societies. It was fascinating to see more Hindu voices coming to claim their faith identity publicly and saying we will tackle social injustice head on. Why do Hindus have difficulty with that, I wonder.
The next day, I attended Chinmaya Mission's celebration of Navaratri (celebration of Ram's birth) with a symbolic Ram-Sita Kalyanam, a joyous ceremony symbolizing the union of the "I thought" with "I" -- of oneness of the divine with the expression of the divine. Again, the youth came forward to say how can we be engaged in seva, in social change. From there I went to the Siva Vishnu Temple and saw the Devi Mahotsavam. Here, 1,008 women chanted the sacred mantras honoring the feminine followed by two days of elaborate ceremonies to express the divine qualities.
I again found myself pondering about the seeming dichotomy in our society, how our religion honors the feminine and yet the focus often is on the negative. Not the strength of the tradition but primarily on inequality. For decades I have been trying to to conflate religion from the social practice. And I see so many others struggling to separate the truth of our tradition with the social injustice, trying to navigate this morass. I invite them to join our growing transformative seva effort.
As we struggle to bring a change, we find -- individually and collectively -- no one can really do it for us. We, as empowered Hindus, have to bring the social change within our own communities. So we started and find as Hindus we are all united against domestic violence and sexual abuse. And we find not only Hindus, but so are all faiths.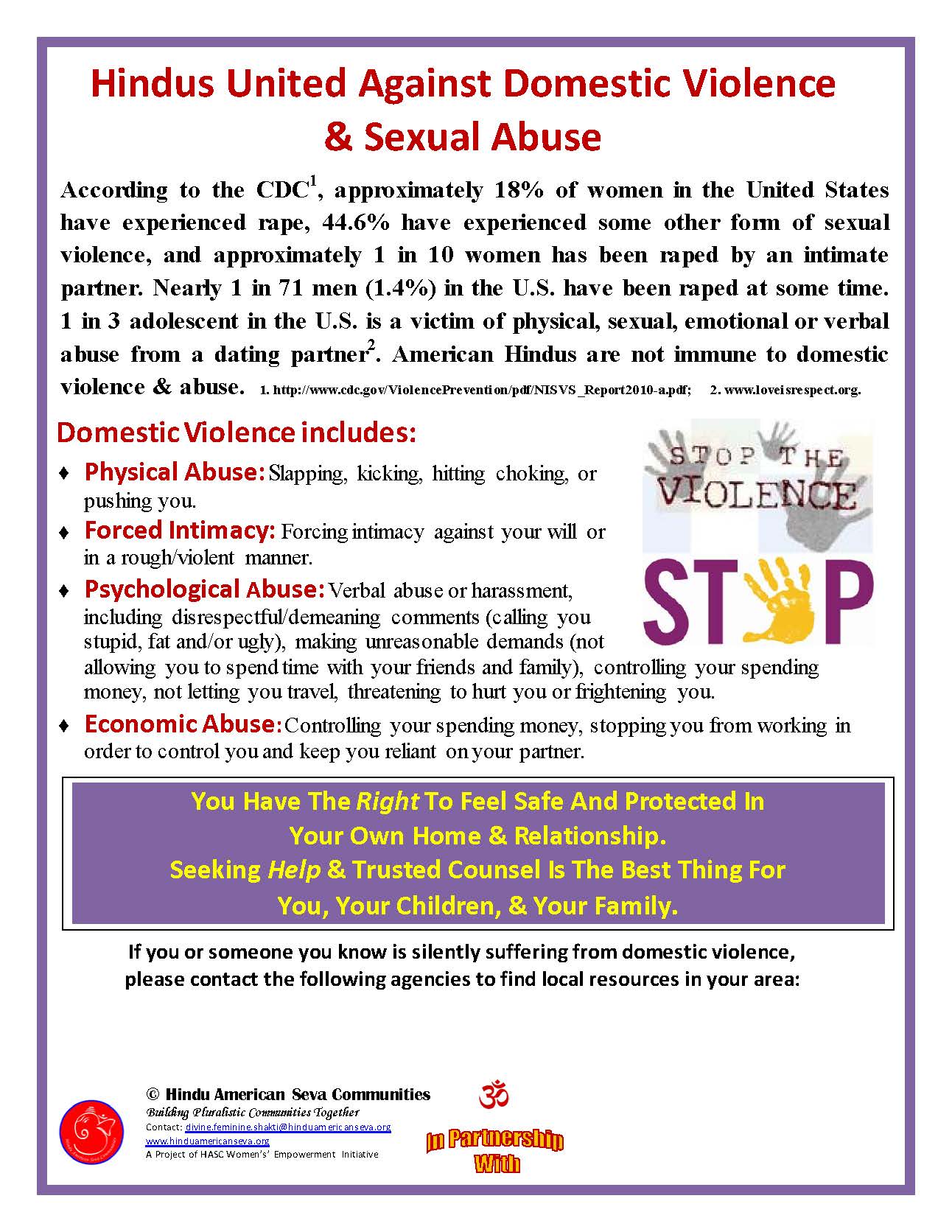 I am inspired by our volunteers like Bhavna Jadonath, HASC's Women's Empowerment Initiative (WE) advisor and coordinator for the Florida region, founder of The Asha Foundation, an organization spearheading youth humanitarian Hindu project, and a student pursuing her Juris Doctor with a Masters in Music.
I have driven by the United Nations Building in New York City many times while on vacation, but I never imagined, in my wildest dreams, that one day I would be speaking there. To stand amongst a panelist of distinguished speakers that are so passionate about empowering and improving the status women across the world was undeniably overwhelming. On March 4th, I was invited to speak on behalf of Hindu American Seva Communities (HASC) as a Women's Empowerment Advisor at the United Nations Status of Women Conference in New York City. The event, co-hosted by the Tzu-Chi Foundation, brought together humanitarians from all over the world to give their perspective on the status of women in their country. The topic of my speech focused on my conflict as "The Hindu American Woman" where we revere the divine feminine aspect but our society comes up short.

Hinduism honors and deitifies women. According to Hindu Scriptures, divinity that dwells in a man, dwells in a woman. Hindus worship both the masculine aspect of God, which many other religions worship, but also the feminine aspect. Our religion does not discriminate but society had created inequality due to many historical factors, such as loss of freedom from invasions, colonization and declining socioeconomic conditions. My message was simple, this needs to stop and we, as empowered Hindus have to bring this change. We have to amplify our values that our tradition respects women and treats them equally.

As a young woman, since I too have encountered gender based problems, I was eager to create an awareness on a global platform. In today's world women have made significant strides, but there is much work to be done to change societal practices. Hindu women have tremendous freedom, however there are still underlying daily issues that need to be addressed. Even in the Indian-American society, we see some women are verbally abused due to their green-card status, the teen and domestic violence cases, the marginalization of divorced women. These are things we, as Hindu-American women are fighting against, and we must still battle. It would be wrong for us to not voice our opinion about the injustices that we see, especially here in America where we have worked so hard to ratify VAWA.

HASC recognizing that these social injustices occur, launched an outreach initiative, "Hindus United Against Domestic Violence & Sexual Abuse" to actively create awareness. Phase one of our outreach initiative was to assemble a strong Women's Empowerment team to support ratification of the Violence Against Women Act (VAWA) and mobilize the community to garner the support. VAWA includes broader measures to ensure immigrants have equal access to anti-violence programs. President Obama signed the bill into effect March 7th. As you can imagine, this was a proud moment for our Women's Empowerment team.

Phase two of our outreach project "Hindus United Against Domestic Violence & Sexual Abuse" is spreading the word and bringing an awareness. We designed flyers and posters, to encourage both the victims and the perpetrators to break the silence. We are placing these flyers in beauty salons, yoga studios, meditation centers, temples and mandirs, mainly places where people congregate. Once a victim sees our material and is ready to seek help, we have various abuse hotlines and agency information available to assist them. Helping the victims is a priority for us, we no longer need to be the silent.

Phase three is to create awareness on a national level. HASC was a part of conference held at the White House which addressed abuse and bullying in schools. In 2014, we will attend the American Public Health Association conference to discuss how our community is affected by domestic violence, and of course participating in a global audience such as in the United Nations Status of Women Conference.

Hindu American Woman have made a dynamic shift. We agree that change has to come from within our own society! We are passionately working to bring awareness to our Hindu community that we are a society of empowered women. For me, sharing this message with dignitaries at The United Nations Conference was not only necessary but humbling. As I walked off the stage to an applause, I looked around the room and couldn't help but feel a great sense of unity with the panelists and audience. We were all gathered here to help make the world a better place.
For me, it is so heartening for me to see Hindu women standing up to fight the social injustices we face and to bring our parampara, our ancient wisdom and true values into the societal norms. I am confident that as the seva movement grows more and more Hindu men and women, anchored in the perennial, universal Vedantic Truths, will join hands to remove the social injustice that prevails in all communities.
REAL LIFE. REAL NEWS. REAL VOICES.
Help us tell more of the stories that matter from voices that too often remain unheard.