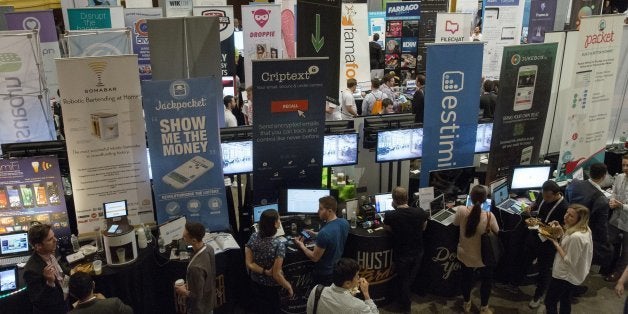 A recent New Yorker piece shines a spotlight on how the fictional HBO series Silicon Valley closely resembles the inner-workings of the real Silicon Valley. After the Season One finale, set at TechCrunch Disrupt -- a conference where founders pitch their startups to a room of investors -- viewers complained that the audience was not sufficiently diverse. But HBO had an excuse: the network was showing footage from the actual, TechCrunch Disrupt conference.
It's an old story that building a more inclusive startup economy, particularly within the technology space, is badly needed. Consider the number 11. Since 2012, only 11 African-American, women entrepreneurs have raised $1 million in venture capital funding. Of the many startling statistics demonstrating why venture capital firms and tech startups need more diversity, the number "11" stands out.
But this trend could finally be reversed, in a meaningful way, thanks to Title III of the Jumpstart Our Business Startups Act (JOBS Act). That provision, which took effect in May, has dramatically transformed the early-stage investing environment in the U.S. By leveraging the vast potential of online crowdfunding, Title III allows entrepreneurs to raise capital from non-accredited investors in the form of equity or debt. Put another way: we just went from having a few hundred thousand prospective angel investors targeting primarily a subset of the population, to a few hundred million prospective angel investors targeting whomever they chose.
It's good news because the existing high-growth startup economy is beyond reach for the vast majority of the population: 1 percent of venture-backed companies have an African American co-founder and 7 percent of partners at top venture firms are women. And yet we have concrete evidence from rewards-based crowdfunding platforms that there is considerable, untapped talent throughout the population. One study of crowdfunding projects found that the majority of funds came from individuals 3,000 miles away from the issuer, whereas most investors in traditional venture deals reside within 70 miles of the issuer. That's part of the reason why 75 percent of venture dollars go to just three states: California, Massachusetts, and New York. Of the 50 most funded crowdfunding projects through 2012 on Kickstarter, 45 of them led to the creation of startup firms including Oculus which raised $2.5 million and was acquired by Facebook for $2 billion. Imagine if these early backers had received equity.
There are a myriad of historical reasons why venture capital -- a critical funding source for launching high-growth startups that create a disproportionate share of the economy's net-new jobs -- is effectively cut off from entire classes of people. A key factor dates back to the passage of securities legislation during the Great Depression era. To prevent fraud, regulations passed in the 1930s stipulated that an "accredited investor" must earn more than $200,000 per year or have a net worth exceeding $1 million (in today's dollars) in order to invest in a startup. The problem, as Revolution LLC CEO Steve Case explains in his recent book, The Third Wave, was that "these paternalistic rules had two negative effects on the economy:" keeping investment dollars on the sidelines and exacerbating income inequality by making it almost impossible for people who are not wealthy, or do not have wealthy friends (most people fall into both buckets), to start a high-growth business. In Boston, for instance -- a hotbed for venture capital and startup innovation -- nearly half of the city's residents make $35,000 or less.
Securities-based crowdfunding won't just help high-growth startups, either. Community lending has declined 50 percent since the financial crisis, and that prevents the local hardware store around the corner from renovations, or the local café from buying a new coffee machine. Thanks to Title III, loyal customers can invest in their own neighborhoods and keep an eye on progress.
Critics of where SEC rule-making landed on Title III say that only mediocre companies at best -- ones that can't attract venture dollars -- will be those that utilize crowdfunding portals to raise capital. Others say that there is already surplus capital for entrepreneurs, so injecting more capital into the system from unsophisticated investors chasing questionable deals could actually have a deleterious effect. This overlooks the fact that while capital may be abundant in the Valley, New York City, and Cambridge, there's a shortage of capital for promising startups almost everywhere else, especially if you are not a white male (it's overly difficult for an African American founder, for example, to get enough financing to build a minimum viable product). Yes, equity crowdfunding won't replace venture capital, but it will compliment venture capital.
Like any important piece of legislation, improvements are needed, specifically around reducing the cost on startups and increasing incentives for investors. Rep. Patrick McHenry proposed a bill that would do three things all of which should be considered: increase the annual funding limits for issuers from $1 million to $5 million, OK the use of special purpose vehicles that would ultimately help investors spread their risk around, and allow for a "testing the waters" provision that enables founders to explore a potential fundraise prior to spending money and time on the process. These reforms would improve Title III and keep investor protections in place. (In terms of investor protections: A World Bank Report found that successful fraud was virtually non-existent on rewards-based crowdfunding sites.)
In the U.S., nearly 100% of net-new job creation come from startups, and of those new jobs, 40% come from high-growth "gazelle" firms. With Title III of the JOBS Act now in effect, and modernized rules for raising startup capital that allow good ideas to come from anyone and anywhere, there's good reason to feel encouraged about building a more inclusive startup economy.
Calling all HuffPost superfans!
Sign up for membership to become a founding member and help shape HuffPost's next chapter