It is one year since the death of 26-year-old Aaron Swartz, the renowned computer programmer, writer, political organizer and Internet activist.

People all around the world are remembering Swartz, a man Internet founder Tim Berners-Lee called a wise elder of the web. A new film on his life, The Internet's Own Boy - The Aaron Swartz Story, will premiere at Sundance later this month.

I met Aaron at Harvard when he was 24. It was immediately clear that he was not only a genius, but also a gentleman that was wise beyond his years. He had a huge heart and a great mind that he devoted to making a positive difference in the world. While a life of great wealth and comfort could have been his, Aaron instead dedicated his skills to the pursuit of justice and equality, becoming recognized as a global figure for information and Internet freedom.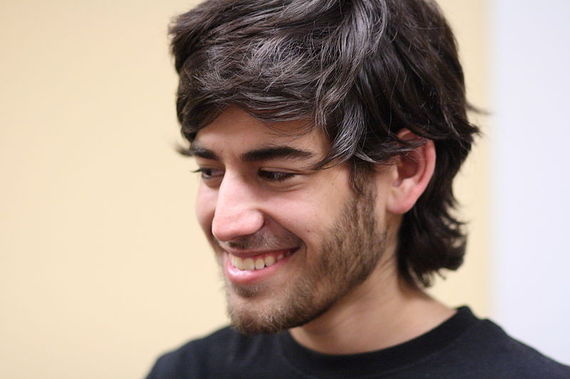 Since his early teens, Aaron was a key thinker in the development of the web. He was involved in the development of the news feed format RSS, the Creative Commons organization, and social news website Reddit. His work later focused on sociology, civic awareness and social activism and in 2009 he launched the Progressive Change Campaign Committee.

Aaron was both a high school and university drop-out, and later became a research fellow at Harvard University's Safra Research Lab on Institutional Corruption. He went on to found online advocacy group Demand Progress, and led it to have over one million members. Aaron was also a leading voice in successfully defeating the controversial Stop Online Piracy Act, more commonly known as SOPA.
When I interviewed Aaron in 2010, his raw passion for social justice was clear:
I feel very strongly that it's not enough to just live in the world as it is, to just take what you're given and follow the things that adults told you to do, and that your parents told you to do and the society tells you to do. I think that you should always be questioning. I take this very scientific attitude that everything you've learned is just provisional, that it's always open to recantation or refutation or questioning, and I think the same applies to society.

I felt growing up, I slowly had this process of realizing that all the things around me were just the natural way that things were the way things would be. They weren't natural at all. They were things that could be changed and things that more importantly were wrong and should change. Once I realized that, there was really no going back. I couldn't fool myself into saying I'll just go and work for a business and ignore all that. Once I realized that there were real serious problems, fundamental problems, that I could do something to address I didn't see a way to forget that...
... he said in response to asking him about his motivations for becoming an activist.
It was this same passion and determination that ultimately landed Aaron in trouble.

In January 2011, Aaron was arrested by MIT police, after illegally downloading academic journals from the JSTOR database, which supporters say he was preparing to make freely available online. He was later charged with two counts of wire fraud and 11 violations of the Computer Fraud and Abuse Act. He faced a 35-year prison sentence and up to $1 million in fines in what many say was a witch-hunt designed to make an example of Aaron and to crack down on net freedom activists.

On January 11th 2013, two days after the prosecution denied his lawyer's second offer of a plea bargain, Aaron was found dead in his New York apartment.

Upon hearing the news, Tim Berners-Lee tweeted;
"Aaron dead. World wanderers, we have lost a wise elder. Hackers for right, we are one down. Parents all, we have lost a child. Let us weep."

Following the announcement by the coroner that Aaron's death was a suicide, his family issued a statement which drew attention to the possible role of both the U.S justice system and MIT in his death.
Aaron's death is not simply a personal tragedy. It is the product of a criminal justice system rife with intimidation and prosecutorial overreach.

Decisions made by officials in the Massachusetts US Attorney's office and at MIT contributed to his death.
In June 2013, Aaron Swartz was posthumously inducted into the Internet Hall of Fame. His death is a tragedy and there are many lessons to take from it, including the need to support those who may need help.
The internet is at the heart of the modern battle for democracy. There are active forces which seek to invade our privacy and control our information. This is clear from recent news of government spying, and attacks on civil liberties and freedom of information. Campaigning for Internet freedom has therefore never been more important, including initiatives like the February 1st International Day Of Privacy and the February 11th Day Against Mass Spying. As Aaron himself said, "Information is power and like all power there are those who want to keep it for themselves."
In his short life, Aaron showed what was possible when people get organized to affect change. His legacy continues to affect hundreds of millions of internet users each day. It is important his work continues and to believe that change is possible.
.. "because I had believed for so long that change was impossible it precluded me from taking any actions that could have caused that change and so I think the first step for everyone out there is to believe that you can actually accomplish something because once you believe that you're half way to actually doing something." - Aaron Swartz, 1986-2013
Popular in the Community