Changing ourselves changes the world. In 2013, a group of daily givers, myself included, committed to provide seed funding to a fledgling social change project every single day of the year. At the Pollination Project, we continue this practice of daily giving by making seed grants every day in 2014. We welcome you to join us in your own way. Here are the extraordinary people and projects that we supported this week.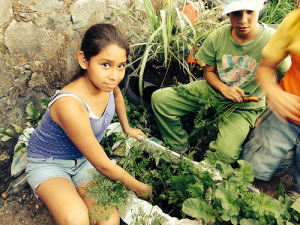 Lomas de Tabachines, a suburb in Guadalajara, Mexico has its fair share of violence, teen pregnancy and other social challenges. Seeing how these challenges impact the young women in the community, María Abascal founded Huerto de Las Guardinas- the Vegetable Garden of The Guardians- as a secure public space for young women. The garden started in a deserted community space and now is a vibrant place where girls are taught to work hand-in-hand with their environment and experience themselves in relationship to the earth.
Sameer Muldeen, a passionate vegan and president of the Montreal Vegetarian Association, is on a quest to educate the public about the importance of veganism, a lifestyle he believes is key to a sustainable and socially just future for our planet. Sameer and his team are helping to create and distribute a French-language version of the popular Vegan Outreach booklet, "Even if You Like Meat." They will be sharing these materials and their passion for veganism at the largest health conference in Quebec, the Expo Manger Santé et Vivre Vert, which can draw 18,000 attendees.
Oakland, California resident Christina Parker decided to join "Green the Block" after seeing how her front-yard garden encouraged positive interactions with her neighbors and the wider community. The nationwide grassroots Green the Block network supports individuals interested in creating urban gardens and brings neighbors together to work for a common good. Christina says, "When communities are united many positives result including reduced crime, improved interpersonal relationships, and, in this case, a more beautiful neighborhood." By cultivating plots of paradise in the city, Christina and her neighbors will be creating habitat for native animals, improving access to better nutrition and building relationships between neighbors.
Ellen Grim and Ocaya John Baptist are making literacy more accessible in northern Uganda by creating a new children's library. The project will transform part of a staff room at the Kitgum Demonstration Primary School into a functional library, where the school's books will finally be accessible to both students and teachers. In addition to creating the space for people to enjoy reading, Ellen is also teaching library science workshops and founded a literacy committee at the school.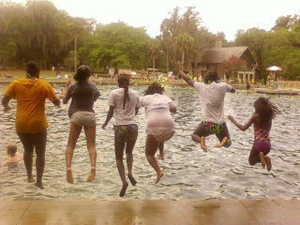 Kerry-Anne Purkiss, a long-time educator of underserved youth, founded Sports Roundtable in New Smyrna Beach, Florida to expand inner-city sports options for local kids. Starting last summer with soccer and football, Kerry-Anne saw an overwhelming response, with almost 100 children participating. In addition to athletics, Sports Roundtable provides opportunities in student government and academics, because as Kerry-Anne says, "Not everyone is an athlete, so be whoever you were created to be." After successfully reaching out to the community, Kerry-Anne and her team are now preparing for a busy summer operating a free camp for youth 6-19 years old.
In northern Uganda, a bicycle is the most efficient way to navigate. However, people with disabilities don't have access to bikes they can maneuver and often have to rely on others to get around. Brianna Schuyler and Alfred Okello are working with the Foundation Hope for People with Disabilities (FHPD) to change that. Based in the Amuru District of Uganda, they are developing custom tandem bicycles that can be used by the members of the FHPD. Thanks to the tandem bike program, physically challenged community members will have independence and a renewed sense of dignity. Brianna's hope is that "other communities will follow our example and build their own, modified specifically to their needs."
As the founder of Volunteers With Passion, Collins Mugodo is driven to empower underserved communities in rural Kenya. Collins' latest project is building a modern, energy-efficient kitchen for the Dream Children's Home, which supports and houses more than 70 children in Ngong, Kenya. In addition to the environmental benefits of eliminating the need to cook with firewood, this construction will provide a healthier food preparation area and replace the currently dilapidated, hazardous and non-hygenic facility.
Congratulations to our grantees this week for their outstanding work to bring justice, peace, health and compassion to their communities. These are just a few examples of what a little seed money can do when put in the hands of someone with a vision and a plan to change the world.