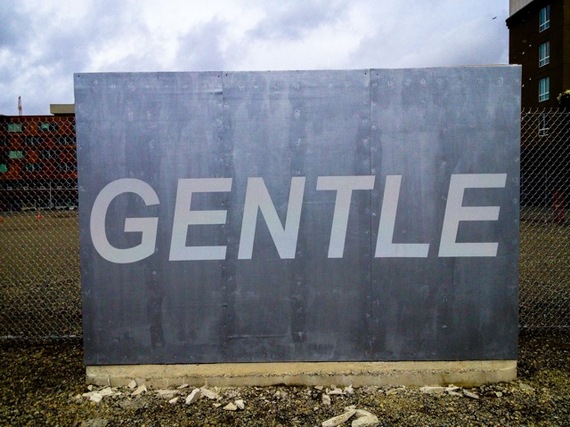 From "This is not a gentle poem" by Arne Pihl, part of "All Rise," a Seattle art happening about neighborhood change and social struggle, 2014-15 (Photo by Jim Friedrich)
It is not so much the gift of tongues that we now need as the gift of ears, not so much the proclamation of our beliefs as the willingness to listen to the ways in which we ourselves are being addressed, not so much the assertion of our knowledge but the silent admission that we are ready to learn. -- Alan Ecclestone
Does institutional Christianity have a future? We have certainly heard the dismal narratives of decline. Churches and seminaries are closing, congregations are aging, and budgets are shrinking, while the unaffiliated-- "Nones" and "Dones"-- are on the rise. There are still many pockets of vitality-- thriving, growing, committed churches-- but their long-term sustainability remains a serious question in the unsupportive habitat of postmodernity.
How many Christian bodies, at either the local or the denominational level, have resigned themselves to a diminished role as complacent and compliant chaplains to the dominant culture, or as harmless historical societies dedicated to the preservation of endangered practices and memories? An English priest of the last century, Alan Ecclestone, warned that such abdication of its changemaking mission would produce a "miserly and unexpectant" church.
Thankfully, we have antidotes for such a fate: resurrection and the Holy Spirit. Resurrection transforms death into rebirth, while the Holy Spirit makes all things new. The Book of Common Prayer describes this potency with elegant succinctness: "things which were cast down are being raised up, and things which had grown old are being made new."
Enough with the narratives of decline! It is time to tell Easter stories. And at the recent Inhabit Conference in Seattle, I heard many encouraging accounts of new life and abundant Spirit. For two days, Christian changemakers shared stories about doing and being "church" in new ways and new places. Even though many of the speakers have undertaken ministries in the lusterless environments of makeshift buildings and impoverished neighborhoods, their stories glowed with resurrection light.
Strangers sharing nothing but a zip code become friends over soup suppers. A trashy vacant lot is transformed into a beautiful park or neighborhood garden. Economic wastelands bloom as social entrepreneurs are raised up locally. The hungry and homeless become neighbors-in-need rather than faceless problems. The powerless organize to make their voices heard in civic planning and development. Police and residents defuse tensions and break stereotypes by socializing together. "Low-status neighborhoods" are redeemed by the work of many hands, becoming places of human flourishing. Such things don't always happen, but when they do, the Kingdom of God draws near, and the church of God rises from the dead.
The Inhabit conference speakers, many in their twenties and thirties, have committed themselves to simplified and generous lifestyles as residents of the struggling communities they serve. Their "churches" tend to be improvisational-- living rooms, storefronts, neighborhood centers, local watering holes, and street corners. If any of their ministries employ a traditional church space, it is usually where the old congregation has been on the verge of extinction.
These youthful pastors understand "parish" in its original sense-- designating a whole neighborhood rather than simply the church situated within it. Their ministry is dedicated not to their particular faith community alone, but to the flourishing of their whole geographical parish. Don't just feed the hungry; get to know them by breaking bread together. Don't just serve the poor; help them get the skills and opportunities they need. Don't just care about people, but work with them to challenge and change the forces which impact their lives. Organize for parks and housing. Educate. Demand justice. Reclaim the commons. Foster hope. Develop local economies. Lift up social entrepreneurs. Build equity. Break barriers. Nurture relationships. Network solutions. Innovate. Improvise. Advocate, organize, include, connect, encourage and empower. Be Jesus for others. Imagine.
The mission statement of Parish Collective, one of the Inhabit conference sponsors, summarizes the vital work of fostering communities of belonging in the forgotten corners of an alienating and divisive society: "We seek to reconcile fractured relationships and celebrate differences by collaborating across cultural barriers and learning to live in solidarity with those in need." Or put more simply, "Living local together" for "street-level renewal."
All of the speakers were passionate about making a difference in the neighborhoods they inhabit. But they are careful to act "with" rather than act "for" the local community. They don't arrive as colonists imposing their vision, or saviors with the big idea for everyone else to follow. They come as relentless listeners, with the gifts of ears and respectful attention. As one speaker said, "Love listens." Another added, "Let the neighborhood speak to us, rebuke us, teach us."
This is not easy work, nor is it quickly done. As one pastor told the conference, "Our church is in the oven, not the microwave. It starts slow and takes longer, but it tastes better." Sometimes faith is a lot like patience. The Tree of Life doesn't grow overnight. But still we believe in the promised fruit, as Shane Claiborne, a young Christian changemaker, reminds us:
"Faith is believing despite the evidence--
and then watching that evidence start to change."
Calling all HuffPost superfans!
Sign up for membership to become a founding member and help shape HuffPost's next chapter