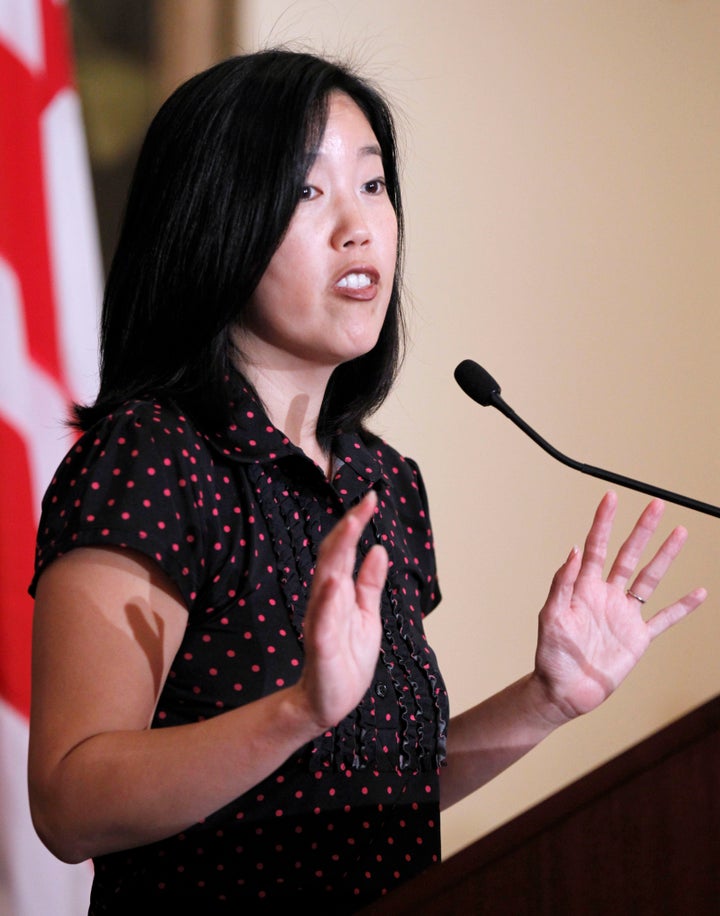 WASHINGTON -- In a surprising reversal, Change.org, the progressive online powerhouse that channels grassroots energy into petition-based activism, has dropped** two anti-union clients, including Michelle Rhee's StudentsFirst, according to multiple sources familiar with the decision.
The move comes after intense pressure from the labor movement and other progressive allies, who accused the for-profit company of betraying its liberal roots by partnering with Rhee, the former head of Washington, D.C., public schools, and the similarly aligned group Stand for Children headed by education advocate Jonah Edelman. The ouster of StudentsFirst and Stand for Children was confirmed by a Change.org spokesman.
Leaders of Rhee's group were outraged. "We're surprised at their decision," Nancy Zuckerbrod, spokeswoman for StudentsFirst, told HuffPost. "When we spoke to them this afternoon, they couldn't point to a single one of our petitions on their site that violated either the terms of use or spirit of their organization. Not a single one. In fact, they said they agreed that much of the work of our members were in line with the progressive values of the organization. And it's clear that the Change.org community does as well, as tens of thousands of them signed our petitions fighting for the civil rights of all children to receive a high-quality education. For instance, more than 47,000 people signed our petition in support of the Dream Act, compared to fewer than 4,000 who signed the heavily organized protest petition on a different site against Stand for Children."
Change.org's meteoric rise has included a host of glowing profiles and the Time magazine stamp of approval when it named CEO and founder Ben Rattray one of the 100 most influential people in the world. It is staffed by some of the most talented progressive organizers in the country -- many of whom are well known and liked in the tight-knit liberal community, making the feud that much more bitter. And Edelman is the son of liberal champions Marian Wright Edelman and Peter Edelman.
StudentsFirst and Stand for Children oppose teachers unions as obstacles to education reform, and advocate on behalf of tying teacher pay to test scores and other student metrics. Change.org started working with Rhee's Students First in March 2011, five months after her resignation as Washington's public schools chancellor, and with Jonah Edelman's Stand for Children in October 2011.
Rhee's group, aware of its reputation as an enemy of organized labor, has consistently avoided activism around union issues on Change.org's platform, focusing instead on immigration reform, anti-bullying, and other issues that resonate with progressives and don't alienate labor. Labor officials and other Washington-based liberal activists have, over the course of the last year, been publicly and privately pressing Change.org to draw a line that refuses business from anti-union groups, just as it currently rejects business from organizations with an anti-immigrant or anti-gay bias. They made little progress until Stand for Children launched an anti-union petition.
It was Change.org's recent controversial petition, criticizing the Chicago Teachers' Union vote two weeks ago to authorize a strike in the fall, that set off the current firestorm of protest. The letter, sent to the Chicago Board of Education and CTU President Karen Lewis, was authored by the Illinois chapter of Stand for Children:

400,000 Chicago students could be locked out of Chicago classrooms because contract negotiations are starting to break down, causing a premature strike-authorization vote to occur before anyone knows what is in the contract proposal. We strongly call for all parties to bargain in good faith to reach a new agreement. Don't hold our students hostage in a negotiation where they have no voice!

The petition provoked a barrage of responses, with Chicago teacher Jennifer Johnson drafting a letter on a MoveOn.org-affiliated site, SignOn.org, to the founder of Change.org, demanding that the website "Stop Supporting Union-Busters." Johnson's letter has collected roughly 4,000 signatures.
MoveOn.org has used the controversy to promote its own petition project, which it notes is nonprofit and doesn't face the same pressures as a private company. (Change.org, despite its URL, is a for-profit company.) "We're nonprofit, and we can't be bought. SignOn.org is entirely funded by small donations from our members. And unlike other petition sites, we never promote petitions because someone paid us to -- we only promote the petitions that MoveOn members support," reads SignOn.org's mission statement, which MoveOn has been flogging to the progressive community.
The Washington-based progressive community has been attacking Change.org both publicly and privately. "For Change.org to claim to be a progressive organization or support the progressive movement while soliciting and accepting cash from corporate front groups is, at best, disingenuous," Aniello Alioto, national political director for ProgressNow, told HuffPost before the decision to drop Rhee was disclosed.
John Aravosis, who writes the pro-gay-rights AMERICABlog.com, said that Change.org, despite its petition-based strategy, is still a political consulting firm -- a reality that liberals ought to recognize. "I'm glad they're not allowing anti-gay campaigns, but why allow anti-union?" Aravosis said. "You just don't do that. Big, evil consulting firms that liberals attack all the time do that. The netroots has found itself in bed with a typical old Washington organization that plays both sides, except they're built by the netroots, and we're supposed to be better than that."
Change.org leaders, for their part, said they think some of the outrage resulted from a misunderstanding of the company's goal, which is not to spread American-style progressive values around the globe, but rather to empower as many people as possible under the theory that the world will be better as a result. By not embracing American progressivism, the company said it hopes to make its platform more welcoming to people around the globe who might see such an association as imperialist or anti-Muslim.
"At the heart of Change.org mission is an open, democratic philosophy: we believe our platform should be open to people from a range of viewpoints who share a common interest in changing their world for the better. It is in that spirit that we agreed to accept Stand for Children as a client," Change.org spokesman Benjamin Joffe-Walt told HuffPost. "In the last few days, we have listened closely to the community of Change.org users, who have voiced their concerns in response to this decision. After careful consideration, we have agreed to end the contract with Stand for Children, and the petition is now closed.
"At Change.org, we believe in open dialogue, and we try to listen as we grow. We appreciate that the broader Change.org community cares enough about our company to weigh in, foster discussion, and directly share their points of view with us. We're going to to pursue our strategy of empowering people around the world and are looking forward to tackling the difficult questions that all organizations face as they grow."
Zuckerbrod, of StudentsFirst, said that Change.org officials told the organization bluntly that the progressive pressure drove the decision.
"Instead of making this decision based on values and principles, they pointed to a number of business and operational factors with their high-value partners who were pressuring them to take this step," Zuckerbrod said. "We believe this is an unfortunate decision on their part, and we imagine a disconcerting one for progressives -- whether they agree with the work we are doing or not -- that instead of standing by their principles, Change.org is standing by their pocketbook.

"It's the wrong decision -- and those are the wrong priorities -- but our million-plus grassroots members will continue to fight for the civil rights of children no matter what obstacles the status quo puts in front of us," Zuckerbrod continued. "As for Change.org -- we'll leave the anti-bullying petition we started up for their review."
UPDATE: 11:12 p.m. -- Stand for Children's petition is a "reasonable and measured request" for both sides in Chicago to reach an agreement, Sue Levin, the organization's chief marketing officer, said in an email. She added:
Change.org is a company and today, they made a hasty business decision with which we strongly disagree.

In Chicago, Stand for Children will redouble our efforts to support an agreement that ensures that students get the longer school day they deserve while fairly compensating teachers for their hard work. Across the country, meanwhile, we will continue to work hard with parents and community members to improve our public schools so that all children, regardless of their background, can graduate from high school prepared for a college education.
Mary Anderson, Stand for Children's Illinois executive director, said the group's contract with Change.org was for "a really small promotional campaign" for $2,000.
**UPDATE: June 21, 6:55 p.m.: As readers have pointed out, StudentsFirst's petitions are still being advertised on Change.org after the decision to end the relationship was announced. Change.org global director of communications Joffe-Walt told HuffPost that StudentsFirst is not being cut off immediately. The company's contract with StudentsFirst will continue to run as it winds down. "Contracts with Change.org are essentially advertising, on a cost-per-acquisition basis, not consulting or list-selling, as some have suggested." said Joffe-Walt. "The timeline to conclude the contract is highly variable depending on factors like the amount of traffic to the website, the other sponsored campaigns running at the same time, etc, which all hugely affect pace. The point is we have committed to concluding, we have communicated that to StudentsFirst, and it will happen as fast as possible."
Cole Stangler contributed reporting.
CORRECTION: A previous version of this article misidentified Chicago teacher Jennifer Johnson as "Jennifer Jones." We regret the error.
Popular in the Community