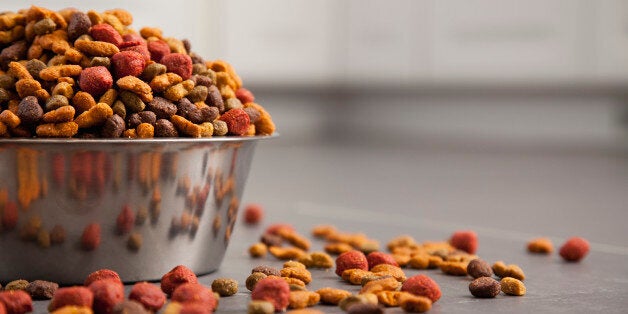 With yet another pet food recall last week -- this time it was the two-pound, five-pound, and 15-pound bags of Abady Highest Quality Maintenance and Growth Formula for Cats because of possible Salmonella contamination -- pet owners have to wonder why premium pet foods continue to have recalls.
If you have a pet then you surely know how difficult it can be to choose a quality pet food these days. You can no longer simply grab a "good" food off the shelf. Since the pet food recalls in 2007, being a responsible pet owner typically includes learning to read pet food labels -- knowing ingredients, looking at the guaranteed analysis, and being familiar with the jargon used by the industry. Lots of people take it farther and want to know where ingredients are sourced, who makes the food, and other nitty gritty information about recipes. No matter. As careful as people have been in choosing pet foods in recent years, there have still been recalls affecting premium brands. How can that be?
The FDA Swings Into Action
A small number of recalls are probably inevitable in any food industry. If you check the FDA pet food recall list and other information carefully going back past 2007, you will find that even the most elite pet foods have had recalls in the past. Any company can purchase a bad lot of ingredients or have a problem with their facility at some point, no matter how careful they try to be. Few companies can claim they have never had a recall at all if they have been in business for more than a few years.
However, there were a large number of pet food recalls in 2013 and some of them affected premium brands, much to the dismay of concerned pet lovers. In March 2013, the FDA announced plans to increase their sampling of domestically manufactured pet food products for analysis. They were primarily looking for Salmonella. Samples were collected from manufacturing sites, from distributors, and from retailers around the country. Canned foods were excluded from the assignment but all other kinds of foods were included -- extruded, baked, frozen and refrigerated. Inexpensive as well as super premium foods were included in the samples. Some 300 samples were taken. As a result, there were a large number of pet food recalls related to Salmonella in 2013, even from some respected "natural" and "holistic" brands.
Why the sampling and inspections for Salmonella? There are more than 2000 strains of Salmonella and the FDA wanted to get an idea of which strains were present in pet food manufacturing plants and foods. Salmonella poses a risk to human health -- even more so than to pets -- so it's important to monitor and eliminate it as much as possible. And, cynics would probably say that identifying Salmonella and recalling pet food in 2013 would ease the way for new federal regulation for pet food manufacturers in 2014.
Other problems can affect pet foods and prompt recalls such as the presence of mycotoxins, which include aflatoxins. Mycotoxins can develop in grains and cereals when the environment is suitable for mold growth. While most people associate mold with damp, mold that produces aflatoxins in grains is usually found in crops that have been stressed by drought conditions and extreme heat. Grain-free pet foods are less likely to have these problems since they avoid the use of corn and wheat, but they can use other starches and fibers that can have their own issues. In addition, "grain free" sometimes means different things to the pet food manufacturer and the consumer.
The federal government has been taking some steps to try to make pet food safer, both for pets and for the humans who handle it. The FDA has initiated a voluntary program -- the Animal Feed Regulatory Program Standards (AFRPS) -- that is made up of a series of voluntary standards for inspections by state and other regulatory programs that oversee the production of pet food and feed for farm animals. The idea is to get all of the various state agencies following the same standards with regard to inspection and regulation of animal feeds. Together with the Association of American Feed Control Officials (AAFCO), the FDA announced the start-up of the new program in March. In theory, this program should make animal feeds safer once it begins to be utilized by the various states.
Perhaps the most sweeping change to the pet food industry will come with the Food Safety Modernization Act (FSMA). The FDA is currently in the middle of the regulatory process as this rule relates to pet food manufacturers. The pet food industry recently requested an extension on the comment period for the animal food rule (after already receiving one short extension) and was denied. You can find out more about the proposed rule here. The comment period for this rule has now closed and the pet food industry is waiting to see what kind of final rule the FDA issues.
The pet food industry points out that it is next to impossible to make facilities completely germ-free. One problem is that the USDA and the FDA have different inspection standards relating to Salmonella. The FDA has a higher standard than the USDA. So a pet food facility can pass a USDA inspection and still produce a food that might turn up positive for Salmonella if tested by the FDA.
The industry also notes that, overall, pet food is a very safe product. Pet food has the third highest score of all industries in the American Customer Satisfaction Index with an 83. Nevertheless, the pet food industry is bracing for changes that might lie ahead with the new regulations while consumers hope that the changes will make recalls less likely.