 As the presidential campaign hits high gear, the Obama administration is reaching out with senior advisers and federal executives traveling around the country touting the administration's achievements. Jon Powers, the Federal Environmental Executive at the White House Council on Environmental Quality, traveled to Colorado this week to meet with non-profit organizations, business leaders and concerned citizens regarding the unprecedented achievements the administration has achieved during its first term. The environmental and renewable energy communities in particular are being courted as the president's environmental record has been criticized for not achieving his campaign promises of four years ago. To a large degree this can be attributed to unrealistically high expectations. In point of fact the Obama administration's accomplishments in energy policy have been nothing short of extraordinary.
The Alliance for Sustainable Colorado organized a round table meeting for Powers in its double LEED certified office building in Lower Downtown, the Alliance Center. Powers served two tours of duty in the Army in Iraq. Back in civilian life, he then returned to Iraq to lead War Kids Relief working with Iraqi orphans. He opened the meeting recounting some of his experiences. He highlighted meeting a seasoned sergeant when he was a newly minted officer. The sergeant counseled that there are two types of leaders: those who have the authority of rank and those who lead by example. Powers has not forgotten this lesson, which is the hallmark of this administration and the motto of his office: lead by example.
Shortly after taking office, President Obama issued an Executive Order on Federal Sustainability (EO 13514), which requires Federal agencies to set a 2020 greenhouse gas emissions reduction target within 90 days; increase energy efficiency; reduce fleet petroleum consumption; conserve water; reduce waste; support sustainable communities; and leverage Federal purchasing power to promote environmentally responsible products and technologies. From that aggressive beginning, the administration has promoted "record investment" in clean energy and related jobs here at home. President Obama has announced "historic" new fuel economy standards that "will save consumers $1.7 trillion at the pump by 2025" and avoid 6 billion metric tons of carbon pollution -- equal to total U.S. carbon emissions in 2010. The U.S. has also seen a doubling of the energy generation from wind, solar and geothermal sources since 2008.
Powers pointed to the fact that President Obama has, for the first time, allowed public lands to be opened to solar projects and has approved 17 utility-scale projects with a capacity of 5,900 megawatts, enough to power about 1.8 million homes. The Department of the Interior has approved six on-shore wind facilities with 800 megawatts of capacity and eight geothermal plants with 424 megawatts of capacity. In total, these projects equal 7,200 megawatts, enough to power 2.3 million homes. Powers was also pleased to point to the United States' status as the world's largest and fastest-growing wind energy market in 2011; 32 percent of all new electric generation capacity coming on line is wind-powered. That's $14 billion in new investment. In terms of jobs, 70 percent of the components of those wind turbines were made domestically; a couple of years ago that figure was only 35 percent. The United States is once again the world's leading investor in clean energy.
The State of Colorado has a large federal footprint, and Powers spoke to his role as the Federal Environmental Executive being to guide what is being done in terms of energy policy within the Federal government as a whole. The FEE has a major impact because the Federal government has over half a million buildings, 1.8 million civilian employees (not including uniformed military personnel), over 600,000 vehicles in the fleet, and purchasing power of about $535 billion per year. The administration wants to find ways to leverage that purchasing power to shift the market. The Federal government is on track to meet its goal of reducing its greenhouse gas emissions by 28 percent by 2030. It has set additional goals concerning water conservation. Powers pointed to Fort Carson near Colorado Springs as an example of a progressive project; Fort Carson has set a goal of becoming a net-zero energy, water and waste installation.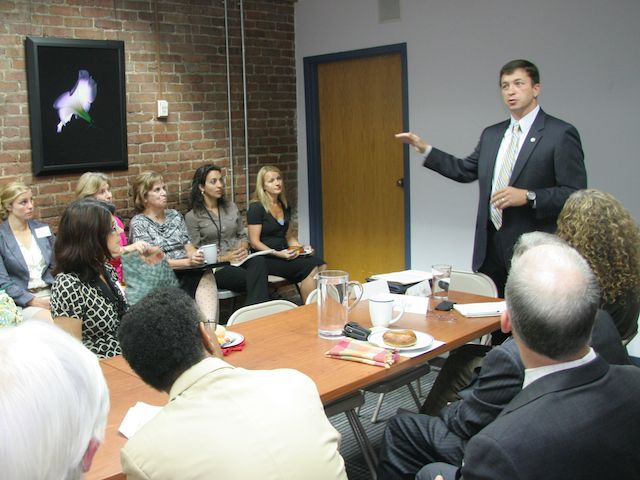 Jon Powers in Denver. Photo courtesy of Alliance for Sustainable Colorado
Powers said "we're at a unique point" with respect to energy policy, because the House Republican budget is set to make cuts of $897 billion, which will affect many programs including the Department of Energy's Office of Science and the Office of Energy Efficiency and Renewable Energy, which have been crucial in getting us to the point where the U.S. is the world's leading investor in renewable energy. In total, the cuts would trigger a 19 percent reduction in funding for clean energy. Clearly, this would be a step backwards at a time when the adverse impacts and consequences of reliance on dirty carbon fuels are more apparent on a daily basis with record temperatures, drought, and extreme weather events attributable at least in part to a warming climate caused by human activity.
During the Q and A session that followed, Powers was called to task on the lack of progress by the Obama administration on climate change; specifically the lack of progress in global climate negotiations at the UNFCCC COP conferences and RIO+20. Powers said that, contrary to some impressions, climate change is part of the conversation the president is having, but the administration needs help from other sectors to drive that point. The drought and recent heat waves have put us at a "unique point" that may be waking people up again to the issue. Several present pointed out that it is critically important that the Keystone XL pipeline does not receive the approvals required for it to be allowed to proceed, and that the Production Tax Credit supporting investments in renewables is reauthorized. Powers pledged to take these messages back to the president but noted that the administration needs "aggressive support from stakeholders" to "make that dialogue happen."
Calling all HuffPost superfans!
Sign up for membership to become a founding member and help shape HuffPost's next chapter