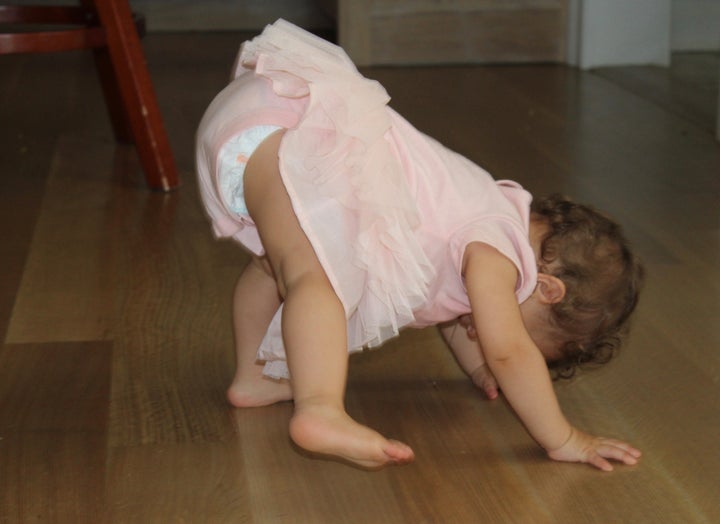 I can't remember the specific moment I first heard the adage, "This too shall pass," but it sunk in during a yoga class back in my early 20s. The notion of impermanence is a central tenant in Buddha's teachings.
To my pre-mom self, the reminder that change is constant helped me endure an intense posture by recognizing discomfort is a nonpermanent state.
Yeah, I envy the girl I once was too: she who was focused on locking out a standing bow pulling pose. But given the natural transitions life brings, my days of maintaining a regular yoga practice were short-lived.
Though motherhood shifted my focus away from yoga, the concepts that supported me on the mat suddenly applied to real-life situations.
I found myself saying, "This too shall pass," when I transitioned from 1-2 kids in 22 months. During that time, I wore my yoga pants for days, anticipating the repetitive practice of feeding, changing and wiping. Striving to maintain grace in motherhood stretched my patience and strengthened my resilience.
These were the days managing tantrums on no sleep was more difficult than the most intricate yoga posture I ever attempted. In the fog of sleep deprivation, I might have challenged the Buddha himself to remain graceful when facing a defiant toddler after being up all night with an infant.
In one particular situation, I found myself in a grocery store watching my daughter pound her fists into the floor at check out. This was in protest about the candy bar I refused her, and I was quietly but passionately pleading for her to get up. Still, her brother woke from his nap in the sling on my chest and started to cry.
"This too shall pass" started running through my mind and I longed to fast forward to a time where my daughter would be mature and reasonable, my son sleeping soundly through the night.
The woman behind me interrupted my daydream saying, "Hang in there, but treasure this difficult moment. It won't be like this for long. I promise, you will miss it."
Unsolicited advice goes hand-in-hand with motherhood. Nonetheless, I nodded in appreciation because my kid was acting like an animal and the wisdom was given with kindness. I couldn't fathom missing such a frustrating moment, but I respected the words this graceful woman spoke. I was barely holding it together in my macaroni-and-cheese-stained yoga pants, so I accepted the compassion I was offered.
The grocery store wisdom was prophetic because the sleepless nights and tantrums eventually came to an end. Then, at some point, I woke up and started to treasure the hard moments of early motherhood because they are balanced with unparalleled joy.
I am now a mom of four. I cannot tell you the last time I was in a yoga studio, but on my hardest day, I consider myself the luckiest woman in the world. My two boys and two girls are thriving, and my heart is full.
Yes, I sometimes wish I had more time for yoga, but then I marvel at how fast my children are growing. I won't remain in this moment forever where my children are young and my free time is limited.
I often hear, "It won't be like this for long" reverberating in my mind and I have come to understand that while the notion of impermanence carries us through discomfort, it also suggests our joys are fleeting.
Given this, the old adage, which pulls me through the hard moments, brings panic. Now, "This too shall pass," means all of it: gone with the sleepless nights is the intoxicatingly sweet infant I rocked for hours. He grew into a boy who sleeps so soundly, it is a chore to wake him for school in the morning.
Lost with the colossal tantrums my daughter once threw were those adorable toddler words she created like, "babysoup" (bathing suit) and "hotowel" (hotel). OK, now and then she still gets herself in a fury, but she better manages her passion and I see this strong-willed girl will never settle for less than what her heart desires. The kid makes me proud.
I am still knee-deep in the chaos that leaves my clothes and home a mess, a stripe of grease up my white wall in the stairway is perhaps symbolic of this. I constantly repeat, "Please use a napkin," but the remnants of meals make their way to the wall in a collage of greasy handprint streaks from a 7, 5, and 3 year old. The 1-year-old will soon participate in this organic family art project.
Lately, I let the soil remain, because one day my wall will be clean again. This will mean those grimy little hands are out in the world building lives of their own.
Knowing my baby-making ship has sailed, I am already nostalgic about the hard but precious moments that made their way into my past. But if I spend these last moments of early motherhood lamenting their passing, I will miss them altogether. Now the thought that this all will pass reminds me to remain present and savor.
I watch my youngest daughter conquering the art of walking and I giggle at the wobble in her gait, how she throws her chubby feet ahead like she is squashing bugs. This increasingly independent little girl now arches her back and cries in protest when she sees her car seat.
Indeed, the dreaded tantrum phase is upon us, but I know it will be short lived. This time, when the frustrations of toddlerhood fade as the baby of our family grows, I will find myself transitioning into a new phase of motherhood.
Pregnancy, birth, postpartum, infancy and toddlerhood have challenged me in unfathomable ways and I have grown. I realize that there are many challenges and joys that lie ahead ― the journey is far from complete.
May "This too shall pass" continue to carry me through hardship and nudge me to savor, because I have come to understand the full meaning of impermanence through motherhood.
There is still more to learn and one day in the not so distant future, I will return to yoga. In rekindling my practice, I foresee the need to remain supple and strong after child-rearing has taken its toll and that advanced postures will be a challenge of my past.
I hope to embrace my older, weathered body, and acknowledge the wiser, stronger soul I have become. Life is ever changing, and while I notice my personal evolution through these transitions, growth is never easy.
Ultimately, I hope yoga will inspire me to carry on gracefully as my children make their way into the world outside of the home I have created. Perhaps one day, I will find myself standing behind a young mom in a store. Should I feel compelled to bestow my unsolicited advice upon her, it will be with compassion for the moment she is enduring and nostalgia for the woman I once was.
May the light within me always honor the light within her.