If you knew your customers had overpaid your business, you would return the excess payment without the customer having to ask for it, wouldn't you? It's the right thing to do; besides, it's also great customer service. Until recently, however, it was against the law for the State of Colorado to do right by the tens of thousands of individuals and businesses who regularly use the services of the Business Division of our Department of State.
The Business Division is where corporations, limited liability companies and certain partnerships are formed, where liens securing most business loans are recorded, and where trade names and trademarks are registered. As a result, many Colorado businesses are regular customers of the Department of State.
Yesterday's mail at my law firm, Minor & Brown, brought us the following letter, and a check, from the Secretary of State of Colorado.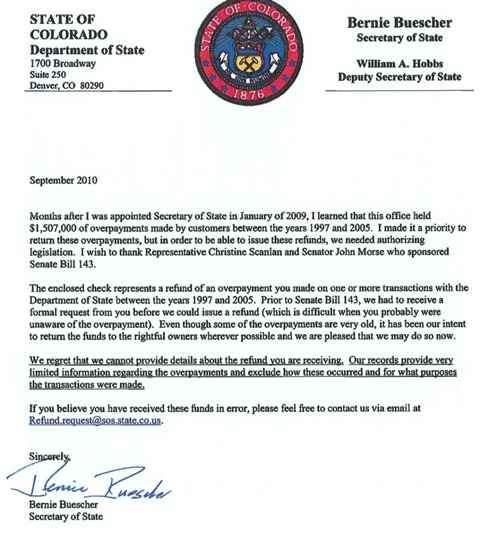 The letter explains that we and other customers had made a collective $1,507,000 in overpayments to the Department of State between 1997 and 2005; however, Colorado law prohibited refunds being made to anyone who hadn't formally requested one. The problem was, of course, that my firm, like thousands of others, either didn't know or forgot that we had overpaid.
Here's the list of customers owed refunds by the Secretary of State. It's probably worth checking it for your business, especially if you've changed your address, and in that case you might need to change your records with the State, which you can do at your customer-service oriented Secretary of State's office.
Related
Popular in the Community