I'm just back from Beijing and recognizing that there is a different China that is unfolding from what I've seen and experienced over the past decade during multiple trips there.
As China's citizenry became more confident, a new assertiveness and, yes rudeness, took hold where it was ok to fight over a shortage of taxis, remain seated when an elder entered the subway, and generally showed little respect for the rights of others. Now I hear of a new humility that is trying to turn back these years and embrace the traditions of Chinese culture.
I was having dinner with a venture capitalist in Beijing and we ordered probably about six dishes, Chinese family style. It was a lot more than we consume. I was ready to leave the plates on the table and walk away when my companion asked for a leftover bag, noting that a new government policy was encouraging people to leave no food behind.
After dinner, I was about to attempt my best New York City jaywalking style and cross a major thoroughfare when I was scolded that I would be arrested if I continued on my path. I stopped in my tracks.
The bicycles have been replaced by cars, odd-shaped glass skyscrapers have risen where courtyards once were, new subway stations and bullet train routes have opened, tech zones have sprung up, and upscale western restaurants have opened. Yet signs of the Chinese economy slowing down are apparent too -- and not just because the city's notorious traffic jams have lightened.
Several expat contacts of mine who have lived in Beijing for several years are packing up and leaving for good -- one to Paris, another to California, another to Vancouver and so on. Some blame the harsh weather and pollution, but it's just as likely to be a shortage of opportunities compared to the past go-go years.
I'm noticing too that the planes that were once full of executives and salesmen with briefcases are now mostly loaded by mainland Chinese tourists lugging bags of Duty Free Shop items.
Then, there's the luxury hotels. They're pretty empty compared to what they once were. Maybe it's because there's been a lot of new five-star hotels that have sprung up, creating an overbuilding after the first spurt of growth with the 2008 Olympics.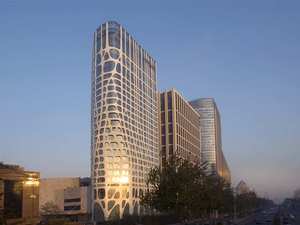 For instance, there's the recently opened Four Seasons Beijing and the Conrad Hotel. Both offer first-rate hotel facilities with all the luxury amenities you could imagine and in great locations with bird's eye views of the central business district near the Third Ring Road.

But unless there's a major conference scheduled like there was at the Fairmont Beijing when I was there, count on the hallways and business meeting rooms at these finely designed hotels to be empty. It's a bit eerie although the ever-polite and sometimes trying-too-hard staff at these top brand names do try to make it feel comfortable and homey.
Training unsophisticated staff from smaller cities or the countryside to offer just the right amount of service at the right time, whether it's in a hotel or restaurant, remains a challenge for the best general managers. But over time, this too will probably change as China adopts more and more western customs yet still manages to eventually get its own right blend.
Related