One of the many things I love about working with makeup is its transformative power; its ability to completely change a face -- or body in some cases -- whether the results are glamorous or grotesque. Whilst makeup is most often used to accentuate a woman's natural beauty or make an artistic, colorful statement, it can also be used to portray a completely different persona. Contemporary artist Cindy Sherman is a woman who has manipulated makeup to her advantage in her work. Her retrospective, on view at New York's MoMA through 2012, features a staggering array of images Sherman created by dressing as women of every age and from every conceivable era, along with the occasional man or otherworldly creature. The images she has created with makeup and a little help from costumes, wigs, lighting and photo effects are often disturbing but always transfixing.
One of the most powerful methods of transforming a face is to manipulate the brows. By emphasizing or covering and then redefining a brow we can create looks that range from ethereal to sinister. Sherman used this technique to great effect, employing full brows to signal youth and an exaggerated unibrow to create a threatening countenance in her clown series. In reality, full brows are staging a serious comeback for spring/summer 2012, and Sherman's portraits are evidence that a strong, well-tended brow is a powerful marker of youth.
Contouring is another makeup artist tool that played a starring role in Sherman's work. While I've long lauded contouring as the secret to runway-worthy bone structure, it can also be used for less flattering purposes. Sherman employed extreme contouring in her series of society women, giving them the appearance of haggard and world-weary victims of heavily applied makeup doing more harm than good. In one especially arresting image there appears to be two women, one about 20 years older than the other. Both are actually Sherman, but the use of dark colors on the eyes and lips and heavy contouring easily add two decades. Talk about disturbing! Note to (your) self: keep your contours strategically placed and most importantly well-blended to keep your look fresh and flattering. I created my Ultimate Contour Palette to take the guesswork out of finding the right shades and textures for a flawless finish.
In Sherman's most recent portraits she went barefaced, using digital manipulation to change her look. It's astounding just how much a tweak of the nose or virtual plumping of the lips can change your whole appearance. Of course in real life, makeup remains the most foolproof and fastest way to alter your look. Some key takeaways from Sherman's portraits: the art of concealment around the eyes is an eternal refresher, use contouring for good and not evil, and and above all else, avoid harsh lines around the lips and eyes -- they add decades in an instant.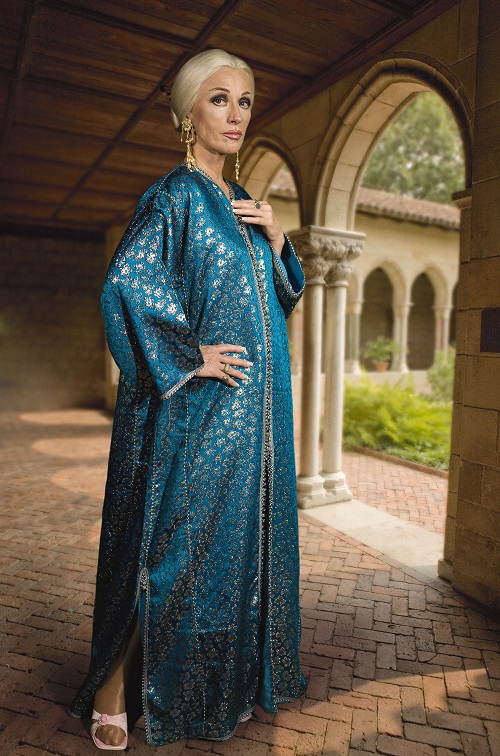 Cindy Sherman. Untitled #466. 2008. Chromogenic color print, 8′ 6″ x 70″ (259.1 x 177.8 cm). The Museum of Modern Art, New York. Acquired through the generosity of Robert B. Menschel in honor of Jerry I. Speyer. © 2012 Cindy Sherman