Time and again it becomes ever more apparent, that one underestimates the Obamas at one's peril. Think of the great care and cunning that even goes into what they wear. The President for instance must have reasoned, 'Sure, I can wear an American flag and it will cost me nothing, it'll become the next cool thing!' As for Michelle Obama, she is a fashion natural, never looking as wonderful as when attired in some severe but striking sheath or suit or slacks.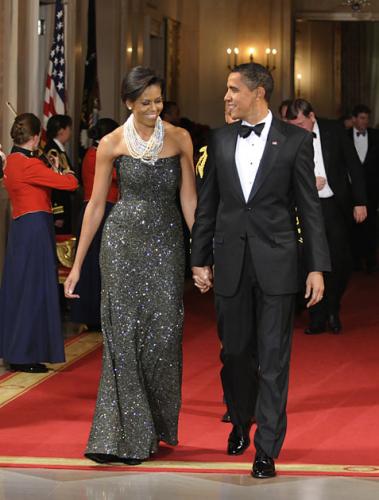 Devoid of frills and furbelows, the First Lady most successfully complements her refined wardrobe, either audaciously, with fantastic faux jewels, or charmingly, with a playful brooch or an unassuming bow. Exuding capability and confidence from every pore, she might well instead to be arrayed in priceless ropes of diamonds and pearls. Still hardworking as a wife and mom, as if born to it, she has plunged into her new position as an international role model. Best of all, like Jackie before her, working ahead, Michelle takes pains required to make her smart appearance look always effortless.
Certainly before Michelle Obama condescended to wear a pink lace dress by Tracy Reese, I and others were extremely perturbed. On the campaign trail for two whole years before deciding to accord an African American designer the same honor of high-profile patronage she'd granted many whites, her recognition was certainly slow in coming. Nevertheless, it is both a welcomed and important act of fair-play, one that no matter our particular identity, we can all be proud of as fellow citizens.
There have been other happy occurrences in the Obama's White House as well. Overall their sense of ease and elegance has struck lots of Washington old-timers as thoroughly refreshing.
"Boy, those Obama's, wow!"
says one breathless socialite.
"They're as much of a surprise here as a cool breath of air blowing through on a July afternoon."
However hard they work, they seem to love entertaining. Their festive events have mostly been rated as winning and original, whether it's a relaxing evening chatting with old friends in the Yellow Oval Room, snacks and story time for bright-eyed tykes upstairs or a big dinner, uncustomarily served in the Executive Mansion's largest indoor space, the glittering East Room, so that the maximum number of guest could be invited to hear Stevie Wonder sing.
So, why have I or others been so concerned, lest the surefooted Obama's committed some unintended faux pas, embarrassing them while disgracing the nation? We all have our varied reasons. But one that's shared undoubtedly is simple snobbery. 'How can two people so young and from such modest backgrounds help but to make some social or stylistic blunder in so unfamiliar and rarefied a setting as the White House', we wonder?
I was already worried that the Obamas had abandoned the century's old tradition in great houses, of having curtains drawn during a party after dark. Then the absence of lighted candles on the table for a gala dinner came to my attention. But what caused me to fret most of all was the President's evident caviler flaunting of unconventional attire.
After all, hadn't he more than once worn the most formal apparel imaginable, a white tie and a tail coat, but without a white waistcoat? What, I sniffed distraught, in either ignorance, or arrogance might he to do next? Then, on the evening of January 20, at his inaugural ball, he did it; the President of the United States wearing an otherwise utterly correct dinner jacket, sported a white bow tie!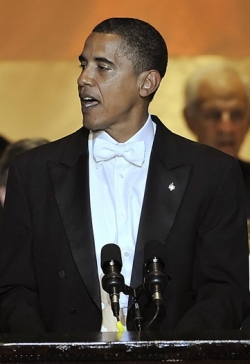 More than merely disappointed, as when Obama reversed his position on the warrantless wiretapping bill, I was appalled! How dare he, how dare he do this I demanded? In England, the Prince of Wales would surely never do such a wicked thing, I lamented! And naturally, that just might to have been that, the very end of my absolute faith in our first black President to eventually do whatever's right.
Fortunately then, once as an historian I began to reflect, it occurred to me like an epiphany, that as in ages past, it's men of prominence, power and influence who still determine what's considered acceptable. If in days gone by such figures were inclined to be royalty or aristocrats, in today's world President Obama rules and what's more, is in a class by himself.
Moreover, it's not as if gentlemen have been wearing tuxedos with black ties since the dawn of time. It was only in 1860 that London tailors, Henry Poole & Co., first created a special suite of clothes to be worn to informal dinners. It was made for the then Prince of Wales who became King Edward VII of the United Kingdom in 1901. Daringly, His Royal Highness' new clothes featured a tailless coat. By 1886, rich New Yorkers who had met the prince had introduced his alternative evening wear at a dance at their club in suburban Tuxedo Park, New York. The novel style caused a sensation, becoming a fashion breakthrough copied by discerning men throughout the land.
"If Edward Prince of Wales could invent the damn tuxedo",
insist my friend, designer Malcolm Harris, "
It's certainly OK for Barack Obama, a prince among men, to wear a white tie if he wants to!"
I concurred. So persuasive was such reasoning, that now, even I was convinced of the President's absolute right to innovate. However, misgivings about his infamous flag pins lingered. Surely you must have noticed by now those brightly enameled bits of metal that adorn whatever it is that our President wears, including one dares suspect, his swimming trunks and pajamas?
Criticize by conservatives for not patriotically brandishing such a pin in wartime then Senator Obama responded forthrightly enough. What he said echoed exactly what I might to have said in his place, "I decided I won't wear that pin on my chest. Instead I'm going to try to tell the American people what I believe what will make this country great and hopefully that will be a testimony to my patriotism."
His explanation was right on target. That's why I started wondering what might have happened after Republicans pounced on the then Presidential contender to cause his flag pin flip flop? It was thinking of President Obama and an honorable emblem rendered into a symbol of hypocrisy and a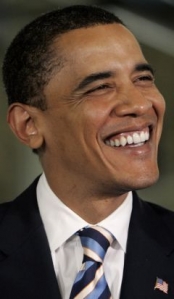 badge of dishonor that ultimately found me musing on England's King Edward III.
Dancing with the Countess of Salisbury, in 1348, her garter had slipped from her leg. Surrounding courtiers sniggered maliciously at the red-faced damsel's shame and distress, but not the king. Retrieving the garter from underfoot, he gallantly tied it to his own leg, exclaiming,
"Honi soit qui mal y pense," or, "Shamed be the person who thinks evil."
Today, the Most Noble Order of the Garter, endures as the most prestigious and sought after commendation the British Sovereign can bestow.
In innumerable ways, just like kings and queens before them, Michelle and Barack Obama are going to be setting styles that will have an impact for generations to come. Beyond even that, not by wearing any decoration or tiny pin, but by living a life of valor under fire, our new Commander-in-Chief with his wife, is helping to restore the world's belief in American ideals. Once they're finished we'll all be living in a better place and it's going to be hip for anyone to pin on the flag then! Only, it will no longer be a compulsory accessory not for anyone!