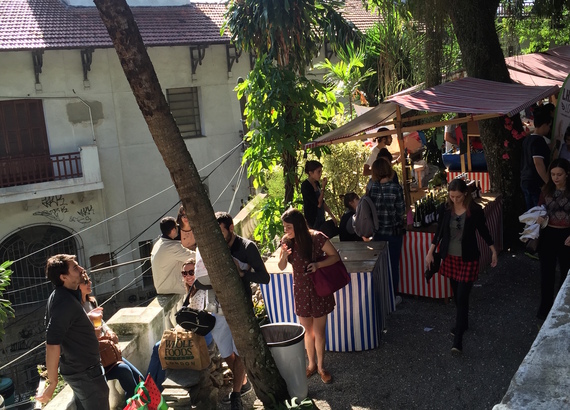 Despite the unusual chill, on Monday morning, the rua Vicente de Souza market in the Rio de Janeiro neighborhood of Botafogo was bustling with shoppers. Nannies with children and housekeepers mingled with the elderly, leisurely inspecting the products on sale in the stalls: meat, fish, vegetables, fruit. All looks good and perfectly acceptable: clients here look for no-nonsense goods, which the vendors mostly get from the city central wholesale market. Here and there, some produce is marked as organic, or as coming directly from the countryside. Overall, no one seems overly concerned about the provenance of what they buy: price is the main discriminant.
This market could not have possibly been more different from the "feira" in which I had participated in the preceding weekend. Organized by the organization called Junta Local, it was in between a farmers' market, a street food festival, and a full-on party with a DJ spinning all kinds of music and live bands performing. The feira took place in the Casa da Gloria, a gracious building surrounded by a garden, next to a church on the top of a hill. The atmosphere was relaxed and infectiously merry, with visitors milling around, buying groceries, taking advantage of all the food on sale, chatting and drinking. The crowd was also quite different from what I saw at the neighborhood market in Botafogo. Here there were hipsters side by side with young families with children, as well as middle aged or-mature people. Buyers were inquisitive and engaged, asking the vendors what the food was, how it was cooked, and where the products came from.
The vendors, who were more than happy to engage them, were also varied and interesting. Among those I chatted with, Bruno Karraz and his business partner Yan sold vegan sorbets made of organic fruit too ripe to be sold to most consumers and served in biodegradable containers made of cassava. Fernando Betim, a professor of architecture, represented the products of a whole community of farmers and animal breeders in the nearby state of Minas Gerais: the smoked lamb leg was delicious. Fabricio de Andrade, a mushroom producer from the same state, was selling fresh products and serving a delicious soup of mushrooms and ñame.
Vicente Saint-Yves, a former chef who had worked in Barcelona, was roasting sausage made with meat from animals his neighbors had raised, while his own animals were still growing. Maria al Warrak, a Syrian refugee, was selling kibbehs (I was later informed that she was not paying for her space, thanks to an agreement between Junta Local and Caritas to help displaced people to start their food businesses). I talked with Daniel Martins, a cheese and beer expert who decried the impact that The Mercosur trade agreement had on the dairy industry in Brazil (and his family cheese business) in the 1990s while lamenting the fact that the law in Rio de Janeiro state does not allow for the sale of raw milk cheese (which nevertheless can be imported from abroad).
These people were passionate, well-informed, mostly educated, and with cultural and social capital to spare. They have created a vibrant sense of community thanks to Junta Local, the brainchild of Thiago Gomide Nasser, Henrique Moraes, and Bruno Negrão, the three of them between their mid 20s and their mid 30. They launched the organization to allow urban dwellers to enjoy good food that is produced sustainably and equitably, while giving urban and rural small producers and artisans the opportunity to sell directly to consumers, with the hope to communicate their values and their goals. What sets Junta Local apart from similar organizations is that they also set up what they call the "virtual basket." In the weeks when the feira is not taking place, consumers can order produce and products from the organization's website and pick it up at a specific place and time. Unlike other CSAs, consumers only buy what they want, so that producers know exactly how much to bring to the distribution point, without any waste.
Junta Local is less than two years old, but already 150 producers and artisans have joined, and hundreds of consumers patronize both the internet website and the feiras. The organization just launched what they define "modelo ajuntativo," a new kind of participative involvement that makes producers stakeholders in the project, but not quite like a cooperative. The producers are enthusiastic, having found a sense of community among themselves, communication and logistical support, as well as a steady source of revenue. For a few, the feira has allowed them to stay in business and even to thrive. The Junta Local founders and members are figuring things out as they go, now attracting the attention of media and local government bodies, which see the potential of this food network to provide an innovative alternative to traditional markets, as the one in rua Vicente de Souza.