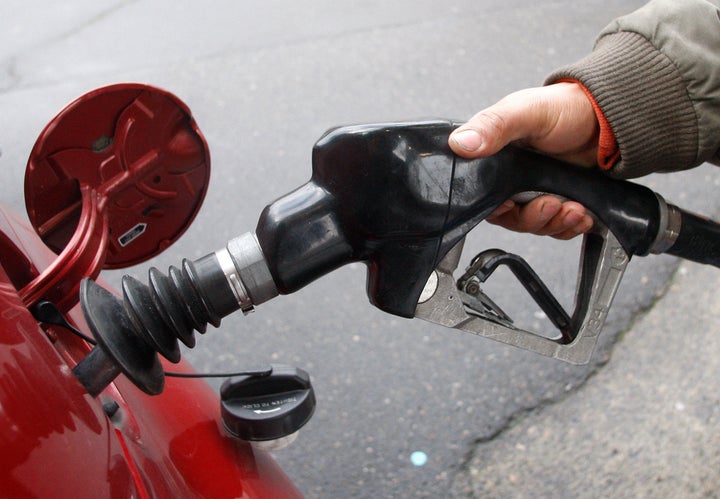 Eleanor Earley drives past several gas stations on Chamblee Tucker Road in Atlanta when she takes her grandson to school in the mornings. Last Thursday, she said, each station had raised its prices between the time she left home and the time she returned.
"I leave here about 8:15 a.m.," she said. "When I passed, they were at $3.61. I came back within 30 minutes and they were up to $3.65."
The average price of a gallon of regular gasoline in Georgia stands at $3.43, up from $3.30 a week ago and $2.66 a year ago, according to the AAA auto club. It's the same trend all across the country: the average cost of a gallon of gas has risen to $3.50 from $2.74 a year ago, thanks largely to recent unrest in the Middle East.
HuffPost readers: Rising gas prices making life difficult? Tell us about it -- email arthur@huffingtonpost.com. Please include your phone number if you're willing to do an interview.
"I think it's absolutely ridiculous," said Early, 74, whose monthly Social Security check of $1,131 is her only income besides $251 a month in food stamps. She said she's noticed food and utilities getting more expensive, but not as quickly as gas, "And it's gonna go higher, there's no doubt about that."
White House Press Secretary Jay Carney acknowledged the painful consequences of high gas prices on Monday in response to a question about whether the administration would tap the Strategic Petroleum Reserve. "We're very cognizant of the fact that Americans are experiencing a sharp rise in the price at the gas pump, affecting them and their family budgets," Carney said. "We are monitoring that very closely."
Earley told HuffPost she drives a 1992 Ford Crown Victoria ("because I can't afford a better car") and said she buys $20 worth of gas per week. Dropping her grandson off at school is a three-mile round trip, she said, and going to the grocery store is a two-mile round trip. With the higher prices, she said, she'll drive less. If she forgets to buy something at the store, for instance, she'll do without it instead of driving back.
Earley said she's annoyed that Social Security recipients haven't received a cost-of-living adjustment to help them cope with rising prices. "I think that with all these tax cuts they're giving out to the rich and all the bailing out they're doing of big corporations, they could have found some kind of stimulus for the seniors," she said. "We've had no raise for two years."

Calling all HuffPost superfans!
Sign up for membership to become a founding member and help shape HuffPost's next chapter