Every day, I have the opportunity to see how technology is changing the way we live. It's amazing that with the swipe of a finger on my phone, I can find the nearest restaurant or send a message to a friend thousands of miles away. Or that a doctor in Asia could consult with a patient in Africa over high-definition video. But it's the people behind this technology that truly amaze me. Empowered with the right skills, they're using the world's most innovative thinking to create better lives for themselves and for others. They recognize that technology can speed the pace of social change.
Right now, 10 billion devices are connected to the Internet, and that will grow to 50 billion by 2020. This explosion of connections has created a global shortage of people with the skills to manage them. Technology can be a strong catalyst for economic opportunity, but only when people know how to harness that technology.
By 2015, more than 2 million information and communications technology (ICT) jobs will be available around the world. With technology changing so quickly, we don't know what the jobs of tomorrow will be. But we do know that in order to change their lives and the world around them, young people need the skills to take advantage of the Internet's power.
In today's economy, people need technical skills, the ability to visualize the bigger picture, turn problems into solutions, and collaborate with others. The Cisco Networking Academy program combines these skills with technical training to prepare students to turn their dreams into reality. They get hands-on experience with virtual networks, trying things to see what works and what doesn't. This helps them build problem-solving skills and gives them the ability to innovate and think creatively, which will be critical for tomorrow's jobs.
Internet technology is going to be part of every job very soon. Students who know how to secure a virtual network from attacks or set up a router have an advantage because they understand how the Internet works. For example, Burcu Gürlen, a student from Turkey, wants to be an anesthesia technician but believes computer networking skills can set her apart. "I will be one step ahead of my colleagues because IT is effective in every field," she said. "We are living in a technology era and I believe that I can progress faster than my peers in every field thanks to this education."
All around the world, we're seeing the impact of Networking Academy on people's lives. More than 1 million students in 170 countries take courses each year. Here are just a few of the students who have inspired me with their stories of perseverance and innovation.
Plugged into networked careers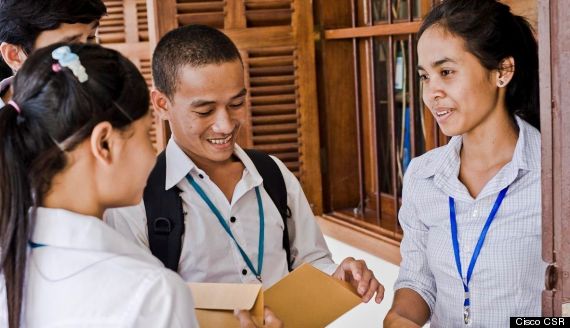 In Cambodia, one-third of residents live on less than $1 a day, making it difficult for students to break the cycle of poverty and raise the standard of living for them and their families. In 2005, Passerelles numériques Cambodia (PNC) collaborated with Cisco Networking Academy to change that. PNC established a two-year job-training program to provide technology training, soft skills training, and internships to students that lead to jobs in ICT and help them develop skills that can launch a lifelong career.
With Networking Academy, these students receive hands-on training and the opportunity to compete in national and international competitions like NetRiders. The skills and experience they gain translate into success after graduation. We've found that students who complete the program make an average of $300 per month three years after graduation, five times more than what they'd make without taking Networking Academy courses through PNC. But students aren't just making money - they're empowering their families by sending 30 percent of their salaries back home. This money, along with the money they're donating to PNC, ensure that the next class of students and beyond will have the skills and inspiration to succeed in the new economy.
Hands-on experience drives students toward STEM careers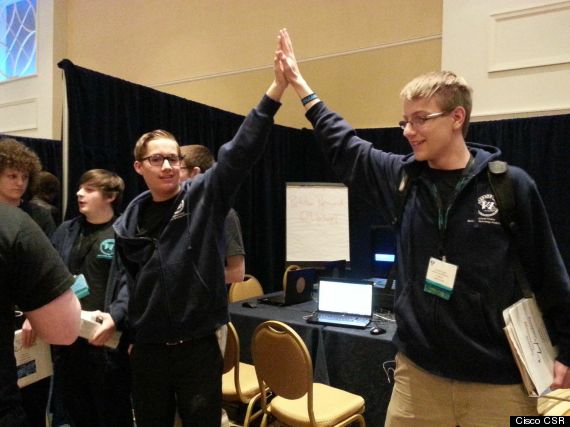 Thousands of miles away in Missouri, Lisa Oyler inspired her high school students to pursue careers in ICT with her competitive spirit and passion for teaching. When she was hired at Summit Technology Academy to teach computer courses, Oyler took it upon herself to become an ICT expert. She taught herself basic networking skills and earned different credentials, covering 43 chapters of material in 18 weeks. In 2001, Summit began using the Networking Academy curriculum, and Lisa wasted no time incorporating it into her classroom.
After years of building networks from routers and switches and preparing for the Cisco CCNA exams, Oyler's students had the skills to apply their knowledge in CyberPatriot, a yearlong cybersecruity competition with hands-on, real-world challenges designed to inspire students to pursue careers in the science, technology, engineering, and math (STEM) and ICT fields. From 2011 to 2014, Lisa coached four CyberPatriot teams and took three of them to the national finals. Each year, more than 1,000 teams register, and only the top 12 teams in the United States reach the national finals. This year, she is coaching five teams, including Summit's first all-female team.
"It's great that they do well in the competition and it's something that they can walk away with and use after high school," Oyler said. Her teaching and coaching continue to inspire students like Justin Nitz, who recently interned with a local cybersecurity company and is on track to finish high school with his associate's degree in computer science.
Collaboration and connections create change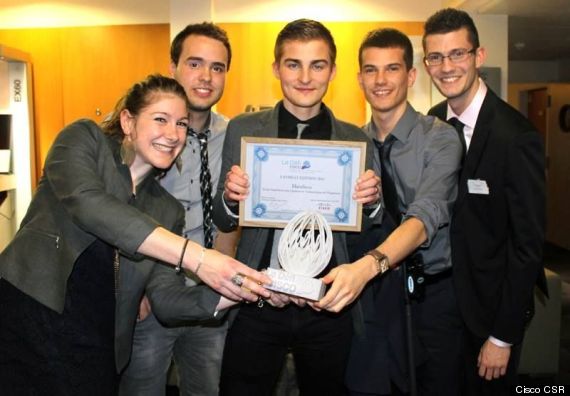 Networking Academy students in France with an innovative idea and vision also harnessed the power of technology to improve the lives of others. Through Cisco's Le Défi competition, university students were invited to apply technology to social and environmental challenges. After many rounds, a team of engineering students from the University of Lorraine won the competition with their networked walking stick, which helps the blind move safely and independently in urban areas.
The stick capitalizes on the connections between people, process, data, and things - what we call the Internet of Everything. It uses proximity captors to identify when an object is nearby through vibration. The smart stick gathers data from traffic lights, bus locations, roadwork sites, crosswalks, and even weather conditions to provide real-time navigation. Tagged sensors at shops convey what the shop sells, where the entrance is, and business hours, making it easier for a blind person to explore a business district.
After the competition, one of the team's mentors said, '"It's a dumb device that becomes smart when it connects to all the other data and devices around it to make a real difference for the user."
The students used their winnings to found their own company, Handisco, and have created a sustainable distribution and pricing model to expand their business. In June 2014, the team received the Pepite Award, a national prize for innovation from the French Ministry of Education.
Without the proper skills or tools, students in Cambodia, Lisa Oyler's classes, or the Le Défi competition may have never been able to turn their dreams into realities. Technology is powerful, but it's useless without an innovative user. Networking Academy courses harness this innovative spirit and ensure that the world's future global problem solvers can take advantage of this rapidly changing world and thrive.
Learn how young people are applying their Networking Academy education to solving global problems at csr.cisco.com.
Related