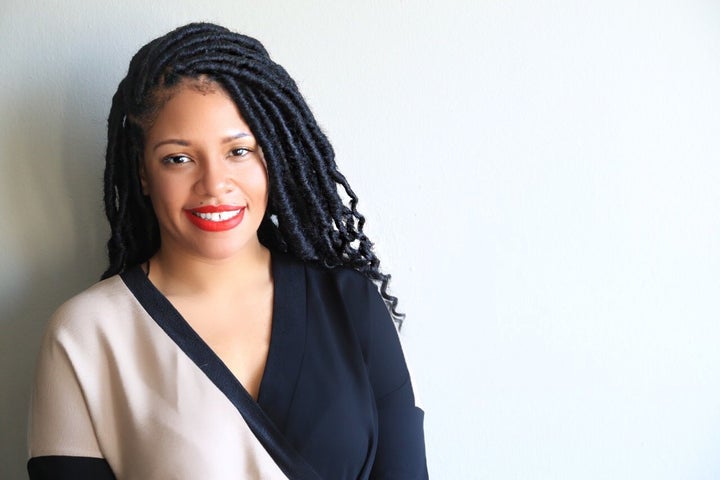 Hello, my name is ... well, we will get there.
I was born on a rainy Friday in April at a midwife center in New York's Harlem. I was the last of four children to my father, a black man from the South, and my mother, a Puerto Rican who wore locs down to her butt.
Their backgrounds, while markedly different, provided a healthy and happy childhood for me in New York. I was enrolled in public school until fourth grade, went to an independent school until the eighth grade and then was shipped off to a boarding high school in Massachusetts. Just kidding on the "shipped" part; it was a remarkable opportunity.
Though my educational experiences didn't mirror some of my peers' in Harlem, there was an underlying theme through it all. I was black, first and always. In fact, it was this foundation of blackness that stood with me when interacting in mixed spaces. It also led me to attend a historically black college.
Two years after graduation, I committed to pursuing entrepreneurship. Now that I've summed up my whole life in about six sentences, it would seem that things were pretty peachy, right? Wrong.
Somewhere in those six sentences, I began to question my blackness. Despite all that reinforcement and even with the power of an HBCU degree, as I was starting my business, a mustard seed of doubt began to grow in me.
It began and ended with my name. That seed eventually grew into a full-on insecurity that led me to begin introducing myself as Dariana Colon-Bibb.
Let's take a quick step back. On that rainy Friday in April, my parents named me Tanisha. That's a really important piece I left out.
"I saw no one who looked like me or had a name that sounded like mine. I was convinced I couldn't make it as Tanisha."
When I started my business, this name that I owned for my entire life suddenly felt like a scarlet letter. So much so, I completely rebranded myself. I thought Tanisha sounded too black. Too black?! In fairness, it is in the -isha family of names, and we all know how that can evolve in very creative ways in the black community. So I began employing Dariana, a more racially ambiguous first name, to establish myself personally and professionally.
In my defense, Dariana is my middle name. I would show a photo of my ID, but you know, identity theft is real. I understand that Dariana doesn't fall short of sounding ethnic, but it didn't immediately resonate as black, and that was the whole point of choosing it.
It's interesting how names can create or destroy power. From the moment I began using Dariana, I felt inauthentic. I winced whenever anyone else adopted it because it was a constant reminder of my inner conflict. Still, I sucked it up, because being successful at business and life was more important to me. I even took it a step further: In order to keep people from profiling me as just another black PR girl, I chose not to put my face on my business pages or materials, only my name. Dariana.
I bet you're thinking, "You went to an HBCU. How could you not be more secure in your blackness?" Well, I think the answer to that is simple and frustrating: society. I was programmed. Not like "The Matrix" or anything, but you get it. No matter how many black history classes or homecomings I attended, I didn't believe that black people could thrive as business owners or high-ranking professionals in the communications industry unless they compromised.
To that end, I saw no one who looked like me or had a name that sounded like mine. I was convinced I couldn't make it as Tanisha. I had to be someone more digestible to this industry.
Now I know that previous black PR professionals succeeded and that present ones are making incredible strides. I admire and appreciate them, but numbers don't lie. At the top 50 public relations firms in the U.S. by revenue, 27 percent of the CEOs are women, and zero percent of those CEOs, managing partners and presidents are of color (and their executive teams often reflect the same). Zero percent. ZERO PERCENT!
"It's interesting how names can create or destroy power. From the moment I began using Dariana, I felt inauthentic."
To provide some context: I was 24 years old when I started my business and was still working to find myself and my purpose. Until that point, every year I was seemingly dealing with more important business decisions than what name I used. That all changed in October 2017, when I gave a talk at Spelman College titled "How Cardi B Won 2017 by Being Herself: A Look at Authenticity & Success." I was speaking (very eloquently, if I might add), about how authenticity was essential to success and Cardi B was the perfect example. Yet there I was parading around with a middle name to appease society. Talk about someone not being herself, right?
I felt low. I couldn't fight it anymore. Shortly after that, I finally asked myself why I couldn't go by my first name. What would change if people had preconceived notions about me and my business solely based on my name? The answer, in short, was nothing. If anything, a client making a business decision about me based on my name is not a client I'm looking for.
Although the numbers were clearly against the decision to go by Tanisha, I knew my character, my business experience and my passion would prevail.
And what if no one cared? Other women of color proudly stood by their businesses using their names and seemingly had great success. If I let statistics lead my story, I wouldn't be here to begin with. At the end of 2017, I decided to go back to Tanisha, back to the name I was given on that rainy Friday in April in Harlem. It feels good.
Now, at 30 years old, using my given first name again, I finally feel comfortable in my skin and with the visions and goals I have for my life. My business also feels the change; it feels more authentic, confident and focused. True to the ever-evolving journey of life, I am continuing to grow in self-confidence personally and professionally.
I am still adjusting to navigating an industry with a huge diversity issue. It's rough, but I'm better for it. As a WOC, I have found so much purpose in helping other young WOC feel confident in their names and themselves in an industry that doesn't quite look or sound like them. Hopefully, one day other young women (or men) will find my story and it will push them to be their whole self, authentically.
Hello, my name is Tanisha Colon-Bibb. I'm black, and I'm an entrepreneur. Let's do business together.
Do you have a compelling personal story you'd like to see published on HuffPost? Find out what we're looking for here and send us a pitch!