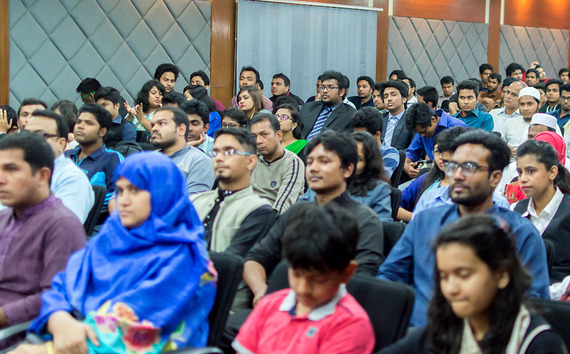 There is a lot of value in transforming an idea into a viable business, and there is a lot of importance in creating social impact through business. Now put both together, and add something new: the opportunity to help other people increase their income through a business idea - how does that sound? How about a business that centers around building a database where people can search for opportunities to make their fortune by themselves?
World Bank has recently recognized the promotion of Bangladesh to the category of lower-middle income countries from that of the least developed countries. However, unemployment - seasonal or long-term - is still a big issue to resolve. World Bank estimates that 'total youth unemployment rate' of Bangladesh is 10%.
Job portals are becoming popular among a portion of youth who have graduated from universities and colleges. But, those job portals contain circular of only white-collar jobs. Majority of the youth in Bangladesh cannot still pursue or complete their graduation, and they are not eligible, in most of the cases, for those jobs. However, there are jobs available for them, but there is no portal or database where they can find jobs that match their profile. Existing job portals work well for people only with academic experience and certificates.
It is possible to develop a database where they can upload their profile, search job or market opportunities, and apply their entrepreneurial or technical skills. This is possible because even these apparently less-educated young people use mobile apps. And, an app can help them find jobs or business opportunity that matches their profile. This will, eventually, help these people increase their income.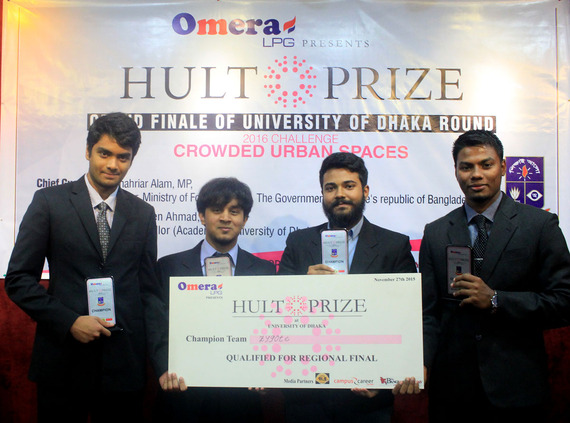 A team competing in the Hult Prize competition, Team Zygote, has found a way to address this deficit. Driven by the dream of making real changes to improve the living of urban poor, the team has come up with an idea to build a database where the small entrepreneurs and self-employed people can find opportunities to increase their income by applying their talent. This idea first received attention in Bangladesh after winning the Hult Prize at University of Dhaka quarterfinal. They weren't the only ones to receive notice; the other teams also received attention from the journalists, investors and the judges present at the closing ceremony of Hult Prize at University of Dhaka (DU).
Unlike typical business plan competitions, Hult Prize encourages young minds to come up with ideas that have social impact in addition to bringing fortune to the entrepreneurs. This year, the challenge case given by Hult Prize is aimed at finding a business idea to double the income of the poor population of crowded urban cities. Beyond a mere business plan competition, it's a global movement that helps spread the concept of social-entrepreneurship through campus rounds held around the world. This competition encourages the youth to dream big for change, and work hard in chasing these dreams.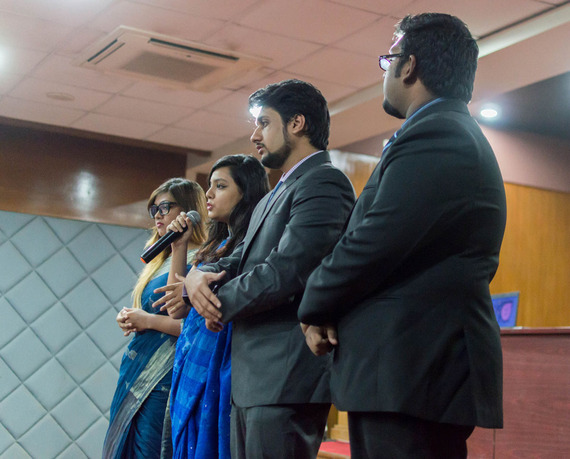 In developing countries, bureaucracy, socio-economic instability, and lack of financial and social support are the main hurdles to overcome for the young dreamers to become true entrepreneurs. This situation discourages youth in these regions to work hard to make their ideas into businesses. Yet, there are exceptions; those who do not stop at obstacles and who challenge the status quo and fight until they win. We have been very fortunate to meet numerous such people when we organized the campus round of Hult Prize at DU.
Even more interesting for those organizing the event was the sort of latent entrepreneurial zeal we found in ourselves while working to make the event its best, and while meeting true business minds of judges, sponsors, participating teams, and honourable guests coming from different industries to encourage the participants and the organizers. In this way, the Hult Prize helped the business-minded youth to find a platform to connect with peers and specialists from national and international communities.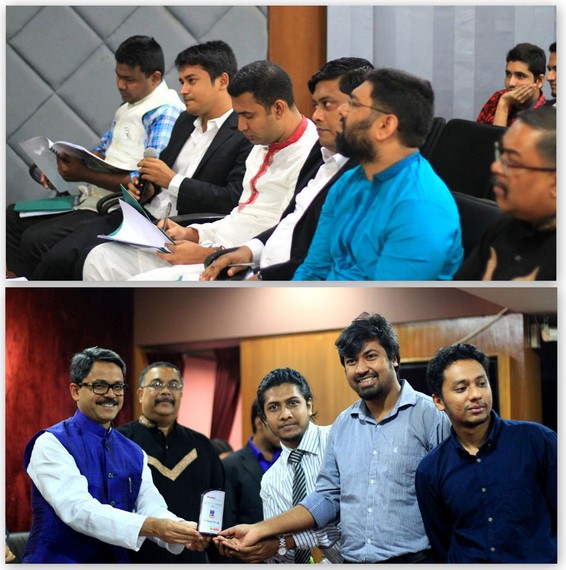 At the closing ceremony of Hult Prize at DU, Mr. Shahriar Alam MP, the honourable State Minister of Foreign Affairs of People's Republic of Bangladesh, told us that he hadn't originally wanted to be a public servant; he'd wanted to be an entrepreneur. He thought of becoming a businessman, and overcame a lot of hurdles before eventually turning to politics as a means to contribute to his country. He noted, however, that he's happy to see that the young people today are thinking of contributing to society through business, as he once aspired.
And today, on the University of Dhaka campus, the most venerated institution in Bangladesh, top business minds are dreaming not just of profit, but of a better world through business.
Calling all HuffPost superfans!
Sign up for membership to become a founding member and help shape HuffPost's next chapter